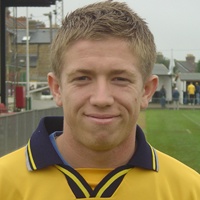 Position:
Midfielder
Achievements
2004/05 Isthmian League Cup Winner
Bio
Talented midfielder who was signed from Hayes in the summer of 2003.
Worked his way up in the youth teams at Slough before joining Hayes as a youngster. Made 138 appearances for Slough and scored the winning goal against Walsall in the clubs 2-1 FA Cup victory in 2004. Chalked up 30 goals in his time with the club before joining Hampton & Richmond Borough in 2006.
Glen rejoined the club in October 2008 and made a handful of appearances before joining Burnham the following month.
Mens
| First Appearance | Appearances | First Goal | Goals |
| --- | --- | --- | --- |
| 16-08-2003 vs Epsom & Ewell | 142 | 28-10-2003 vs Banstead Athletic | 30 |
History
| Match Date | Home | Score | Away | Competition | Goals | Cards | |
| --- | --- | --- | --- | --- | --- | --- | --- |
| 25-10-2008 | Slough Town | 3-3 | Truro City | League | | | Match report |
| 18-10-2008 | Thatcham Town | 5-4 | Slough Town | FA Trophy | | | Match report |
| 14-10-2008 | Windsor & Eton | 6-2 | Slough Town | League | | | Match report |
| 11-10-2008 | Slough Town | 1-2 | Uxbridge | League | | | Match report |
| 17-04-2006 | Slough Town | 3-3 | Windsor & Eton | League | | | Match report |
| 14-04-2006 | Braintree Town | 2-1 | Slough Town | League | | | Match report |
| 08-04-2006 | Slough Town | 2-0 | Folkestone Invicta | League | | | Match report |
| 01-04-2006 | Staines Town | 2-1 | Slough Town | League | | | Match report |
| 25-03-2006 | Slough Town | 0-3 | Worthing | League | | | Match report |
| 22-03-2006 | Slough Town | 3-1 | Fisher Ath | Ryman League Cup | | | Match report |
| 18-03-2006 | Maldon Town | 0-2 | Slough Town | League | | | Match report |
| 13-03-2006 | Fisher Ath | 5-2 | Slough Town | Ryman League Cup | | | Match report |
| 11-03-2006 | Slough Town | 0-4 | Fisher Ath | League | | | Match report |
| 04-03-2006 | Hendon | 1-1 | Slough Town | League | | | Match report |
| 28-02-2006 | MK Dons | 6-1 | Slough Town | B&B Senior Cup | | | Match report |
| 25-02-2006 | Chelmsford City | 2-0 | Slough Town | League | | | Match report |
| 18-02-2006 | Slough Town | 3-2 | Wealdstone | League | | | Match report |
| 11-02-2006 | Walton & Hersham | 0-1 | Slough Town | League | | | Match report |
| 04-02-2006 | Slough Town | 2-2 | Bromley | League | | | Match report |
| 31-01-2006 | Slough Town | 3-0 | Heybridge Swifts | Ryman League Cup | | | Match report |
| 28-01-2006 | AFC Wimbledon | 2-2 | Slough Town | League | | | Match report |
| 21-01-2006 | Slough Town | 2-2 | Margate | League | | | Match report |
| 18-01-2006 | Slough Town | 1-1 | Chesham United | B&B Senior Cup | | | Match report |
| 14-01-2006 | Leyton | 1-2 | Slough Town | League | | | Match report |
| 07-01-2006 | Billericay Town | 0-2 | Slough Town | League | | | Match report |
| 02-01-2006 | Slough Town | 0-1 | Hampton & Richmond | League | | | Match report |
| 26-12-2005 | Windsor & Eton | 0-3 | Slough Town | League | | | Match report |
| 19-12-2005 | Leatherhead | 0-2 | Slough Town | Ryman League Cup | | | Match report |
| 17-12-2005 | Heybridge Swifts | 1-0 | Slough Town | League | | | Match report |
| 10-12-2005 | Slough Town | 5-2 | Harrow Borough | League | | | Match report |
| 28-11-2005 | Folkestone Invicta | 3-0 | Slough Town | League | | | Match report |
| 26-11-2005 | Slough Town | 0-2 | Walton & Hersham | League | | | Match report |
| 22-11-2005 | Slough Town | 1-2 | East Thurrock United | League | | | Match report |
| 01-10-2005 | Slough Town | 4-1 | Maldon Town | League | | | Match report |
| 24-09-2005 | Wroxham | 2-0 | Slough Town | FA Cup | | | Match report |
| 20-09-2005 | East Thurrock United | 3-2 | Slough Town | League | | | Match report |
| 17-09-2005 | Margate | 2-2 | Slough Town | League | | | Match report |
| 10-09-2005 | Slough Town | 4-1 | Oxford City | FA Cup | | | Match report |
| 06-09-2005 | Slough Town | 3-2 | Redbridge | League | | | Match report |
| 03-09-2005 | Slough Town | 2-1 | Braintree Town | League | | | Match report |
| 29-08-2005 | Hampton & Richmond | 3-2 | Slough Town | League | | | Match report |
| 27-08-2005 | Slough Town | 0-2 | AFC Wimbledon | League | | | Match report |
| 23-08-2005 | Slough Town | 0-0 | Leyton | League | | | Match report |
| 30-04-2005 | Worthing | 1-4 | Slough Town | League | | | Match report |
| 28-04-2005 | Hampton & Richmond | 1-3 | Slough Town | Ryman League Cup | | | Match report |
| 26-04-2005 | Slough Town | 1-3 | Heybridge Swifts | League | | | Match report |
| 23-04-2005 | Slough Town | 1-1 | Northwood | League | | | Match report |
| 02-04-2005 | Slough Town | 0-1 | Hampton & Richmond | League | | | Match report |
| 28-03-2005 | Windsor & Eton | 0-4 | Slough Town | League | | | Match report |
| 22-03-2005 | Slough Town | 2-1 | Heybridge Swifts | Ryman League Cup | | | Match report |
| 18-03-2005 | Wealdstone | 1-1 | Slough Town | League | | | Match report |
| 15-03-2005 | Heybridge Swifts | 1-2 | Slough Town | Ryman League Cup | | | Match report |
| 12-03-2005 | Slough Town | 0-2 | Chelmsford City | League | | | Match report |
| 08-03-2005 | Slough Town | 3-1 | Windsor & Eton | League | | | Match report |
| 26-02-2005 | Ebbsfleet United | 3-2 | Slough Town | FA Trophy | | | Match report |
| 22-02-2005 | Slough Town | 4-2 | AFC Wimbledon | Ryman League Cup | | | Match report |
| 19-02-2005 | Heybridge Swifts | 5-2 | Slough Town | League | | | Match report |
| 12-02-2005 | Slough Town | 1-2 | Leyton | League | | | Match report |
| 08-02-2005 | Slough Town | 3-0 | Salisbury City | Ryman League Cup | | | Match report |
| 06-02-2005 | Slough Town | 1-0 | Thurrock | FA Trophy | | | Match report |
| 01-02-2005 | Wycombe Wanderers | 3-0 | Slough Town | B&B Senior Cup | | | Match report |
| 29-01-2005 | Slough Town | 2-0 | Cheshunt | League | | | Match report |
| 22-01-2005 | Eastleigh | 0-4 | Slough Town | League | | | Match report |
| 18-01-2005 | Northwood | 1-0 | Slough Town | League | | | Match report |
| 15-01-2005 | Slough Town | 4-3 | Hendon | FA Trophy | | | Match report |
| 08-01-2005 | Braintree Town | 2-1 | Slough Town | League | | | Match report |
| 01-01-2005 | Salisbury City | 0-0 | Slough Town | League | | | Match report |
| 21-12-2004 | Billericay Town | 2-0 | Slough Town | League | | | Match report |
| 18-12-2004 | Harrow Borough | 1-2 | Slough Town | League | | | Match report |
| 11-12-2004 | Slough Town | 3-2 | Dover Athletic | League | | | Match report |
| 04-12-2004 | Slough Town | 1-3 | Yeading | FA Cup | | | Match report |
| 27-11-2004 | Chelmsford City | 0-1 | Slough Town | FA Trophy | | | Match report |
| 20-11-2004 | Slough Town | 1-1 | Worthing | League | | | Match report |
| 13-11-2004 | Slough Town | 2-1 | Walsall | FA Cup | | | Match report |
| 07-11-2004 | Slough Town | 7-0 | Dorking | FA Trophy | | | Match report |
| 31-10-2004 | Slough Town | 3-2 | Salisbury City | FA Cup | | | Match report |
| 23-10-2004 | Chelmsford City | 3-0 | Slough Town | League | | | Match report |
| 20-10-2004 | Slough Town | 1-1 | Folkestone Invicta | League | | | Match report |
| 16-10-2004 | Slough Town | 4-0 | Cheshunt | FA Cup | | | Match report |
| 11-10-2004 | Kingstonian | 0-4 | Slough Town | League | | | Match report |
| 09-10-2004 | Leyton | 0-1 | Slough Town | League | | | Match report |
| 02-10-2004 | Slough Town | 4-1 | Welling United | FA Cup | | | Match report |
| 25-09-2004 | Slough Town | 2-2 | Yeading | League | | | Match report |
| 18-09-2004 | Croydon Athletic | 0-1 | Slough Town | FA Cup | | | Match report |
| 14-09-2004 | Slough Town | 1-4 | Eastleigh | League | | | Match report |
| 11-09-2004 | Cheshunt | 1-0 | Slough Town | League | | | Match report |
| 07-09-2004 | Staines Town | 4-0 | Slough Town | League | | | Match report |
| 04-09-2004 | Slough Town | 3-0 | Braintree Town | League | | | Match report |
| 30-08-2004 | Slough Town | 1-0 | Salisbury City | League | | | Match report |
| 28-08-2004 | Hampton & Richmond | 2-2 | Slough Town | League | | | Match report |
| 24-08-2004 | Tonbridge Angels | 2-2 | Slough Town | League | | | Match report |
| 21-08-2004 | Slough Town | 1-0 | Wealdstone | League | | | Match report |
| 14-08-2004 | Dover Athletic | 3-1 | Slough Town | League | | | Match report |
| 01-05-2004 | Slough Town | 3-1 | Croydon | League | | | Match report |
| 27-04-2004 | Slough Town | 1-1 | Worthing | League | | | Match report |
| 24-04-2004 | Metropolitan Police | 1-3 | Slough Town | League | | | Match report |
| 20-04-2004 | Egham Town | 2-3 | Slough Town | League | | | Match report |
| 17-04-2004 | Slough Town | 3-1 | Whyteleafe | League | | | Match report |
| 14-04-2004 | Slough Town | 0-1 | Bracknell Town | B&B Senior Cup | | | Match report |
| 12-04-2004 | Windsor & Eton | 1-4 | Slough Town | League | | | Match report |
| 10-04-2004 | Slough Town | 3-1 | Molesey | League | | | Match report |
| 03-04-2004 | Leatherhead | 2-3 | Slough Town | League | | | Match report |
| 27-03-2004 | Slough Town | 3-1 | Egham Town | League | | | Match report |
| 23-03-2004 | Corinthian Casuals | 4-1 | Slough Town | League | | | Match report |
| 20-03-2004 | Banstead Athletic | 1-2 | Slough Town | League | | | Match report |
| 13-03-2004 | Slough Town | 1-0 | Croydon Athletic | League | | | Match report |
| 06-03-2004 | Bracknell Town | 4-2 | Slough Town | League | | | Match report |
| 02-03-2004 | Slough Town | 1-1 | Walton & Hersham | League | | | Match report |
| 28-02-2004 | Dulwich Hamlet | 2-4 | Slough Town | League | | | Match report |
| 21-02-2004 | Slough Town | 1-0 | Lewes | League | | | Match report |
| 14-02-2004 | Staines Town | 1-3 | Slough Town | League | | | Match report |
| 10-02-2004 | Bromley | 0-4 | Slough Town | League | | | Match report |
| 07-02-2004 | Slough Town | 3-2 | Horsham | League | | | Match report |
| 24-01-2004 | Slough Town | 2-0 | Tooting & Mitcham Utd | League | | | Match report |
| 20-01-2004 | Maidenhead United | 1-2 | Slough Town | B&B Senior Cup | | | Match report |
| 17-01-2004 | Worthing | 2-0 | Slough Town | League | | | Match report |
| 10-01-2004 | Slough Town | 1-1 | Hampton & Richmond | League | | | Match report |
| 06-01-2004 | Walton & Hersham | 3-1 | Slough Town | League | | | Match report |
| 26-12-2003 | Slough Town | 1-3 | Windsor & Eton | League | | | Match report |
| 23-12-2003 | Ashford Town (Middx) | 1-2 | Slough Town | League | | | Match report |
| 20-12-2003 | Marlow | 0-0 | Slough Town | League | | | Match report |
| 13-12-2003 | Slough Town | 7-1 | Epsom & Ewell | League | | | Match report |
| 06-12-2003 | Slough Town | 3-0 | Metropolitan Police | League | | | Match report |
| 29-11-2003 | Croydon | 1-0 | Slough Town | League | | | Match report |
| 22-11-2003 | Slough Town | 1-2 | Dulwich Hamlet | League | | | Match report |
| 19-11-2003 | Slough Town | 1-4 | Cheshunt | Ryman League Cup | | | Match report |
| 11-11-2003 | Slough Town | 4-2 | Bromley | League | | | Match report |
| 08-11-2003 | Slough Town | 2-2 | Staines Town | League | | | Match report |
| 04-11-2003 | Bishop's Stortford | 2-1 | Slough Town | FA Trophy | | | Match report |
| 02-11-2003 | Slough Town | 2-2 | Bishop's Stortford | FA Trophy | | | Match report |
| 28-10-2003 | Slough Town | 5-1 | Banstead Athletic | League | | | Match report |
| 25-10-2003 | Lewes | 3-2 | Slough Town | League | | | Match report |
| 22-10-2003 | Slough Town | 2-1 | Corinthian Casuals | League | | | Match report |
| 30-09-2003 | Welling United | 4-1 | Slough Town | FA Cup | | | Match report |
| 20-09-2003 | Croydon Athletic | 1-0 | Slough Town | League | | | Match report |
| 13-09-2003 | Slough Town | 2-0 | Godalming & Guildford | FA Cup | | | Match report |
| 09-09-2003 | Whyteleafe | 2-0 | Slough Town | League | | | Match report |
| 06-09-2003 | Slough Town | 3-1 | Leatherhead | League | | | Match report |
| 30-08-2003 | Slough Town | 5-0 | East Grinstead | FA Cup | | | Match report |
| 23-08-2003 | Slough Town | 1-1 | Ashford Town (Middx) | League | | | Match report |
| 19-08-2003 | Slough Town | 1-2 | Marlow | League | | | Match report |
| 16-08-2003 | Epsom & Ewell | 1-4 | Slough Town | League | | | Match report |
Slough Town FC is not responsible for content produced on external websites | Copyright Slough Town FC 2023