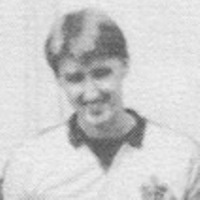 Stats
Position:
Unknown
First Appearance:
04-09-1979 vs Leatherhead
Appearances:
159
First Goal:
22-08-1981 vs Tooting
Goals:
10
Bio
Joe was one of a number of local lads in the "Rebels" side, A six footer he has graduated to the first team from the clubs reserve set-up. Rejoined for his second spell at the club from Marlow in August 1981 after leaving Slough for Maidenhead United in 1980.

Was a member of the Slough Schools side which reached the English Schools final in 1975/6. A centre back who has made over 100 appearances for the club. Has represented Berkshire. Joe was an accountant at Fords and lived 200 yards from Wexham Park.
History
| Match Date | Home | Score | Away | Competition | Goals | Cards | |
| --- | --- | --- | --- | --- | --- | --- | --- |
| 23-04-1985 | Sutton United | 1-1 | Slough Town | League | | | Match report |
| 20-04-1985 | Slough Town | 4-1 | Walthamstow | League | | | Match report |
| 16-04-1985 | Barking | 2-2 | Slough Town | League | | | Match report |
| 13-04-1985 | Slough Town | 0-2 | Worthing | League | | | Match report |
| 06-04-1985 | Epsom | 2-2 | Slough Town | League | | | Match report |
| 30-03-1985 | Slough Town | 0-0 | Hayes | League | | | Match report |
| 27-03-1985 | Slough Town | 3-2 | Billericay Town | League | | | Match report |
| 23-03-1985 | Slough Town | 1-3 | Carshalton Ath | League | | | Match report |
| 16-03-1985 | Dulwich Hamlet | 4-1 | Slough Town | League | | | Match report |
| 09-03-1985 | Slough Town | 3-1 | Sutton United | League | | | Match report |
| 05-03-1985 | Slough Town | 2-2 | Wycombe Wanderers | League | | | Match report |
| 02-03-1985 | Bognor Regis Town | 3-2 | Slough Town | League | | | Match report |
| 11-09-1984 | Slough Town | 0-1 | Bognor Regis Town | League | | | Match report |
| 08-09-1984 | Croydon | 2-1 | Slough Town | League | | | Match report |
| 23-04-1984 | Wycombe Wanderers | 1-2 | Slough Town | League | | | Match report |
| 21-04-1984 | Slough Town | 2-2 | Harlow Town | League | | | Match report |
| 17-04-1984 | Barking | 1-0 | Slough Town | League | | | Match report |
| 14-04-1984 | Harlow Town | 3-2 | Slough Town | League | | | Match report |
| 05-04-1984 | Slough Town | 1-0 | Tooting | League | | | Match report |
| 17-01-1984 | Slough Town | 3-4 | Dulwich Hamlet | FA Trophy | | | Match report |
| 10-01-1984 | Slough Town | 0-2 | Wokingham Town | League | | | Match report |
| 31-12-1983 | Slough Town | 2-1 | Carshalton Ath | League | | | Match report |
| 26-12-1983 | Slough Town | 3-0 | Wycombe Wanderers | League | | | Match report |
| 20-12-1983 | Hitchin Town | 1-1 | Slough Town | League | | | Match report |
| 17-12-1983 | Sutton United | 2-0 | Slough Town | League | | | Match report |
| 13-12-1983 | Slough Town | 1-2 | Staines Town | League | | | Match report |
| 06-12-1983 | Hayes | 2-1 | Slough Town | League | | | Match report |
| 03-12-1983 | Tooting | 3-0 | Slough Town | League | | | Match report |
| 05-11-1983 | Bromley | 3-3 | Slough Town | League | | | Match report |
| 01-11-1983 | Carshalton Ath | 1-2 | Slough Town | League | | | Match report |
| 29-10-1983 | Poole Town | 3-0 | Slough Town | FA Cup | | | Match report |
| 22-10-1983 | Slough Town | 3-1 | Hendon | League | | | Match report |
| 18-10-1983 | Slough Town | 2-1 | Wolverton | B&B Senior Cup | | | Match report |
| 15-10-1983 | Slough Town | 3-2 | Hampton | FA Cup | | | Match report |
| 11-10-1983 | Wokingham Town | 0-0 | Slough Town | League | | | Match report |
| 08-10-1983 | Walthamstow | 0-2 | Slough Town | League | | | Match report |
| 01-10-1983 | Whyteleafe | 0-5 | Slough Town | FA Cup | | | Match report |
| 27-09-1983 | Clapton | 1-0 | Slough Town | Hennessey Cup | | | Match report |
| 24-09-1983 | Slough Town | 1-0 | Sutton United | League | | | Match report |
| 17-09-1983 | Hounslow | 0-3 | Slough Town | FA Cup | | | Match report |
| 13-09-1983 | Slough Town | 1-0 | Hayes | League | | | Match report |
| 10-09-1983 | Billericay Town | 0-3 | Slough Town | League | | | Match report |
| 06-09-1983 | Slough Town | 2-4 | Worthing | League | | | Match report |
| 03-09-1983 | Slough Town | 2-1 | Leytonstone Ilford | League | | | Match report |
| 29-08-1983 | Tilbury | 0-4 | Slough Town | Hennessey Cup | | | Match report |
| 27-08-1983 | Bishop's Stortford | 2-1 | Slough Town | League | | | Match report |
| 23-08-1983 | Staines Town | 2-3 | Slough Town | League | | | Match report |
| 20-08-1983 | Slough Town | 1-1 | Barking | League | | | Match report |
| 26-04-1983 | Sutton United | 0-2 | Slough Town | League | | | Match report |
| 19-04-1983 | Slough Town | 1-2 | Bromley | League | | | Match report |
| 16-04-1983 | Croydon | 1-1 | Slough Town | League | | | Match report |
| 14-04-1983 | Slough Town | 6-0 | Sutton United | League | | | Match report |
| 11-04-1983 | Bognor Regis Town | 2-0 | Slough Town | League | | | Match report |
| 09-04-1983 | Slough Town | 1-1 | Barking | League | | | Match report |
| 05-04-1983 | Slough Town | 2-3 | Wycombe Wanderers | League | | | Match report |
| 02-04-1983 | Slough Town | 1-0 | Leytonstone Ilford | League | | | Match report |
| 29-03-1983 | Tooting | 2-1 | Slough Town | League | | | Match report |
| 26-03-1983 | Hitchin Town | 1-3 | Slough Town | League | | | Match report |
| 19-03-1983 | Slough Town | 0-1 | Hayes | League | | | Match report |
| 15-03-1983 | Slough Town | 4-0 | Carshalton Ath | League | | | Match report |
| 12-03-1983 | Bromley | 0-0 | Slough Town | League | | | Match report |
| 08-03-1983 | Billericay Town | 0-0 | Slough Town | League | | | Match report |
| 26-02-1983 | Bishop's Stortford | 0-0 | Slough Town | League | | | Match report |
| 19-02-1983 | Slough Town | 7-2 | Walthamstow | League | | | Match report |
| 08-02-1983 | Slough Town | 1-1 | Staines Town | League | | | Match report |
| 29-01-1983 | Slough Town | 0-0 | Croydon | League | | | Match report |
| 22-01-1983 | Slough Town | 3-0 | Woking | League | | | Match report |
| 15-01-1983 | Slough Town | 0-1 | Dagenham | FA Trophy | | | Match report |
| 08-01-1983 | Harrow Borough | 1-0 | Slough Town | League | | | Match report |
| 01-01-1983 | Wokingham Town | 0-2 | Slough Town | League | | | Match report |
| 27-12-1982 | Slough Town | 0-1 | Wokingham Town | League | | | Match report |
| 21-12-1982 | Slough Town | 1-1 | Hitchin Town | League | | | Match report |
| 18-12-1982 | Leytonstone Ilford | 2-1 | Slough Town | League | | | Match report |
| 11-12-1982 | Slough Town | 1-4 | Bishop's Stortford | FA Cup | | | Match report |
| 04-12-1982 | Wycombe Wanderers | 1-1 | Slough Town | League | | | Match report |
| 27-11-1982 | Carshalton Ath | 2-2 | Slough Town | League | | | Match report |
| 20-11-1982 | Slough Town | 1-0 | Millwall | FA Cup | | | Match report |
| 13-11-1982 | Barking | 1-1 | Slough Town | League | | | Match report |
| 09-11-1982 | Slough Town | 5-1 | Leatherhead | League | | | Match report |
| 06-11-1982 | Hayes | 2-1 | Slough Town | League | | | Match report |
| 02-11-1982 | Hendon | 3-0 | Slough Town | League | | | Match report |
| 30-10-1982 | Slough Town | 7-1 | Bideford | FA Cup | | | Match report |
| 23-10-1982 | Slough Town | 0-0 | Dulwich Hamlet | League | | | Match report |
| 19-10-1982 | Staines Town | 0-2 | Slough Town | League | | | Match report |
| 16-10-1982 | Slough Town | 3-0 | Frome Town | FA Cup | | | Match report |
| 12-10-1982 | Slough Town | 2-0 | Bognor Regis Town | League | | | Match report |
| 09-10-1982 | Walthamstow | 0-1 | Slough Town | League | | | Match report |
| 05-10-1982 | Slough Town | 2-0 | Basingstoke Town | FA Cup | | | Match report |
| 02-10-1982 | Basingstoke Town | 2-2 | Slough Town | FA Cup | | | Match report |
| 28-09-1982 | Slough Town | 2-1 | Aylesbury United | B&B Senior Cup | | | Match report |
| 25-09-1982 | Woking | 1-1 | Slough Town | League | | | Match report |
| 18-09-1982 | Slough Town | 2-0 | Salisbury City | FA Cup | | | Match report |
| 14-09-1982 | Leatherhead | 0-1 | Slough Town | League | | | Match report |
| 11-09-1982 | Slough Town | 5-0 | Tooting | League | | | Match report |
| 04-09-1982 | Slough Town | 2-0 | Bishop's Stortford | League | | | Match report |
| 30-08-1982 | Tooting | 1-0 | Slough Town | Hennessey Cup | | | Match report |
| 28-08-1982 | Slough Town | 4-2 | Harrow Borough | League | | | Match report |
| 24-08-1982 | Slough Town | 6-0 | Hendon | League | | | Match report |
| 21-08-1982 | Slough Town | 2-1 | Billericay Town | League | | | Match report |
| 01-05-1982 | Tooting | 3-0 | Slough Town | League | | | Match report |
| 03-04-1982 | Slough Town | 1-0 | Staines Town | League | | | Match report |
| 01-04-1982 | Bishop's Stortford | 1-2 | Slough Town | League | | | Match report |
| 30-03-1982 | Slough Town | 3-2 | Carshalton Ath | League | | | Match report |
| 27-03-1982 | Walthamstow | 4-1 | Slough Town | League | | | Match report |
| 20-03-1982 | Slough Town | 4-1 | Walthamstow | League | | | Match report |
| 16-03-1982 | Wycombe Wanderers | 3-2 | Slough Town | League | | | Match report |
| 13-03-1982 | Slough Town | 0-1 | Billericay Town | League | | | Match report |
| 06-03-1982 | Slough Town | 0-1 | Hungerford Town | B&B Senior Cup | | | Match report |
| 02-03-1982 | Slough Town | 1-2 | Scarborough | FA Trophy | | | Match report |
| 27-02-1982 | Scarborough | 1-1 | Slough Town | FA Trophy | | | Match report |
| 16-02-1982 | Slough Town | 4-1 | Hayes | League | | | Match report |
| 13-02-1982 | Slough Town | 2-0 | Harlow Town | League | | | Match report |
| 08-02-1982 | Harrow Borough | 2-2 | Slough Town | League | | | Match report |
| 06-02-1982 | Slough Town | 1-0 | Rossendale | FA Trophy | | | Match report |
| 02-02-1982 | Slough Town | 2-0 | Aylesbury United | B&B Senior Cup | | | Match report |
| 30-01-1982 | Barking | 0-0 | Slough Town | League | | | Match report |
| 26-01-1982 | Aylesbury United | 0-0 | Slough Town | B&B Senior Cup | | | Match report |
| 23-01-1982 | Slough Town | 0-0 | Croydon | League | | | Match report |
| 19-01-1982 | Slough Town | 4-2 | Bath City | FA Trophy | | | Match report |
| 05-01-1982 | Slough Town | 2-3 | Wycombe Wanderers | Hennessey Cup | | | Match report |
| 02-01-1982 | Staines Town | 2-4 | Slough Town | League | | | Match report |
| 05-12-1981 | Billericay Town | 0-1 | Slough Town | League | | | Match report |
| 28-11-1981 | Slough Town | 0-1 | Dulwich Hamlet | League | | | Match report |
| 24-11-1981 | Slough Town | 6-0 | Didcot Town | B&B Senior Cup | | | Match report |
| 21-11-1981 | Dulwich Hamlet | 2-4 | Slough Town | League | | | Match report |
| 17-11-1981 | Hendon | 0-0 | Slough Town | League | | | Match report |
| 14-11-1981 | Slough Town | 4-0 | Bishop's Stortford | League | | | Match report |
| 07-11-1981 | Slough Town | 0-3 | Hitchin Town | League | | | Match report |
| 03-11-1981 | Hayes | 2-1 | Slough Town | League | | | Match report |
| 31-10-1981 | Sutton United | 2-1 | Slough Town | League | | | Match report |
| 27-10-1981 | Slough Town | 3-3 | Wycombe Wanderers | League | | | Match report |
| 24-10-1981 | Slough Town | 1-0 | Leatherhead | League | | | Match report |
| 20-10-1981 | Woking | 1-1 | Slough Town | League | | | Match report |
| 17-10-1981 | Croydon | 1-1 | Slough Town | League | | | Match report |
| 13-10-1981 | Slough Town | 3-2 | Boreham Wood | League | | | Match report |
| 10-10-1981 | Slough Town | 1-0 | Leytonstone Ilford | League | | | Match report |
| 06-10-1981 | Leatherhead | 0-0 | Slough Town | League | | | Match report |
| 03-10-1981 | Slough Town | 1-5 | Wokingham Town | FA Cup | | | Match report |
| 29-09-1981 | Slough Town | 3-0 | Windsor & Eton | Hennessey Cup | | | Match report |
| 22-09-1981 | Slough Town | 1-1 | Harrow Borough | League | | | Match report |
| 19-09-1981 | Slough Town | 2-1 | Chalfont St Peter | FA Cup | | | Match report |
| 15-09-1981 | Hitchin Town | 0-4 | Slough Town | League | | | Match report |
| 12-09-1981 | Slough Town | 1-3 | Bromley | League | | | Match report |
| 08-09-1981 | Slough Town | 4-2 | Wootton BC | FA Cup | | | Match report |
| 05-09-1981 | Wootton BC | 2-2 | Slough Town | FA Cup | | | Match report |
| 31-08-1981 | Harwich | 0-1 | Slough Town | Hennessey Cup | | | Match report |
| 29-08-1981 | Slough Town | 0-0 | Barking | League | | | Match report |
| 25-08-1981 | Boreham Wood | 1-1 | Slough Town | League | | | Match report |
| 22-08-1981 | Slough Town | 5-2 | Tooting | League | | | Match report |
| 18-08-1981 | Slough Town | 0-0 | Woking | League | | | Match report |
| 15-08-1981 | Carshalton Ath | 1-2 | Slough Town | League | | | Match report |
| 02-10-1979 | Slough Town | 1-0 | Didcot Town | B&B Senior Cup | | | Match report |
| 29-09-1979 | Slough Town | 2-2 | Harrow Borough | League | | | Match report |
| 25-09-1979 | Slough Town | 1-3 | Harlow Town | League | | | Match report |
| 22-09-1979 | Wycombe Wanderers | 1-0 | Slough Town | League | | | Match report |
| 18-09-1979 | Slough Town | 3-0 | Crawley Town | FA Cup | | | Match report |
| 15-09-1979 | Crawley Town | 0-0 | Slough Town | FA Cup | | | Match report |
| 11-09-1979 | Slough Town | 1-1 | Dulwich Hamlet | League | | | Match report |
| 04-09-1979 | Leatherhead | 3-0 | Slough Town | League | | | Match report |
Slough Town FC is not responsible for content produced on external websites | Copyright Slough Town FC 2021