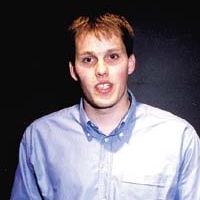 Stats
Position:
Goalkeeper
First Appearance:
17-08-1996 vs Stalybridge Celtic
Appearances:
137
First Goal:
N/A
Goals:
0
Clean Sheets:
50
Bio
Keeper signed following his release from Watford.

Made a positive impact at the club with a series of impressive displays and was one of only six players to remain with the club following their expulsion from the Conference in 1998. Began the season as the clubs number one but left following a disagreement with Graham Roberts to join Stevenage Borough. Has since represented a number of sides at various levels in non league football including Gravesend & Northfleet and Lewes.
History
| Match Date | Home | Score | Away | Competition | Goals | Cards | |
| --- | --- | --- | --- | --- | --- | --- | --- |
| 30-08-1999 | Slough Town | 4-0 | Billericay Town | League | | | Match report |
| 28-08-1999 | Ebbsfleet United | 1-0 | Slough Town | League | | | Match report |
| 23-08-1999 | Carshalton Ath | 1-1 | Slough Town | League | | | Match report |
| 21-08-1999 | Slough Town | 3-0 | Purfleet | League | | | Match report |
| 17-08-1999 | Slough Town | 1-1 | Hendon | League | | | Match report |
| 14-08-1999 | St Albans City | 0-1 | Slough Town | League | | | Match report |
| 01-05-1999 | Slough Town | 2-1 | Bromley | League | | | Match report |
| 27-04-1999 | Slough Town | 4-0 | Ebbsfleet United | League | | | Match report |
| 24-04-1999 | Basingstoke Town | 0-2 | Slough Town | League | | | Match report |
| 17-04-1999 | Slough Town | 1-1 | Carshalton Ath | League | | | Match report |
| 13-04-1999 | Slough Town | 2-2 | Aldershot Town | League | | | Match report |
| 10-04-1999 | Enfield | 2-1 | Slough Town | League | | | Match report |
| 05-04-1999 | Slough Town | 1-0 | Dulwich Hamlet | League | | | Match report |
| 03-04-1999 | Heybridge Swifts | 2-1 | Slough Town | League | | | Match report |
| 27-03-1999 | Aldershot Town | 1-1 | Slough Town | League | | | Match report |
| 20-03-1999 | Slough Town | 1-1 | Hendon | League | | | Match report |
| 13-03-1999 | Billericay Town | 1-2 | Slough Town | League | | | Match report |
| 06-03-1999 | Slough Town | 0-1 | Dagenham & R. | League | | | Match report |
| 02-03-1999 | Boreham Wood | 1-0 | Slough Town | League | | | Match report |
| 27-02-1999 | Harrow Borough | 0-2 | Slough Town | League | | | Match report |
| 23-02-1999 | Maidenhead United | 4-2 | Slough Town | Isthmian Lge Cup | | | Match report |
| 20-02-1999 | Slough Town | 1-0 | St Albans City | League | | | Match report |
| 16-02-1999 | Carshalton Ath | 0-3 | Slough Town | League | | | Match report |
| 13-02-1999 | Slough Town | 3-0 | Hampton | League | | | Match report |
| 06-02-1999 | Purfleet | 0-4 | Slough Town | League | | | Match report |
| 30-01-1999 | Slough Town | 1-2 | Sutton United | League | | | Match report |
| 25-01-1999 | Slough Town | 1-2 | Rushden & Diamonds | FA Trophy | | | Match report |
| 23-01-1999 | Bishop's Stortford | 0-1 | Slough Town | League | | | Match report |
| 09-01-1999 | Chesham United | 1-0 | Slough Town | League | | | Match report |
| 02-01-1999 | Slough Town | 0-1 | Heybridge Swifts | League | | | Match report |
| 28-12-1998 | Dulwich Hamlet | 2-2 | Slough Town | League | | | Match report |
| 22-12-1998 | Walton & Hersham | 2-0 | Slough Town | Puma Cup | | | Match report |
| 19-12-1998 | Slough Town | 0-3 | Boreham Wood | League | | | Match report |
| 12-12-1998 | Aylesbury United | 0-0 | Slough Town | League | | | Match report |
| 05-12-1998 | Slough Town | 3-0 | Walton & Hersham | League | | | Match report |
| 28-11-1998 | Bromley | 2-1 | Slough Town | League | | | Match report |
| 24-11-1998 | Slough Town | 1-1 | Macclesfield Town | FA Cup | | | Match report |
| 21-11-1998 | Slough Town | 3-1 | Baldock Town | FA Trophy | | | Match report |
| 17-11-1998 | Slough Town | 0-1 | Basingstoke Town | League | | | Match report |
| 14-11-1998 | Macclesfield Town | 2-2 | Slough Town | FA Cup | | | Match report |
| 09-11-1998 | Slough Town | 3-2 | Crawley Town | FA Cup | | | Match report |
| 07-11-1998 | Slough Town | 2-2 | Enfield | League | | | Match report |
| 03-11-1998 | Crawley Town | 0-0 | Slough Town | FA Cup | | | Match report |
| 27-10-1998 | Slough Town | 1-0 | Bromley | Isthmian Lge Cup | | | Match report |
| 24-10-1998 | Hendon | 5-2 | Slough Town | League | | | Match report |
| 17-10-1998 | Slough Town | 3-1 | Halstead Town | FA Cup | | | Match report |
| 12-10-1998 | St Albans City | 3-3 | Slough Town | League | | | Match report |
| 10-10-1998 | Slough Town | 0-3 | Harrow Borough | League | | | Match report |
| 06-10-1998 | Fleet Town | 0-2 | Slough Town | FA Cup | | | Match report |
| 03-10-1998 | Slough Town | 1-1 | Fleet Town | FA Cup | | | Match report |
| 26-09-1998 | Dagenham & R. | 3-0 | Slough Town | League | | | Match report |
| 22-09-1998 | Slough Town | 1-1 | Billericay Town | League | | | Match report |
| 19-09-1998 | Slough Town | 2-3 | Purfleet | League | | | Match report |
| 15-09-1998 | Hampton | 2-2 | Slough Town | League | | | Match report |
| 12-09-1998 | Slough Town | 1-0 | Aylesbury United | League | | | Match report |
| 08-09-1998 | Abingdon | 0-1 | Slough Town | Isthmian Lge Cup | | | Match report |
| 05-09-1998 | Walton & Hersham | 2-0 | Slough Town | League | | | Match report |
| 01-09-1998 | Ebbsfleet United | 1-2 | Slough Town | League | | | Match report |
| 29-08-1998 | Slough Town | 3-1 | Chesham United | League | | | Match report |
| 25-08-1998 | Slough Town | 2-2 | Bishop's Stortford | League | | | Match report |
| 22-08-1998 | Sutton United | 0-1 | Slough Town | League | | | Match report |
| 02-05-1998 | Kidderminster Harriers | 0-1 | Slough Town | League | | | Match report |
| 30-04-1998 | Slough Town | 4-0 | Stalybridge Celtic | League | | | Match report |
| 28-04-1998 | Slough Town | 1-1 | Leek Town | League | | | Match report |
| 23-04-1998 | Slough Town | 1-1 | Kettering Town | League | | | Match report |
| 13-04-1998 | Slough Town | 1-1 | Yeovil Town | League | | | Match report |
| 07-04-1998 | Slough Town | 3-1 | Stevenage Borough | League | | | Match report |
| 05-04-1998 | Southport | 1-1 | Slough Town | FA Trophy | | | Match report |
| 31-03-1998 | Slough Town | 1-0 | Gateshead | League | | | Match report |
| 28-03-1998 | Slough Town | 0-1 | Southport | FA Trophy | | | Match report |
| 21-03-1998 | Hereford United | 1-1 | Slough Town | League | | | Match report |
| 16-03-1998 | Stevenage Borough | 4-2 | Slough Town | League | | | Match report |
| 14-03-1998 | Stevenage Borough | 0-1 | Slough Town | FA Trophy | | | Match report |
| 10-03-1998 | Slough Town | 1-3 | Woking | League | | | Match report |
| 07-03-1998 | Slough Town | 2-0 | Hednesford Town | League | | | Match report |
| 03-03-1998 | Slough Town | 1-0 | Telford Utd | League | | | Match report |
| 28-02-1998 | Morecambe | 2-1 | Slough Town | League | | | Match report |
| 24-02-1998 | Boreham Wood | 1-2 | Slough Town | FA Trophy | | | Match report |
| 21-02-1998 | Slough Town | 1-1 | Boreham Wood | FA Trophy | | | Match report |
| 18-02-1998 | Farnborough Town | 1-0 | Slough Town | League | | | Match report |
| 14-02-1998 | Northwich Victoria | 0-1 | Slough Town | League | | | Match report |
| 07-02-1998 | Slough Town | 3-0 | Hereford United | League | | | Match report |
| 03-02-1998 | Slough Town | 2-0 | Halifax Town | FA Trophy | | | Match report |
| 31-01-1998 | Halifax Town | 1-1 | Slough Town | FA Trophy | | | Match report |
| 17-01-1998 | Telford Utd | 0-1 | Slough Town | League | | | Match report |
| 13-01-1998 | Slough Town | 2-1 | Welling United | FA Trophy | | | Match report |
| 10-01-1998 | Welling United | 1-1 | Slough Town | FA Trophy | | | Match report |
| 01-01-1998 | Hayes | 0-1 | Slough Town | League | | | Match report |
| 29-12-1997 | Slough Town | 1-0 | Farnborough Town | League | | | Match report |
| 26-12-1997 | Slough Town | 0-0 | Hayes | League | | | Match report |
| 20-12-1997 | Yeovil Town | 2-1 | Slough Town | League | | | Match report |
| 13-12-1997 | Slough Town | 2-0 | Kidderminster Harriers | League | | | Match report |
| 06-12-1997 | Welling United | 1-1 | Slough Town | League | | | Match report |
| 29-11-1997 | Slough Town | 1-0 | Southport | League | | | Match report |
| 25-11-1997 | Cardiff City | 3-2 | Slough Town | FA Cup | | | Match report |
| 22-11-1997 | Hednesford Town | 2-1 | Slough Town | League | | | Match report |
| 18-11-1997 | Hayes | 2-0 | Slough Town | Isthmian Lge Sub. Cup | | | Match report |
| 15-11-1997 | Slough Town | 1-1 | Cardiff City | FA Cup | | | Match report |
| 08-11-1997 | Slough Town | 1-2 | Cheltenham Town | League | | | Match report |
| 01-11-1997 | Rushden & Diamonds | 0-1 | Slough Town | League | | | Match report |
| 25-10-1997 | Slough Town | 2-1 | Kingstonian | FA Cup | | | Match report |
| 18-10-1997 | Slough Town | 3-3 | Morecambe | League | | | Match report |
| 11-10-1997 | Slough Town | 6-1 | Tilbury | FA Cup | | | Match report |
| 07-10-1997 | Slough Town | 1-0 | Welling United | Isthmian Lge Sub. Cup | | | Match report |
| 04-10-1997 | Leek Town | 0-2 | Slough Town | League | | | Match report |
| 30-09-1997 | Slough Town | 0-0 | Walton & Hersham | FA Cup | | | Match report |
| 27-09-1997 | Walton & Hersham | 0-0 | Slough Town | FA Cup | | | Match report |
| 23-09-1997 | Cheltenham Town | 1-1 | Slough Town | League | | | Match report |
| 20-09-1997 | Slough Town | 3-0 | Northwich Victoria | League | | | Match report |
| 16-09-1997 | Slough Town | 5-0 | Baldock Town | FA Cup | | | Match report |
| 13-09-1997 | Baldock Town | 0-0 | Slough Town | FA Cup | | | Match report |
| 03-05-1997 | Stalybridge Celtic | 2-2 | Slough Town | League | | | Match report |
| 26-04-1997 | Morecambe | 0-0 | Slough Town | League | | | Match report |
| 15-02-1997 | Slough Town | 3-4 | Northwich Victoria | League | | | Match report |
| 01-02-1997 | Slough Town | 0-1 | Gateshead | League | | | Match report |
| 27-01-1997 | Slough Town | 1-2 | Dorchester Town | FA Trophy | | | Match report |
| 25-01-1997 | Macclesfield Town | 2-0 | Slough Town | League | | | Match report |
| 21-01-1997 | Dorchester Town | 1-1 | Slough Town | FA Trophy | | | Match report |
| 18-01-1997 | Slough Town | 2-2 | Dorchester Town | FA Trophy | | | Match report |
| 14-01-1997 | Slough Town | 6-0 | Buckingham Town | B&B Senior Cup | | | Match report |
| 11-01-1997 | Slough Town | 1-1 | Farnborough Town | League | | | Match report |
| 01-01-1997 | Slough Town | 1-6 | Stevenage Borough | League | | | Match report |
| 28-12-1996 | Woking | 2-0 | Slough Town | League | | | Match report |
| 26-12-1996 | Stevenage Borough | 2-2 | Slough Town | League | | | Match report |
| 21-12-1996 | Slough Town | 3-3 | Welling United | League | | | Match report |
| 14-12-1996 | Farnborough Town | 2-1 | Slough Town | League | | | Match report |
| 07-12-1996 | Kettering Town | 0-0 | Slough Town | League | | | Match report |
| 30-11-1996 | Slough Town | 0-0 | Macclesfield Town | League | | | Match report |
| 26-11-1996 | Northwich Victoria | 0-1 | Slough Town | League | | | Match report |
| 16-11-1996 | Gateshead | 2-1 | Slough Town | League | | | Match report |
| 09-11-1996 | Slough Town | 0-2 | Kidderminster Harriers | League | | | Match report |
| 02-11-1996 | Altrincham | 0-1 | Slough Town | League | | | Match report |
| 26-10-1996 | Hayes | 1-0 | Slough Town | FA Cup | | | Match report |
| 26-08-1996 | Kidderminster Harriers | 1-2 | Slough Town | League | | | Match report |
| 24-08-1996 | Halifax Town | 4-1 | Slough Town | League | | | Match report |
| 20-08-1996 | Slough Town | 5-0 | Rushden & Diamonds | League | | | Match report |
| 17-08-1996 | Slough Town | 4-1 | Stalybridge Celtic | League | | | Match report |
Slough Town FC is not responsible for content produced on external websites | Copyright Slough Town FC 2021