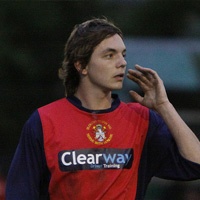 Position:
Forward
Achievements
2010/11 Supporters' player of the season
Bio
Sean completed a permanent move to the Rebels in January 2010 after he was released from his contract with Boreham Wood.
He had previously been on loan from the Ryman Premier club from November 2009.
Sonner scored a debut goal against Bedworth and bagged a further seven goals in season 2009/10, becoming a firm favourite with the Rebels faithful with his never-say-die attitude and work ethic.
In season 2010/11, Sonner finished as the club's second top scorer with 14 goals, and his performances led to him being named the Supporters' player of the season. He scored 18 goals in season 2011/12.
A former England Under 18 Schoolboy international, Sean was originally signed by Wood in November 2008 from Northwood after scoring 17 goals in 24 appearances.
Elsewhere he has previously played for Harefield United and Sun Postal Sports, during which time he had trials at Crystal Palace.
Mens
| First Appearance | Appearances | First Goal | Goals |
| --- | --- | --- | --- |
| 21-11-2009 vs Bedworth United | 144 | 21-11-2009 vs Bedworth United | 45 |
History
| Match Date | Home | Score | Away | Competition | Goals | Cards | |
| --- | --- | --- | --- | --- | --- | --- | --- |
| 04-12-2012 | Aylesbury | 0-1 | Slough Town | Red Insure Cup | | | Match report |
| 01-12-2012 | Slough Town | 3-1 | Royston Town | League | | | Match report |
| 20-11-2012 | Maidenhead United | 4-1 | Slough Town | B&B Senior Cup | | | Match report |
| 13-11-2012 | Slough Town | 1-1 | Mansfield Town | FA Cup | | | Match report |
| 10-11-2012 | Slough Town | 6-1 | Ashford Town (Middx) | League | | | Match report |
| 06-11-2012 | Slough Town | 2-3 | Rugby Town | League | | | Match report |
| 03-11-2012 | Mansfield Town | 0-0 | Slough Town | FA Cup | | | Match report |
| 30-10-2012 | Leighton Town | 0-3 | Slough Town | League | | | Match report |
| 27-10-2012 | Slough Town | 3-1 | Fleet Town | League | | | Match report |
| 16-10-2012 | Chalfont St Peter | 0-1 | Slough Town | Red Insure Cup | | | Match report |
| 23-09-2012 | Slough Town | 5-1 | Eastbourne Town | FA Cup | | | Match report |
| 16-09-2012 | Slough Town | 2-1 | Hungerford Town | FA Trophy | | | Match report |
| 08-09-2012 | Slough Town | 4-1 | Lingfield | FA Cup | | | Match report |
| 27-08-2012 | Slough Town | 1-1 | Beaconsfield Town | League | | | Match report |
| 25-08-2012 | Slough Town | 4-2 | Corinthian | FA Cup | | | Match report |
| 21-08-2012 | Slough Town | 1-2 | Guildford City | League | | | Match report |
| 18-08-2012 | Slough Town | 5-0 | Northwood | League | | | Match report |
| 07-05-2012 | Woodford United | 1-2 | Slough Town | League | | | Match report |
| 03-05-2012 | Slough Town | 1-2 | Beaconsfield Town | Play Off | | | Match report |
| 21-04-2012 | Slough Town | 0-3 | Leighton Town | League | | | Match report |
| 14-04-2012 | Bedworth United | 5-3 | Slough Town | League | | | Match report |
| 09-04-2012 | Slough Town | 1-1 | Beaconsfield Town | League | | | Match report |
| 07-04-2012 | Bedfont Town | 1-2 | Slough Town | League | | | Match report |
| 31-03-2012 | Slough Town | 1-1 | Chalfont St Peter | League | | | Match report |
| 24-03-2012 | Ashford Town (Middx) | 1-2 | Slough Town | League | | | Match report |
| 17-03-2012 | Slough Town | 2-1 | Biggleswade Town | League | | | Match report |
| 13-03-2012 | Slough Town | 0-2 | North Greenford Utd | League | | | Match report |
| 10-03-2012 | St Neots Town | 0-1 | Slough Town | League | | | Match report |
| 06-03-2012 | Barton Rovers | 0-3 | Slough Town | League | | | Match report |
| 03-03-2012 | Slough Town | 1-0 | Northwood | League | | | Match report |
| 28-01-2012 | Slough Town | 3-0 | Chertsey Town | League | | | Match report |
| 24-01-2012 | Chesham United | 3-1 | Slough Town | B&B Senior Cup | | | Match report |
| 21-01-2012 | Aylesbury | 2-0 | Slough Town | League | | | Match report |
| 14-01-2012 | Slough Town | 2-0 | Uxbridge | League | | | Match report |
| 07-01-2012 | Burnham | 1-1 | Slough Town | League | | | Match report |
| 02-01-2012 | Slough Town | 3-0 | Marlow | League | | | Match report |
| 31-12-2011 | Fleet Town | 0-1 | Slough Town | League | | | Match report |
| 26-12-2011 | Beaconsfield Town | 0-2 | Slough Town | League | | | Match report |
| 17-12-2011 | Slough Town | 2-1 | Bedworth United | League | | | Match report |
| 10-12-2011 | Chalfont St Peter | 2-1 | Slough Town | League | | | Match report |
| 03-12-2011 | Slough Town | 2-1 | Bedfont Town | League | | | Match report |
| 19-11-2011 | Biggleswade Town | 1-1 | Slough Town | League | | | Match report |
| 15-11-2011 | Northwood | 2-4 | Slough Town | League | | | Match report |
| 12-11-2011 | Slough Town | 2-0 | St Neots Town | League | | | Match report |
| 08-11-2011 | AFC Hayes | 1-1 | Slough Town | League | | | Match report |
| 05-11-2011 | Slough Town | 2-1 | Woodford United | League | | | Match report |
| 01-11-2011 | Slough Town | 1-2 | Chesham United | Red Insure Cup | | | Match report |
| 29-10-2011 | Leighton Town | 0-1 | Slough Town | League | | | Match report |
| 22-10-2011 | Slough Town | 4-0 | Rugby Town | League | | | Match report |
| 18-10-2011 | Hanworth Villa | 3-1 | Slough Town | FA Cup | | | Match report |
| 15-10-2011 | Slough Town | 2-2 | Hanworth Villa | FA Cup | | | Match report |
| 08-10-2011 | Gosport Borough | 3-0 | Slough Town | FA Trophy | | | Match report |
| 04-10-2011 | North Greenford Utd | 0-0 | Slough Town | League | | | Match report |
| 01-10-2011 | Slough Town | 3-2 | Boreham Wood | FA Cup | | | Match report |
| 24-09-2011 | Slough Town | 2-1 | Daventry Town | League | | | Match report |
| 17-09-2011 | Banbury United | 1-3 | Slough Town | FA Cup | | | Match report |
| 13-09-2011 | Slough Town | 2-1 | Barton Rovers | League | | | Match report |
| 10-09-2011 | Rugby Town | 2-0 | Slough Town | League | | | Match report |
| 04-09-2011 | Slough Town | 3-1 | Binfield | FA Cup | | | Match report |
| 29-08-2011 | Marlow | 0-3 | Slough Town | League | | | Match report |
| 27-08-2011 | Slough Town | 3-0 | Fleet Town | League | | | Match report |
| 23-08-2011 | Slough Town | 1-2 | Burnham | League | | | Match report |
| 20-08-2011 | Chertsey Town | 3-5 | Slough Town | League | | | Match report |
| 16-08-2011 | Uxbridge | 0-2 | Slough Town | League | | | Match report |
| 13-08-2011 | Slough Town | 0-0 | Aylesbury | League | | | Match report |
| 28-04-2011 | Hitchin Town | 4-1 | Slough Town | Play Off | | | Match report |
| 25-04-2011 | Beaconsfield Town | 1-0 | Slough Town | League | | | Match report |
| 23-04-2011 | Slough Town | 3-2 | Biggleswade Town | League | | | Match report |
| 19-04-2011 | Slough Town | 2-0 | Ashford Town (Middx) | League | | | Match report |
| 16-04-2011 | Leighton Town | 3-1 | Slough Town | League | | | Match report |
| 12-04-2011 | Arlesey Town | 2-1 | Slough Town | League | | | Match report |
| 09-04-2011 | Slough Town | 4-3 | Northwood | League | | | Match report |
| 05-04-2011 | Daventry Town | 1-2 | Slough Town | League | | | Match report |
| 02-04-2011 | Burnham | 0-2 | Slough Town | League | | | Match report |
| 26-03-2011 | Slough Town | 2-1 | Bedworth United | League | | | Match report |
| 22-03-2011 | Barton Rovers | 2-0 | Slough Town | League | | | Match report |
| 19-03-2011 | Slough Town | 2-1 | North Greenford Utd | League | | | Match report |
| 15-03-2011 | Woodford United | 1-3 | Slough Town | League | | | Match report |
| 12-03-2011 | Rugby Town | 1-0 | Slough Town | League | | | Match report |
| 08-03-2011 | AFC Hayes | 2-4 | Slough Town | League | | | Match report |
| 05-03-2011 | Slough Town | 2-1 | Soham Town Rangers | League | | | Match report |
| 12-02-2011 | Slough Town | 3-2 | Aylesbury | League | | | Match report |
| 08-02-2011 | Cambridge City | 3-2 | Slough Town | Red Insure Cup | | | Match report |
| 01-02-2011 | Northwood | 1-5 | Slough Town | League | | | Match report |
| 29-01-2011 | Slough Town | 3-0 | Atherstone Town | League | | | Match report |
| 25-01-2011 | Slough Town | 3-3 | Woodford United | League | | | Match report |
| 18-01-2011 | Slough Town | 0-3 | Arlesey Town | League | | | Match report |
| 15-01-2011 | Marlow | 1-4 | Slough Town | League | | | Match report |
| 11-01-2011 | Ashford Town (Middx) | 1-2 | Slough Town | Red Insure Cup | | | Match report |
| 08-01-2011 | Slough Town | 1-1 | Hitchin Town | League | | | Match report |
| 03-01-2011 | Uxbridge | 2-1 | Slough Town | League | | | Match report |
| 30-12-2010 | Slough Town | 6-4 | Beaconsfield Town | League | | | Match report |
| 14-12-2010 | Oxford City | 0-2 | Slough Town | Red Insure Cup | | | Match report |
| 11-12-2010 | Slough Town | 1-1 | Bedfont Town | League | | | Match report |
| 04-12-2010 | Ashford Town (Middx) | 1-2 | Slough Town | League | | | Match report |
| 23-11-2010 | Marlow | 3-2 | Slough Town | B&B Senior Cup | | | Match report |
| 20-11-2010 | Aylesbury | 1-2 | Slough Town | League | | | Match report |
| 09-11-2010 | Slough Town | 2-3 | Burnham | League | | | Match report |
| 06-11-2010 | Slough Town | 1-3 | Rugby Town | League | | | Match report |
| 30-10-2010 | Soham Town Rangers | 1-0 | Slough Town | League | | | Match report |
| 23-10-2010 | Slough Town | 0-1 | Leighton Town | League | | | Match report |
| 19-10-2010 | Chippenham Town | 4-1 | Slough Town | FA Trophy | | | Match report |
| 16-10-2010 | Slough Town | 1-1 | Chippenham Town | FA Trophy | | | Match report |
| 09-10-2010 | Bedworth United | 1-1 | Slough Town | League | | | Match report |
| 05-10-2010 | Marlow | 0-3 | Slough Town | FA Trophy | | | Match report |
| 02-10-2010 | Slough Town | 2-2 | Marlow | FA Trophy | | | Match report |
| 25-09-2010 | Slough Town | 1-3 | Daventry Town | League | | | Match report |
| 04-09-2010 | Biggleswade Town | 1-5 | Slough Town | League | | | Match report |
| 30-08-2010 | Slough Town | 5-2 | Uxbridge | League | | | Match report |
| 28-08-2010 | Lancing | 1-4 | Slough Town | FA Cup | | | Match report |
| 21-08-2010 | Hitchin Town | 3-2 | Slough Town | League | | | Match report |
| 18-08-2010 | Bedfont Town | 1-2 | Slough Town | League | | | Match report |
| 14-08-2010 | Slough Town | 2-1 | Barton Rovers | League | | | Match report |
| 01-05-2010 | Chesham United | 4-0 | Slough Town | Play Off | | | Match report |
| 27-04-2010 | Hitchin Town | 1-2 | Slough Town | Play Off | | | Match report |
| 24-04-2010 | Romulus | 1-4 | Slough Town | League | | | Match report |
| 20-04-2010 | Slough Town | 0-1 | Hitchin Town | League | | | Match report |
| 17-04-2010 | Slough Town | 5-1 | Aylesbury United | League | | | Match report |
| 15-04-2010 | Bromsgrove Rovers | 1-1 | Slough Town | League | | | Match report |
| 13-04-2010 | Burnham | 1-1 | Slough Town | League | | | Match report |
| 10-04-2010 | Bury Town | 1-0 | Slough Town | League | | | Match report |
| 05-04-2010 | Marlow | 0-1 | Slough Town | League | | | Match report |
| 30-03-2010 | Slough Town | 1-2 | Arlesey Town | League | | | Match report |
| 27-03-2010 | Rothwell Town | 1-3 | Slough Town | League | | | Match report |
| 23-03-2010 | Barton Rovers | 3-3 | Slough Town | League | | | Match report |
| 20-03-2010 | Slough Town | 3-3 | Atherstone Town | League | | | Match report |
| 16-03-2010 | Slough Town | 0-1 | Wycombe Wanderers | B&B Senior Cup | | | Match report |
| 13-03-2010 | Biggleswade Town | 1-0 | Slough Town | League | | | Match report |
| 09-03-2010 | Slough Town | 3-1 | Leighton Town | League | | | Match report |
| 06-03-2010 | Slough Town | 2-0 | Soham Town Rangers | League | | | Match report |
| 02-03-2010 | Slough Town | 1-3 | Chesham United | League | | | Match report |
| 20-02-2010 | Slough Town | 2-2 | Sutton Coldfield Town | League | | | Match report |
| 15-02-2010 | Beaconsfield Town | 1-4 | Slough Town | League | | | Match report |
| 13-02-2010 | Slough Town | 0-1 | AFC Sudbury | League | | | Match report |
| 09-02-2010 | Slough Town | 1-1 | Marlow | League | | | Match report |
| 06-02-2010 | Woodford United | 0-1 | Slough Town | League | | | Match report |
| 02-02-2010 | Bedworth United | 2-4 | Slough Town | League | | | Match report |
| 23-01-2010 | Stourport Swifts | 1-4 | Slough Town | League | | | Match report |
| 12-12-2009 | Slough Town | 2-2 | Romulus | League | | | Match report |
| 08-12-2009 | Arlesey Town | 1-2 | Slough Town | League | | | Match report |
| 05-12-2009 | Slough Town | 0-1 | Bury Town | League | | | Match report |
| 01-12-2009 | AFC Sudbury | 1-2 | Slough Town | League | | | Match report |
| 28-11-2009 | Aylesbury United | 2-5 | Slough Town | League | | | Match report |
| 21-11-2009 | Slough Town | 2-0 | Bedworth United | League | | | Match report |
Slough Town FC is not responsible for content produced on external websites | Copyright Slough Town FC 2023