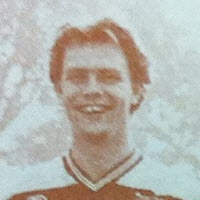 Stats
Position:
Defender
First Appearance:
10-09-1988 vs Leytonstone Ilford
Appearances:
135
First Goal:
26-11-1988 vs St Albans City
Goals:
4
Bio
Versatile player who was comfortable in defence and midfield.

Played with a real passion for the game and was capable of scoring spectacular goals. Hard working player who never stopped running.
History
| Match Date | Home | Score | Away | Competition | Goals | Cards | |
| --- | --- | --- | --- | --- | --- | --- | --- |
| 06-05-1995 | Slough Town | 3-3 | Carshalton Ath | League | | | Match report |
| 04-04-1995 | Hendon | 1-2 | Slough Town | League | | | Match report |
| 01-04-1995 | Slough Town | 0-0 | Walton & Hersham | League | | | Match report |
| 28-03-1995 | Slough Town | 3-2 | Hitchin Town | League | | | Match report |
| 25-03-1995 | St Albans City | 3-1 | Slough Town | League | | | Match report |
| 14-03-1995 | Dulwich Hamlet | 1-2 | Slough Town | Ryman League Cup | | | Match report |
| 07-03-1995 | Aylesbury United | 3-3 | Slough Town | League | | | Match report |
| 28-02-1995 | Slough Town | 3-1 | Dulwich Hamlet | League | | | Match report |
| 18-02-1995 | Yeading | 0-0 | Slough Town | League | | | Match report |
| 14-02-1995 | St Albans City | 3-4 | Slough Town | League Cup | | | Match report |
| 09-02-1995 | Slough Town | 2-1 | Wycombe Wanderers | B&B Senior Cup | | | Match report |
| 04-02-1995 | Grays Athletic | 3-3 | Slough Town | League | | | Match report |
| 24-01-1995 | Merthyr Tydfil | 3-2 | Slough Town | FA Trophy | | | Match report |
| 17-01-1995 | Slough Town | 4-0 | Thatcham Town | B&B Senior Cup | | | Match report |
| 14-01-1995 | Slough Town | 4-0 | Marlow | League | | | Match report |
| 31-12-1994 | Slough Town | 4-1 | Bromley | League | | | Match report |
| 29-11-1994 | Worthing | 3-6 | Slough Town | League Cup | | | Match report |
| 26-11-1994 | Hayes | 3-1 | Slough Town | League | | | Match report |
| 19-11-1994 | Slough Town | 1-1 | Harrow Borough | League | | | Match report |
| 12-11-1994 | Slough Town | 0-4 | Birmingham City | FA Cup | | | Match report |
| 05-11-1994 | Slough Town | 1-1 | St Albans City | League | | | Match report |
| 01-11-1994 | Slough Town | 4-0 | Collier Row | League Cup | | | Match report |
| 29-10-1994 | Walton & Hersham | 3-3 | Slough Town | League | | | Match report |
| 22-10-1994 | Stafford Rangers | 0-4 | Slough Town | FA Cup | | | Match report |
| 15-10-1994 | Enfield | 0-1 | Slough Town | League | | | Match report |
| 01-10-1994 | Slough Town | 1-1 | Dulwich Hamlet | League | | | Match report |
| 10-09-1994 | Slough Town | 3-2 | Sutton United | League | | | Match report |
| 06-09-1994 | Hayes | 0-1 | Slough Town | Ryman League Cup | | | Match report |
| 29-08-1994 | Purfleet | 3-0 | Slough Town | League | | | Match report |
| 27-08-1994 | Slough Town | 1-0 | Aylesbury United | League | | | Match report |
| 20-08-1994 | Chesham United | 0-1 | Slough Town | League | | | Match report |
| 11-01-1992 | Enfield | 4-0 | Slough Town | FA Trophy | | | Match report |
| 07-01-1992 | Slough Town | 5-2 | Flackwell Heath | B&B Senior Cup | | | Match report |
| 04-01-1992 | Redbridge Forest | 4-0 | Slough Town | League | | | Match report |
| 01-01-1992 | Wycombe Wanderers | 3-0 | Slough Town | League | | | Match report |
| 26-12-1991 | Slough Town | 0-1 | Wycombe Wanderers | League | | | Match report |
| 17-12-1991 | Slough Town | 0-1 | Kidderminster Harriers | Bob Lord Trophy | | | Match report |
| 14-12-1991 | Merthyr Tydfil | 1-2 | Slough Town | League | | | Match report |
| 27-11-1991 | Reading | 2-1 | Slough Town | FA Cup | | | Match report |
| 02-11-1991 | Slough Town | 2-1 | Witton Albion | League | | | Match report |
| 26-10-1991 | Slough Town | 2-1 | Kingstonian | FA Cup | | | Match report |
| 30-04-1991 | Slough Town | 3-3 | Altrincham | League | | | Match report |
| 27-04-1991 | Boston Utd | 0-1 | Slough Town | League | | | Match report |
| 01-04-1991 | Slough Town | 0-3 | Cheltenham Town | League | | | Match report |
| 30-03-1991 | Runcorn | 3-1 | Slough Town | League | | | Match report |
| 23-03-1991 | Kidderminster Harriers | 1-2 | Slough Town | League | | | Match report |
| 19-03-1991 | Bath City | 4-0 | Slough Town | League | | | Match report |
| 12-03-1991 | Slough Town | 3-0 | Welling United | League | | | Match report |
| 09-03-1991 | Wycombe Wanderers | 2-1 | Slough Town | League | | | Match report |
| 05-03-1991 | Slough Town | 0-2 | Colchester Utd | League | | | Match report |
| 02-03-1991 | Barrow | 2-1 | Slough Town | League | | | Match report |
| 19-01-1991 | Slough Town | 2-1 | Stafford Rangers | League | | | Match report |
| 16-01-1991 | Slough Town | 5-1 | Milton Keynes Boro | B&B Senior Cup | | | Match report |
| 12-01-1991 | Slough Town | 2-4 | Bath City | FA Trophy | | | Match report |
| 05-01-1991 | Colchester Utd | 2-1 | Slough Town | League | | | Match report |
| 18-12-1990 | Cheltenham Town | 2-0 | Slough Town | League | | | Match report |
| 15-12-1990 | Slough Town | 2-0 | Yeovil Town | League | | | Match report |
| 20-10-1990 | Slough Town | 3-0 | Barrow | League | | | Match report |
| 16-10-1990 | Slough Town | 3-3 | Wycombe Wanderers | League | | | Match report |
| 13-10-1990 | Fisher Ath | 1-1 | Slough Town | League | | | Match report |
| 06-10-1990 | Slough Town | 2-4 | Northwich Victoria | League | | | Match report |
| 02-10-1990 | Kettering Town | 0-0 | Slough Town | League | | | Match report |
| 29-09-1990 | Slough Town | 2-3 | Farnborough Town | FA Cup | | | Match report |
| 24-09-1990 | Fisher Ath | 2-1 | Slough Town | Bob Lord Trophy | | | Match report |
| 22-09-1990 | Macclesfield Town | 1-2 | Slough Town | League | | | Match report |
| 19-09-1990 | Welling United | 2-0 | Slough Town | League | | | Match report |
| 15-09-1990 | Slough Town | 8-0 | Feltham | FA Cup | | | Match report |
| 11-09-1990 | Slough Town | 0-3 | Kettering Town | League | | | Match report |
| 08-09-1990 | Altrincham | 3-0 | Slough Town | League | | | Match report |
| 04-09-1990 | Slough Town | 2-4 | Fisher Ath | Bob Lord Trophy | | | Match report |
| 01-09-1990 | Gateshead | 1-0 | Slough Town | League | | | Match report |
| 27-08-1990 | Merthyr Tydfil | 3-0 | Slough Town | League | | | Match report |
| 25-08-1990 | Slough Town | 2-1 | Runcorn | League | | | Match report |
| 21-08-1990 | Barnet | 6-1 | Slough Town | League | | | Match report |
| 13-08-1990 | Aveley | 0-2 | Slough Town | Unknown Cup | | | Match report |
| 28-04-1990 | Slough Town | 3-0 | Marlow | League | | | Match report |
| 21-04-1990 | Hendon | 1-1 | Slough Town | League | | | Match report |
| 16-04-1990 | Wycombe Wanderers | 2-1 | Slough Town | B&B Senior Cup | | | Match report |
| 14-04-1990 | Slough Town | 1-0 | Hayes | League | | | Match report |
| 10-04-1990 | Slough Town | 2-1 | Kingstonian | League | | | Match report |
| 07-04-1990 | Carshalton Ath | 4-4 | Slough Town | League | | | Match report |
| 04-04-1990 | Redbridge Forest | 2-0 | Slough Town | League | | | Match report |
| 31-03-1990 | Slough Town | 3-2 | Leyton Wingate | League | | | Match report |
| 24-03-1990 | Slough Town | 2-0 | Dulwich Hamlet | League | | | Match report |
| 20-03-1990 | Slough Town | 3-1 | Hendon | League | | | Match report |
| 17-03-1990 | Bishop's Stortford | 0-1 | Slough Town | League | | | Match report |
| 13-03-1990 | Dulwich Hamlet | 2-3 | Slough Town | League | | | Match report |
| 06-03-1990 | Slough Town | 4-0 | Harrow Borough | League | | | Match report |
| 27-02-1990 | Slough Town | 3-0 | Abingdon Utd | B&B Senior Cup | | | Match report |
| 20-01-1990 | Barking | 1-1 | Slough Town | League | | | Match report |
| 09-01-1990 | Slough Town | 2-0 | Aylesbury United | B&B Senior Cup | | | Match report |
| 06-01-1990 | Bognor Regis Town | 1-3 | Slough Town | League | | | Match report |
| 18-11-1989 | Slough Town | 1-2 | Woking | FA Cup | | | Match report |
| 14-11-1989 | Bishop's Stortford | 2-0 | Slough Town | AC Delco Cup | | | Match report |
| 11-11-1989 | Hayes | 1-1 | Slough Town | League | | | Match report |
| 07-11-1989 | Slough Town | 1-0 | Staines Town | League | | | Match report |
| 04-11-1989 | Slough Town | 1-1 | Bishop's Stortford | League | | | Match report |
| 28-10-1989 | Abingdon Town | 0-3 | Slough Town | FA Cup | | | Match report |
| 17-10-1989 | Uxbridge | 1-2 | Slough Town | FA Cup | | | Match report |
| 14-10-1989 | Slough Town | 0-0 | Uxbridge | FA Cup | | | Match report |
| 10-10-1989 | Hayes | 3-1 | Slough Town | Club Call Cup | | | Match report |
| 07-10-1989 | Slough Town | 2-0 | Wokingham Town | League | | | Match report |
| 30-09-1989 | Carshalton Ath | 0-2 | Slough Town | FA Cup | | | Match report |
| 23-09-1989 | Slough Town | 5-0 | Redbridge Forest | League | | | Match report |
| 16-09-1989 | Slough Town | 5-1 | Walthamstow Pennant | FA Cup | | | Match report |
| 12-09-1989 | Slough Town | 2-1 | Lewes | AC Delco Cup | | | Match report |
| 09-09-1989 | Slough Town | 0-0 | Bognor Regis Town | League | | | Match report |
| 02-09-1989 | Grays Athletic | 1-1 | Slough Town | League | | | Match report |
| 29-08-1989 | Leyton Wingate | 1-2 | Slough Town | League | | | Match report |
| 26-08-1989 | Slough Town | 4-2 | Barking | League | | | Match report |
| 22-08-1989 | Slough Town | 3-3 | St Albans City | League | | | Match report |
| 19-08-1989 | Kingstonian | 1-2 | Slough Town | League | | | Match report |
| 07-01-1989 | Slough Town | 0-2 | Bishop's Stortford | League | | | Match report |
| 02-01-1989 | Windsor & Eton | 3-2 | Slough Town | League | | | Match report |
| 30-12-1988 | Slough Town | 3-0 | Bognor Regis Town | League | | | Match report |
| 27-12-1988 | Slough Town | 0-3 | Farnborough Town | League | | | Match report |
| 17-12-1988 | Carshalton Ath | 0-0 | Slough Town | League | | | Match report |
| 10-12-1988 | Slough Town | 2-0 | Hayes | League | | | Match report |
| 03-12-1988 | Ashford | 0-3 | Slough Town | FA Trophy | | | Match report |
| 26-11-1988 | Slough Town | 4-3 | St Albans City | League | | | Match report |
| 15-11-1988 | Slough Town | 2-0 | Marlow | League | | | Match report |
| 12-11-1988 | Slough Town | 0-2 | Dagenham | League | | | Match report |
| 08-11-1988 | Bognor Regis Town | 1-0 | Slough Town | League | | | Match report |
| 05-11-1988 | Slough Town | 3-2 | Dulwich Hamlet | League | | | Match report |
| 01-11-1988 | Kingstonian | 0-1 | Slough Town | League | | | Match report |
| 29-10-1988 | Slough Town | 1-2 | Dartford | FA Cup | | | Match report |
| 22-10-1988 | Slough Town | 3-0 | Wokingham Town | League | | | Match report |
| 15-10-1988 | Tooting | 2-3 | Slough Town | League | | | Match report |
| 08-10-1988 | Slough Town | 1-1 | Harrow Borough | League | | | Match report |
| 04-10-1988 | Slough Town | 2-2 | Hayes | Premier Interleague Cup | | | Match report |
| 01-10-1988 | Slough Town | 2-1 | Aylesbury United | B&B Senior Cup | | | Match report |
| 26-09-1988 | Croydon | 0-2 | Slough Town | League | | | Match report |
| 17-09-1988 | Dagenham | 0-1 | Slough Town | League | | | Match report |
| 13-09-1988 | Barking | 3-0 | Slough Town | AC Delco Cup | | | Match report |
| 10-09-1988 | Slough Town | 2-0 | Leytonstone Ilford | League | | | Match report |
Slough Town FC is not responsible for content produced on external websites | Copyright Slough Town FC 2021