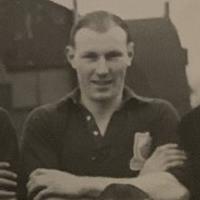 Position:
Defender
Bio
"Big Bob" played for Slough between 1936 and 1947.
Slough was Bob's only club, and no club could have had a more loyal and whole-hearted player. Bob never took his eyes off the ball from the start to finish of a game, and had a determination and concentration and the will to give his best in every game.
He weighed 13 stone 10lbs and was almost six feet tall - rather a formidable proposition for any timid forward - yet Bob was a scrupulously clean player and a credit to Slough United both on and off the field.
Bob was married to his wife Doreen, with a daughter, Jacqueline, but answering to the name of "Jackie". Bob was also a committee member and chairman of the players' committee.
Mens
| First Appearance | Appearances | First Goal | Goals |
| --- | --- | --- | --- |
| 29-08-1936 vs Chesham United | 266 | N/A | 0 |
History
| Match Date | Home | Score | Away | Competition | Goals | Cards | |
| --- | --- | --- | --- | --- | --- | --- | --- |
| 10-05-1947 | Slough Town | 5-3 | Marlow | Benevolent Cup | | | Match report |
| 19-04-1947 | Edgware | 0-7 | Slough Town | League | | | Match report |
| 07-04-1947 | Wycombe Wanderers | 2-1 | Slough Town | B&B Senior Cup | | | Match report |
| 29-03-1947 | Walton & Hersham | 6-1 | Slough Town | Memorial Shield | | | Match report |
| 22-03-1947 | Bedford Avenue | 1-7 | Slough Town | League | | | Match report |
| 15-03-1947 | Slough Town | 4-4 | Eastbourne | League | | | Match report |
| 01-03-1947 | Wolverton | 2-3 | Slough Town | B&B Senior Cup | | | Match report |
| 25-01-1947 | Slough Town | 1-0 | Chesham United | B&B Senior Cup | | | Match report |
| 18-01-1947 | Slough Town | 4-3 | Carshalton Ath | League | | | Match report |
| 11-01-1947 | Slough Town | 1-2 | Windsor & Eton | League | | | Match report |
| 28-12-1946 | Slough Town | 1-3 | Walton & Hersham | League | | | Match report |
| 26-12-1946 | Maidenhead United | 1-1 | Slough Town | League | | | Match report |
| 25-12-1946 | Slough Town | 5-1 | Maidenhead United | League | | | Match report |
| 14-12-1946 | Eastbourne | 4-11 | Slough Town | League | | | Match report |
| 07-12-1946 | Slough Town | 6-1 | Bedford Avenue | Memorial Shield | | | Match report |
| 30-11-1946 | Slough Town | 3-2 | REmE Aborfield | B&B Senior Cup | | | Match report |
| 23-11-1946 | Enfield | 3-2 | Slough Town | FA Amateur Cup | | | Match report |
| 16-11-1946 | Windsor & Eton | 3-4 | Slough Town | League | | | Match report |
| 09-11-1946 | Slough Town | 4-3 | Erith | League | | | Match report |
| 05-10-1946 | Slough Town | 3-3 | Windsor & Eton | FA Cup | | | Match report |
| 28-09-1946 | Erith | 1-2 | Slough Town | League | | | Match report |
| 21-09-1946 | Slough Town | 4-2 | Lyons Club | FA Cup | | | Match report |
| 14-09-1946 | Walton & Hersham | 2-2 | Slough Town | League | | | Match report |
| 07-09-1946 | Carshalton Ath | 3-2 | Slough Town | League | | | Match report |
| 11-05-1946 | Chippenham Town | 0-4 | Slough Town | Unknown Cup | | | Match report |
| 29-04-1946 | Slough Town | 1-1 | Wycombe Wanderers | Benevolent Cup | | | Match report |
| 27-04-1946 | Walton & Hersham | 2-7 | Slough Town | League | | | Match report |
| 22-04-1946 | Grays Athletic | 1-0 | Slough Town | League | | | Match report |
| 20-04-1946 | Twickenham | 2-4 | Slough Town | League | | | Match report |
| 19-04-1946 | Slough Town | 0-0 | Grays Athletic | League | | | Match report |
| 13-04-1946 | Maidenhead United | 3-6 | Slough Town | League | | | Match report |
| 06-04-1946 | Slough Town | 2-1 | Windsor & Eton | League | | | Match report |
| 30-03-1946 | Epsom Town | 0-3 | Slough Town | Benevolent Cup | | | Match report |
| 26-03-1946 | Marlow | 3-10 | Slough Town | League | | | Match report |
| 19-03-1946 | Slough Town | 3-1 | Epsom Town | Benevolent Cup | | | Match report |
| 02-03-1946 | Slough Town | 6-5 | St Albans City | Unknown Cup | | | Match report |
| 23-02-1946 | Wycombe Wanderers | 6-1 | Slough Town | League | | | Match report |
| 16-02-1946 | Moor Green | 2-1 | Slough Town | B&B Senior Cup | | | Match report |
| 02-02-1946 | Oxford City | 2-3 | Slough Town | FA Amateur Cup | | | Match report |
| 26-01-1946 | Lyons Club | 2-4 | Slough Town | FA Amateur Cup | | | Match report |
| 19-01-1946 | Chippenham Town | 1-5 | Slough Town | League | | | Match report |
| 12-01-1946 | Slough Town | 2-1 | Lyons Club | FA Amateur Cup | | | Match report |
| 05-01-1946 | Slough Town | 1-4 | Windsor & Eton | League | | | Match report |
| 26-12-1945 | Windsor & Eton | 2-6 | Slough Town | Corinthian Lge. | | | Match report |
| 25-12-1945 | Slough Town | 4-2 | Windsor & Eton | League | | | Match report |
| 24-11-1945 | Slough Town | 1-0 | Bromley | FA Cup | | | Match report |
| 20-11-1945 | Bromley | 6-1 | Slough Town | FA Cup | | | Match report |
| 10-11-1945 | Slough Town | 4-2 | Marlow | FA Amateur Cup | | | Match report |
| 06-11-1945 | Slough Town | 3-1 | Leytonstone | FA Cup | | | Match report |
| 03-11-1945 | Leytonstone | 3-3 | Slough Town | FA Cup | | | Match report |
| 27-10-1945 | Slough Town | 6-4 | Twickenham | League | | | Match report |
| 20-10-1945 | Slough Town | 3-1 | Oxford City | FA Cup | | | Match report |
| 13-10-1945 | Maidenhead United | 1-0 | Slough Town | Memorial Shield | | | Match report |
| 06-10-1945 | Banbury Spencer | 2-5 | Slough Town | FA Cup | | | Match report |
| 29-09-1945 | Slough Town | 4-0 | Walton & Hersham | League | | | Match report |
| 25-09-1945 | Slough Town | 2-0 | Yiewsley | FA Cup | | | Match report |
| 22-09-1945 | Yiewsley | 2-2 | Slough Town | FA Cup | | | Match report |
| 15-09-1945 | Erith | 0-2 | Slough Town | League | | | Match report |
| 13-09-1945 | Slough Town | 3-1 | Hounslow | FA Cup | | | Match report |
| 08-09-1945 | Hounslow | 4-4 | Slough Town | FA Cup | | | Match report |
| 01-09-1945 | Slough Town | 3-2 | Erith | League | | | Match report |
| 19-05-1945 | Southall | 3-2 | Slough Town | League | | | Match report |
| 05-05-1945 | Windsor & Eton | 0-2 | Slough Town | Red Cross Cup | | | Match report |
| 28-04-1945 | Slough Town | 1-3 | Windsor & Eton | Red Cross Cup | | | Match report |
| 31-03-1945 | Slough Town | 1-0 | Tuffnell Park | League | | | Match report |
| 24-03-1945 | Slough Town | 2-5 | Golders Green | League | | | Match report |
| 17-03-1945 | Wycombe Wanderers | 1-2 | Slough Town | Red Cross Cup | | | Match report |
| 10-03-1945 | Barnet | 1-0 | Slough Town | League | | | Match report |
| 03-03-1945 | Slough Town | 0-1 | Golders Green | League Cup | | | Match report |
| 24-02-1945 | Slough Town | 3-0 | Windsor Works | Red Cross Cup | | | Match report |
| 17-02-1945 | Wealdstone | 1-3 | Slough Town | League | | | Match report |
| 10-02-1945 | Slough Town | 3-0 | Wealdstone | League Cup | | | Match report |
| 03-02-1945 | Slough Town | 4-3 | Barnet | League | | | Match report |
| 20-01-1945 | Slough Town | 1-1 | Hitchin Town | League | | | Match report |
| 06-01-1945 | Hitchin Town | 4-1 | Slough Town | League | | | Match report |
| 30-12-1944 | Slough Town | 4-2 | Wood Green | League | | | Match report |
| 25-12-1944 | Slough Town | 4-1 | Southall | League | | | Match report |
| 23-12-1944 | Golders Green | 1-1 | Slough Town | League | | | Match report |
| 16-12-1944 | Slough Town | 2-0 | St Albans City | League | | | Match report |
| 09-12-1944 | St Albans City | 2-4 | Slough Town | League | | | Match report |
| 02-12-1944 | Wood Green | 2-6 | Slough Town | League | | | Match report |
| 25-11-1944 | Slough Town | 2-1 | Wealdstone | League | | | Match report |
| 18-11-1944 | Tuffnell Park | 3-0 | Slough Town | League | | | Match report |
| 11-11-1944 | Slough Town | 1-2 | Reading 'A' | B&B Senior Emergency Cup | | | Match report |
| 04-11-1944 | Clapton | 1-2 | Slough Town | League | | | Match report |
| 28-10-1944 | Slough Town | 3-2 | Finchley | League | | | Match report |
| 21-10-1944 | Grays Athletic | 3-3 | Slough Town | League | | | Match report |
| 14-10-1944 | Slough Town | 1-0 | Grays Athletic | League | | | Match report |
| 07-10-1944 | Leyton | 2-3 | Slough Town | League | | | Match report |
| 30-09-1944 | Slough Town | 0-2 | Walthamstow | League | | | Match report |
| 23-09-1944 | Finchley | 1-3 | Slough Town | League | | | Match report |
| 16-09-1944 | Slough Town | 7-0 | Leyton | League | | | Match report |
| 09-09-1944 | Walthamstow | 7-0 | Slough Town | League | | | Match report |
| 13-05-1944 | RAF HW | 4-2 | Slough Town | Red Cross Cup | | | Match report |
| 06-05-1944 | Slough Town | 4-1 | RAF HW | Red Cross Cup | | | Match report |
| 15-04-1944 | Slough Town | 2-2 | Finchley | League | | | Match report |
| 10-04-1944 | Slough Town | 1-2 | Wealdstone | League Cup | | | Match report |
| 08-04-1944 | Golders Green | 0-3 | Slough Town | League | | | Match report |
| 01-04-1944 | Clapton | 2-2 | Slough Town | League | | | Match report |
| 18-03-1944 | Wealdstone | 2-1 | Slough Town | League | | | Match report |
| 11-03-1944 | Slough Town | 3-1 | Marlow | Red Cross Cup | | | Match report |
| 04-03-1944 | Slough Town | 1-5 | Walthamstow | League | | | Match report |
| 26-02-1944 | Leyton | 1-2 | Slough Town | League | | | Match report |
| 19-02-1944 | Slough Town | 4-1 | Windsor Works | Red Cross Cup | | | Match report |
| 12-02-1944 | Slough Town | 1-0 | Golders Green | League | | | Match report |
| 05-02-1944 | Slough Town | 6-1 | Wood Green | League | | | Match report |
| 08-01-1944 | Finchley | 1-3 | Slough Town | League | | | Match report |
| 01-01-1944 | Slough Town | 4-2 | Wealdstone | League | | | Match report |
| 27-12-1943 | Southall | 3-4 | Slough Town | League | | | Match report |
| 25-12-1943 | Slough Town | 6-1 | Southall | League | | | Match report |
| 18-12-1943 | Slough Town | 1-1 | Clapton | League | | | Match report |
| 11-12-1943 | St Albans City | 2-1 | Slough Town | League | | | Match report |
| 04-12-1943 | Slough Town | 1-2 | Tuffnell Park | League | | | Match report |
| 27-11-1943 | Slough Town | 1-0 | Hitchin Town | League | | | Match report |
| 20-11-1943 | Hitchin Town | 2-2 | Slough Town | League | | | Match report |
| 20-09-1941 | Hitchin Town | 7-1 | Slough Town | League | | | Match report |
| 13-09-1941 | Walthamstow | 4-1 | Slough Town | League | | | Match report |
| 15-03-1941 | Slough Town | 5-1 | Southall | League | | | Match report |
| 01-03-1941 | Tuffnell Park | 1-2 | Slough Town | League | | | Match report |
| 15-02-1941 | Enfield | 9-1 | Slough Town | League | | | Match report |
| 01-02-1941 | Slough Town | 7-1 | Tuffnell Park | League | | | Match report |
| 04-01-1941 | Slough Town | 1-6 | Metropolitan Police | League | | | Match report |
| 07-12-1940 | Windsor & Eton | 3-0 | Slough Town | B&B Senior Emergency Cup | | | Match report |
| 23-11-1940 | Wealdstone | 5-0 | Slough Town | League | | | Match report |
| 09-11-1940 | Maidenhead United | 2-3 | Slough Town | B&B Senior Emergency Cup | | | Match report |
| 26-10-1940 | Finchley | 2-2 | Slough Town | League | | | Match report |
| 12-10-1940 | Slough Town | 2-1 | Barnet | League | | | Match report |
| 28-09-1940 | Hitchin Town | 5-0 | Slough Town | League | | | Match report |
| 14-09-1940 | Golders Green | 3-4 | Slough Town | League | | | Match report |
| 20-04-1940 | Marlow | 3-3 | Slough Town | League | | | Match report |
| 13-04-1940 | Henley | 2-1 | Slough Town | League | | | Match report |
| 06-04-1940 | Chesham United | 2-0 | Slough Town | League | | | Match report |
| 30-03-1940 | Slough Town | 3-1 | Maidenhead United | League | | | Match report |
| 25-03-1940 | Windsor & Eton | 2-4 | Slough Town | League | | | Match report |
| 23-03-1940 | Uxbridge | 1-2 | Slough Town | League | | | Match report |
| 22-03-1940 | Slough Town | 4-2 | Uxbridge | League | | | Match report |
| 16-03-1940 | Wycombe Redfords | 1-1 | Slough Town | League | | | Match report |
| 09-03-1940 | Slough Town | 8-1 | Chesham United | League | | | Match report |
| 02-03-1940 | Hayes | 2-0 | Slough Town | League | | | Match report |
| 24-02-1940 | Wycombe Wanderers | 4-2 | Slough Town | League | | | Match report |
| 10-02-1940 | Slough Town | 1-5 | Hayes | League | | | Match report |
| 13-01-1940 | Slough Town | 1-0 | Marlow | League | | | Match report |
| 06-01-1940 | Slough Town | 2-1 | Wycombe Wanderers | League | | | Match report |
| 26-12-1939 | Slough Town | 3-3 | Windsor & Eton | League | | | Match report |
| 16-12-1939 | Slough Town | 3-3 | Henley | League | | | Match report |
| 02-12-1939 | Maidenhead United | 3-3 | Slough Town | League | | | Match report |
| 11-11-1939 | Slough Town | 2-1 | Wycombe Redfords | League | | | Match report |
| 04-11-1939 | Wycombe Wanderers | 3-1 | Slough Town | B&B Senior Cup | | | Match report |
| 28-10-1939 | Maidenhead United | 5-2 | Slough Town | Benevolent Cup | | | Match report |
| 26-08-1939 | Slough Town | 3-2 | Chesham United | Benevolent Cup | | | Match report |
| 13-05-1939 | Wolverton | 1-3 | Slough Town | Benevolent Cup | | | Match report |
| 06-05-1939 | Slough Town | 4-0 | Wood Green | League | | | Match report |
| 01-05-1939 | Slough Town | 3-2 | Windsor & Eton | League | | | Match report |
| 29-04-1939 | Slough Town | 3-0 | Hoxton Manor | League | | | Match report |
| 26-04-1939 | Slough Town | 1-3 | Metropolitan Police | League | | | Match report |
| 22-04-1939 | Slough Town | 3-1 | Callenders Ath | League | | | Match report |
| 19-04-1939 | Callenders Ath | 1-4 | Slough Town | League | | | Match report |
| 15-04-1939 | Slough Town | 4-1 | Letchworth | League | | | Match report |
| 10-04-1939 | Hitchin Town | 1-2 | Slough Town | League | | | Match report |
| 08-04-1939 | Slough Town | 6-3 | Chesham United | League | | | Match report |
| 07-04-1939 | Windsor & Eton | 2-1 | Slough Town | League | | | Match report |
| 01-04-1939 | Cambridge Town | 2-2 | Slough Town | League | | | Match report |
| 25-03-1939 | Slough Town | 2-4 | Waterlows | League | | | Match report |
| 18-03-1939 | Letchworth | 0-3 | Slough Town | League | | | Match report |
| 11-03-1939 | Lyons Club | 1-0 | Slough Town | League | | | Match report |
| 04-03-1939 | Chesham United | 5-2 | Slough Town | League | | | Match report |
| 25-02-1939 | Windsor & Eton | 1-0 | Slough Town | B&B Senior Cup | | | Match report |
| 18-02-1939 | Slough Town | 1-1 | Windsor & Eton | B&B Senior Cup | | | Match report |
| 11-02-1939 | Slough Town | 4-4 | Wolverton | Benevolent Cup | | | Match report |
| 04-02-1939 | Slough Town | 0-3 | St Albans City | FA Amateur Cup | | | Match report |
| 21-01-1939 | Slough Town | 4-2 | Marlow | League | | | Match report |
| 14-01-1939 | Wycombe Wanderers | 1-5 | Slough Town | FA Amateur Cup | | | Match report |
| 07-01-1939 | Marlow | 1-2 | Slough Town | League | | | Match report |
| 31-12-1938 | Maidenhead United | 1-1 | Slough Town | League | | | Match report |
| 17-12-1938 | Slough Town | 4-4 | Lyons Club | League | | | Match report |
| 10-12-1938 | Slough Town | 4-0 | Marlow | Benevolent Cup | | | Match report |
| 03-12-1938 | Slough Town | 7-0 | Maidenhead United | League | | | Match report |
| 19-11-1938 | Oxford City | 1-2 | Slough Town | FA Amateur Cup | | | Match report |
| 12-11-1938 | Hoxton Manor | 1-2 | Slough Town | League | | | Match report |
| 05-11-1938 | Banbury Spencer | 0-1 | Slough Town | FA Amateur Cup | | | Match report |
| 29-10-1938 | Waterlows | 2-2 | Slough Town | League | | | Match report |
| 22-10-1938 | Marlow | 0-1 | Slough Town | FA Amateur Cup | | | Match report |
| 15-10-1938 | Slough Town | 2-1 | Hitchin Town | League | | | Match report |
| 08-10-1938 | Slough Town | 2-1 | Pressed Steel | FA Amateur Cup | | | Match report |
| 01-10-1938 | Slough Town | 0-2 | Banbury Spencer | FA Cup | | | Match report |
| 24-09-1938 | Slough Town | 3-1 | Osberton Rad | FA Amateur Cup | | | Match report |
| 17-09-1938 | Slough Town | 3-0 | Uxbridge | FA Cup | | | Match report |
| 10-09-1938 | Wood Green | 1-4 | Slough Town | League | | | Match report |
| 03-09-1938 | Slough Town | 1-1 | Cambridge Town | League | | | Match report |
| 27-08-1938 | Windsor & Eton | 0-3 | Slough Town | Benevolent Cup | | | Match report |
| 07-05-1938 | Slough Town | 2-2 | Chesham United | League | | | Match report |
| 30-04-1938 | Slough Town | 8-2 | Letchworth | League | | | Match report |
| 23-04-1938 | Slough Town | 3-0 | Windsor & Eton | League | | | Match report |
| 18-04-1938 | Maidenhead United | 1-0 | Slough Town | League | | | Match report |
| 16-04-1938 | Slough Town | 4-2 | Metropolitan Police | League | | | Match report |
| 15-04-1938 | Slough Town | 2-6 | Waterlows | League | | | Match report |
| 09-04-1938 | Slough Town | 2-0 | Maidenhead United | League | | | Match report |
| 02-04-1938 | Slough Town | 6-0 | Lyons Club | League | | | Match report |
| 26-03-1938 | Callenders Ath | 4-2 | Slough Town | League | | | Match report |
| 19-03-1938 | Cambridge Town | 1-1 | Slough Town | League | | | Match report |
| 12-03-1938 | Slough Town | 5-1 | Aylesbury United | League | | | Match report |
| 05-03-1938 | Waterlows | 4-2 | Slough Town | League | | | Match report |
| 26-02-1938 | Slough Town | 1-2 | Hitchin Town | League | | | Match report |
| 19-02-1938 | Slough Town | 2-1 | Callenders Ath | League | | | Match report |
| 12-02-1938 | Aylesbury United | 0-1 | Slough Town | League | | | Match report |
| 05-02-1938 | Henley | 2-8 | Slough Town | League | | | Match report |
| 29-01-1938 | Lyons Club | 0-1 | Slough Town | League | | | Match report |
| 22-01-1938 | Chesham United | 6-2 | Slough Town | League | | | Match report |
| 15-01-1938 | Slough Town | 5-1 | Henley | League | | | Match report |
| 08-01-1938 | Windsor & Eton | 2-1 | Slough Town | League | | | Match report |
| 01-01-1938 | Hoxton Manor | 0-3 | Slough Town | League | | | Match report |
| 18-12-1937 | Slough Town | 4-3 | Cambridge Town | League | | | Match report |
| 11-12-1937 | Hitchin Town | 6-1 | Slough Town | League | | | Match report |
| 04-12-1937 | Metropolitan Police | 9-2 | Slough Town | League | | | Match report |
| 27-11-1937 | E. Reading AS | 2-1 | Slough Town | B&B Senior Cup | | | Match report |
| 20-11-1937 | Slough Town | 3-4 | Metropolitan Police | FA Amateur Cup | | | Match report |
| 13-11-1937 | Slough Town | 4-0 | Marlow | FA Amateur Cup | | | Match report |
| 06-11-1937 | Marlow | 2-2 | Slough Town | FA Amateur Cup | | | Match report |
| 30-10-1937 | Letchworth | 3-6 | Slough Town | League | | | Match report |
| 23-10-1937 | Slough Town | 6-5 | Henley | FA Amateur Cup | | | Match report |
| 20-10-1937 | Slough Town | 2-6 | Windsor & Eton | FA Cup | | | Match report |
| 16-10-1937 | Windsor & Eton | 1-1 | Slough Town | FA Cup | | | Match report |
| 09-10-1937 | Slough Town | 2-1 | Thatcham Town | FA Amateur Cup | | | Match report |
| 02-10-1937 | Slough Town | 10-1 | Henley | FA Cup | | | Match report |
| 25-09-1937 | Slough Town | 7-0 | Abingdon Town | FA Amateur Cup | | | Match report |
| 18-09-1937 | Slough Town | 4-0 | Wycombe Wanderers | FA Cup | | | Match report |
| 11-09-1937 | Slough Town | 3-3 | Hoxton Manor | League | | | Match report |
| 04-09-1937 | Met Railway | 1-5 | Slough Town | FA Cup | | | Match report |
| 28-08-1937 | Chesham United | 2-1 | Slough Town | Benevolent Cup | | | Match report |
| 01-05-1937 | Slough Town | 3-2 | Lyons Club | League | | | Match report |
| 24-04-1937 | Slough Town | 6-4 | Jurgens | League | | | Match report |
| 21-04-1937 | Slough Town | 2-1 | Hitchin Town | League | | | Match report |
| 17-04-1937 | Lyons Club | 0-2 | Slough Town | League | | | Match report |
| 10-04-1937 | Slough Town | 2-2 | Hoxton Manor | League | | | Match report |
| 03-04-1937 | Callenders Ath | 4-3 | Slough Town | League | | | Match report |
| 27-03-1937 | Hitchin Town | 2-1 | Slough Town | League | | | Match report |
| 20-03-1937 | Slough Town | 1-6 | Callenders Ath | League | | | Match report |
| 13-03-1937 | Cambridge Town | 3-1 | Slough Town | League | | | Match report |
| 06-03-1937 | Waterlows | 5-2 | Slough Town | League | | | Match report |
| 27-02-1937 | Wycombe Wanderers | 1-2 | Slough Town | B&B Senior Cup | | | Match report |
| 20-02-1937 | Windsor & Eton | 2-2 | Slough Town | League | | | Match report |
| 13-02-1937 | Wycombe Wanderers | 2-2 | Slough Town | B&B Senior Cup | | | Match report |
| 06-02-1937 | Hoddesdon | 4-2 | Slough Town | League | | | Match report |
| 30-01-1937 | Slough Town | 2-2 | Wycombe Wanderers | B&B Senior Cup | | | Match report |
| 23-01-1937 | Wycombe Wanderers | 4-4 | Slough Town | B&B Senior Cup | | | Match report |
| 16-01-1937 | Slough Town | 5-0 | Metropolitan Police | League | | | Match report |
| 09-01-1937 | Slough Town | 2-7 | Aylesbury United | League | | | Match report |
| 02-01-1937 | Chesham United | 2-2 | Slough Town | League | | | Match report |
| 26-12-1936 | Aylesbury United | 1-3 | Slough Town | League | | | Match report |
| 19-12-1936 | Slough Town | 1-3 | Cambridge Town | League | | | Match report |
| 12-12-1936 | Maidenhead United | 3-1 | Slough Town | League | | | Match report |
| 05-12-1936 | Metropolitan Police | 2-0 | Slough Town | League | | | Match report |
| 28-11-1936 | Slough Town | 3-4 | Windsor & Eton | League | | | Match report |
| 21-11-1936 | Hoxton Manor | 2-1 | Slough Town | League | | | Match report |
| 14-11-1936 | Slough Town | 2-3 | Maidenhead United | League | | | Match report |
| 07-11-1936 | Slough Town | 5-1 | Chesham United | League | | | Match report |
| 24-10-1936 | Marlow | 4-1 | Slough Town | FA Amateur Cup | | | Match report |
| 10-10-1936 | Pressed Steel | 0-2 | Slough Town | FA Amateur Cup | | | Match report |
| 03-10-1936 | Slough Town | 2-4 | Hoddesdon | League | | | Match report |
| 26-09-1936 | Bicester | 2-4 | Slough Town | FA Amateur Cup | | | Match report |
| 19-09-1936 | Jurgens | 3-4 | Slough Town | League | | | Match report |
| 16-09-1936 | Wycombe Wanderers | 1-0 | Slough Town | Windsor Hosp. | | | Match report |
| 12-09-1936 | Slough Town | 4-6 | Waterlows | League | | | Match report |
| 05-09-1936 | Windsor & Eton | 4-1 | Slough Town | FA Cup | | | Match report |
| 02-09-1936 | Slough Town | 6-1 | Egham Town | Windsor Hosp. | | | Match report |
| 29-08-1936 | Slough Town | 1-3 | Chesham United | Benevolent Cup | | | Match report |
Slough Town FC is not responsible for content produced on external websites | Copyright Slough Town FC 2023