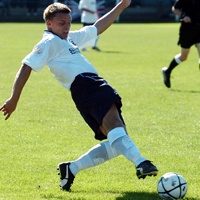 Stats
Position:
Defender
First Appearance:
18-08-2007 vs Taunton Town
Appearances:
113
First Goal:
03-11-2007 vs Didcot Town
Goals:
18
Bio
Highly respected player who followed Christian Metcalfe from Hanwell Town in the summer of 2007.

Dean has impressed at centre back and right back for the Rebels since his arrival. He excelled in his first season at the club and was able to chip in with some goals in the process, proving to be a menace at both ends of the pitch. He netted his first Slough goal from the penalty spot in the 6-3 home defeat by Didcot Town.
History
| Match Date | Home | Score | Away | Competition | Goals | Cards | |
| --- | --- | --- | --- | --- | --- | --- | --- |
| 25-09-2010 | Slough Town | 1-3 | Daventry Town | League | | | Match report |
| 14-09-2010 | Slough Town | 1-3 | Marlow | League | | | Match report |
| 11-09-2010 | Erith Town | 1-0 | Slough Town | FA Cup | | | Match report |
| 04-09-2010 | Biggleswade Town | 1-5 | Slough Town | League | | | Match report |
| 01-05-2010 | Chesham United | 4-0 | Slough Town | Play Off | | | Match report |
| 27-04-2010 | Hitchin Town | 1-2 | Slough Town | Play Off | | | Match report |
| 24-04-2010 | Romulus | 1-4 | Slough Town | League | | | Match report |
| 20-04-2010 | Slough Town | 0-1 | Hitchin Town | League | | | Match report |
| 17-04-2010 | Slough Town | 5-1 | Aylesbury United | League | | | Match report |
| 05-04-2010 | Marlow | 0-1 | Slough Town | League | | | Match report |
| 03-04-2010 | Slough Town | 3-1 | Beaconsfield Town | League | | | Match report |
| 30-03-2010 | Slough Town | 1-2 | Arlesey Town | League | | | Match report |
| 27-03-2010 | Rothwell Town | 1-3 | Slough Town | League | | | Match report |
| 23-03-2010 | Barton Rovers | 3-3 | Slough Town | League | | | Match report |
| 20-03-2010 | Slough Town | 3-3 | Atherstone Town | League | | | Match report |
| 16-03-2010 | Slough Town | 0-1 | Wycombe Wanderers | B&B Senior Cup | | | Match report |
| 09-03-2010 | Slough Town | 3-1 | Leighton Town | League | | | Match report |
| 06-03-2010 | Slough Town | 2-0 | Soham Town Rangers | League | | | Match report |
| 02-03-2010 | Slough Town | 1-3 | Chesham United | League | | | Match report |
| 02-02-2010 | Bedworth United | 2-4 | Slough Town | League | | | Match report |
| 26-01-2010 | Slough Town | 2-1 | Marlow | B&B Senior Cup | | | Match report |
| 12-12-2009 | Slough Town | 2-2 | Romulus | League | | | Match report |
| 08-12-2009 | Arlesey Town | 1-2 | Slough Town | League | | | Match report |
| 05-12-2009 | Slough Town | 0-1 | Bury Town | League | | | Match report |
| 01-12-2009 | AFC Sudbury | 1-2 | Slough Town | League | | | Match report |
| 28-11-2009 | Aylesbury United | 2-5 | Slough Town | League | | | Match report |
| 21-11-2009 | Slough Town | 2-0 | Bedworth United | League | | | Match report |
| 17-11-2009 | Slough Town | 3-2 | Bromsgrove Rovers | League | | | Match report |
| 14-11-2009 | Atherstone Town | 2-0 | Slough Town | League | | | Match report |
| 10-11-2009 | Chesham United | 1-0 | Slough Town | League | | | Match report |
| 07-11-2009 | Slough Town | 4-1 | Rothwell Town | League | | | Match report |
| 03-11-2009 | Slough Town | 1-0 | Woodford United | League | | | Match report |
| 31-10-2009 | Boreham Wood | 3-2 | Slough Town | FA Trophy | | | Match report |
| 24-10-2009 | Slough Town | 3-2 | Stourport Swifts | League | | | Match report |
| 20-10-2009 | Slough Town | 2-0 | Uxbridge | FA Trophy | | | Match report |
| 13-10-2009 | Hitchin Town | 3-2 | Slough Town | League | | | Match report |
| 10-10-2009 | Tooting & Mitcham Utd | 3-2 | Slough Town | FA Cup | | | Match report |
| 06-10-2009 | Mangotsfield Utd | 0-1 | Slough Town | FA Trophy | | | Match report |
| 04-10-2009 | Slough Town | 1-1 | Mangotsfield Utd | FA Trophy | | | Match report |
| 05-09-2009 | Slough Town | 4-2 | Biggleswade Town | League | | | Match report |
| 18-04-2009 | Didcot Town | 2-0 | Slough Town | League | | | Match report |
| 13-04-2009 | Beaconsfield Town | 0-0 | Slough Town | League | | | Match report |
| 11-04-2009 | Slough Town | 2-2 | Taunton Town | League | | | Match report |
| 26-03-2009 | Bridgwater Town | 6-0 | Slough Town | League | | | Match report |
| 24-03-2009 | Burnham | 3-0 | Slough Town | League | | | Match report |
| 21-03-2009 | AFC Totton | 4-2 | Slough Town | League | | | Match report |
| 14-03-2009 | Slough Town | 0-0 | Bracknell Town | League | | | Match report |
| 10-03-2009 | Slough Town | 0-3 | Abingdon Utd | League | | | Match report |
| 07-03-2009 | Bishops Cleeve | 0-4 | Slough Town | League | | | Match report |
| 03-03-2009 | Slough Town | 2-3 | Cinderford Town | League | | | Match report |
| 28-02-2009 | Uxbridge | 4-0 | Slough Town | League | | | Match report |
| 21-02-2009 | Slough Town | 4-3 | Andover | League | | | Match report |
| 14-02-2009 | AFC Hayes | 2-1 | Slough Town | League | | | Match report |
| 31-01-2009 | Truro City | 2-1 | Slough Town | League | | | Match report |
| 27-01-2009 | Marlow | 1-0 | Slough Town | B&B Senior Cup | | | Match report |
| 24-01-2009 | Slough Town | 3-2 | Windsor & Eton | League | | | Match report |
| 01-01-2009 | Slough Town | 2-2 | Beaconsfield Town | League | | | Match report |
| 27-12-2008 | Thatcham Town | 3-1 | Slough Town | League | | | Match report |
| 20-12-2008 | Slough Town | 2-3 | Didcot Town | League | | | Match report |
| 06-12-2008 | Paulton Rovers | 1-2 | Slough Town | League | | | Match report |
| 29-11-2008 | Slough Town | 4-0 | Winchester City | League | | | Match report |
| 15-11-2008 | Bracknell Town | 0-0 | Slough Town | League | | | Match report |
| 11-11-2008 | Abingdon Utd | 1-1 | Slough Town | League | | | Match report |
| 08-11-2008 | Slough Town | 1-1 | Bishops Cleeve | League | | | Match report |
| 04-11-2008 | Slough Town | 2-3 | AFC Hayes | League | | | Match report |
| 18-10-2008 | Thatcham Town | 5-4 | Slough Town | FA Trophy | | | Match report |
| 14-10-2008 | Windsor & Eton | 6-2 | Slough Town | League | | | Match report |
| 11-10-2008 | Slough Town | 1-2 | Uxbridge | League | | | Match report |
| 27-09-2008 | Andover | 1-2 | Slough Town | League | | | Match report |
| 20-09-2008 | Slough Town | 3-2 | Cirencester Town | League | | | Match report |
| 13-09-2008 | Farnborough | 1-0 | Slough Town | FA Cup | | | Match report |
| 06-09-2008 | Taunton Town | 2-3 | Slough Town | League | | | Match report |
| 02-09-2008 | Slough Town | 5-2 | Abingdon Utd | FA Cup | | | Match report |
| 30-08-2008 | Abingdon Utd | 1-1 | Slough Town | FA Cup | | | Match report |
| 25-08-2008 | Slough Town | 1-1 | Thatcham Town | League | | | Match report |
| 23-08-2008 | Cinderford Town | 4-1 | Slough Town | League | | | Match report |
| 19-08-2008 | North Leigh | 6-1 | Slough Town | League | | | Match report |
| 16-08-2008 | Slough Town | 2-2 | Burnham | League | | | Match report |
| 26-04-2008 | Fleet Town | 1-0 | Slough Town | League | | | Match report |
| 12-04-2008 | Slough Town | 3-2 | Godalming Town | League | | | Match report |
| 08-03-2008 | Slough Town | 1-2 | Paulton Rovers | League | | | Match report |
| 23-02-2008 | Slough Town | 2-1 | Fleet Town | League | | | Match report |
| 16-02-2008 | Winchester City | 2-0 | Slough Town | League | | | Match report |
| 09-02-2008 | Slough Town | 0-3 | AFC Hayes | League | | | Match report |
| 05-02-2008 | Slough Town | 2-3 | Farnborough | League | | | Match report |
| 02-02-2008 | Slough Town | 1-1 | Uxbridge | League | | | Match report |
| 26-01-2008 | Bracknell Town | 3-1 | Slough Town | League | | | Match report |
| 12-01-2008 | Gosport Borough | 2-2 | Slough Town | League | | | Match report |
| 05-01-2008 | Andover | 1-2 | Slough Town | League | | | Match report |
| 01-01-2008 | Slough Town | 1-2 | Thatcham Town | League | | | Match report |
| 08-12-2007 | Slough Town | 2-2 | Winchester City | League | | | Match report |
| 04-12-2007 | Hillingdon Borough | 4-1 | Slough Town | League | | | Match report |
| 01-12-2007 | Slough Town | 4-1 | Abingdon Utd | League | | | Match report |
| 27-11-2007 | Slough Town | 1-3 | Hillingdon Borough | League | | | Match report |
| 17-11-2007 | Oxford City | 5-0 | Slough Town | League | | | Match report |
| 10-11-2007 | Uxbridge | 2-1 | Slough Town | League | | | Match report |
| 03-11-2007 | Slough Town | 3-6 | Didcot Town | League | | | Match report |
| 30-10-2007 | Burnham | 3-1 | Slough Town | League | | | Match report |
| 27-10-2007 | Slough Town | 2-0 | Newport IOW | League | | | Match report |
| 23-10-2007 | Didcot Town | 5-1 | Slough Town | B&B Senior Cup | | | Match report |
| 20-10-2007 | Slough Town | 0-2 | Bridgwater Town | League | | | Match report |
| 16-10-2007 | Farnborough | 5-0 | Slough Town | League | | | Match report |
| 06-10-2007 | Slough Town | 1-1 | Hillingdon Borough | FA Trophy | | | Match report |
| 02-10-2007 | Slough Town | 3-1 | Bracknell Town | League | | | Match report |
| 29-09-2007 | Abingdon Utd | 3-0 | Slough Town | League | | | Match report |
| 25-09-2007 | AFC Hayes | 6-1 | Slough Town | Red Insure Cup | | | Match report |
| 22-09-2007 | Slough Town | 1-2 | Gosport Borough | League | | | Match report |
| 08-09-2007 | Slough Town | 2-1 | Andover | League | | | Match report |
| 01-09-2007 | Slough Town | 1-4 | Fleet Town | FA Cup | | | Match report |
| 27-08-2007 | Paulton Rovers | 3-1 | Slough Town | League | | | Match report |
| 25-08-2007 | Marlow | 2-0 | Slough Town | League | | | Match report |
| 21-08-2007 | Thatcham Town | 2-0 | Slough Town | League | | | Match report |
| 18-08-2007 | Slough Town | 1-2 | Taunton Town | League | | | Match report |
Slough Town FC is not responsible for content produced on external websites | Copyright Slough Town FC 2021