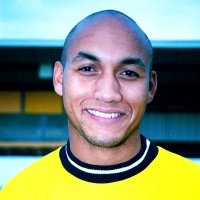 Stats
Position:
Midfielder
First Appearance:
08-01-2000 vs Farnborough Town
Appearances:
88
First Goal:
04-03-2000 vs Walton & Hersham
Goals:
11
Bio
Hard working midfielder who was also capable of playing upfront.

Was often deployed on the left hand side of midfield and had the ability to terrorise opposing defences and putting in dangerous crosses into the box to setup chances for his side. Signed from Carshalton Athletic.
History
| Match Date | Home | Score | Away | Competition | Goals | Cards | |
| --- | --- | --- | --- | --- | --- | --- | --- |
| 27-04-2002 | Slough Town | 0-1 | Bognor Regis Town | League | | | Match report |
| 20-04-2002 | Staines Town | 0-1 | Slough Town | League | | | Match report |
| 13-04-2002 | Slough Town | 0-1 | Bishop's Stortford | League | | | Match report |
| 01-04-2002 | Windsor & Eton | 3-3 | Slough Town | League | | | Match report |
| 19-03-2002 | Maidenhead United | 3-2 | Slough Town | B&B Senior Cup | | | Match report |
| 16-03-2002 | Aylesbury United | 4-0 | Slough Town | League | | | Match report |
| 09-03-2002 | Slough Town | 0-0 | Whyteleafe | League | | | Match report |
| 02-03-2002 | Thame United | 3-0 | Slough Town | League | | | Match report |
| 23-02-2002 | Slough Town | 3-0 | Uxbridge | League | | | Match report |
| 19-02-2002 | Slough Town | 4-1 | Abingdon Town | B&B Senior Cup | | | Match report |
| 16-02-2002 | Harlow Town | 1-4 | Slough Town | League | | | Match report |
| 12-02-2002 | Slough Town | 2-1 | Barking & East Ham Utd | League | | | Match report |
| 09-02-2002 | Slough Town | 3-1 | Tooting & Mitcham Utd | League | | | Match report |
| 02-02-2002 | Northwood | 1-1 | Slough Town | League | | | Match report |
| 22-01-2002 | Slough Town | 3-0 | Windsor & Eton | League | | | Match report |
| 19-01-2002 | Carshalton Ath | 2-1 | Slough Town | League | | | Match report |
| 03-11-2001 | Slough Town | 0-2 | Aylesbury United | FA Trophy | | | Match report |
| 27-10-2001 | Slough Town | 3-2 | Dulwich Hamlet | League | | | Match report |
| 23-10-2001 | Slough Town | 4-0 | Harlow Town | League | | | Match report |
| 20-10-2001 | Bishop's Stortford | 3-2 | Slough Town | League | | | Match report |
| 16-10-2001 | Slough Town | 3-4 | Aylesbury United | League | | | Match report |
| 13-10-2001 | Ford Utd | 0-2 | Slough Town | League | | | Match report |
| 29-09-2001 | Whyteleafe | 0-2 | Slough Town | League | | | Match report |
| 25-09-2001 | Uxbridge | 3-1 | Slough Town | League | | | Match report |
| 22-09-2001 | Slough Town | 1-1 | Carshalton Ath | League | | | Match report |
| 11-09-2001 | Barking & East Ham Utd | 0-1 | Slough Town | League | | | Match report |
| 08-09-2001 | Wealdstone | 2-1 | Slough Town | League | | | Match report |
| 04-09-2001 | Slough Town | 0-1 | Worthing | League | | | Match report |
| 01-09-2001 | Lewes | 3-0 | Slough Town | FA Cup | | | Match report |
| 27-08-2001 | Slough Town | 3-3 | Yeading | League | | | Match report |
| 25-08-2001 | Bromley | 0-3 | Slough Town | League | | | Match report |
| 21-08-2001 | Oxford City | 3-0 | Slough Town | League | | | Match report |
| 18-08-2001 | Slough Town | 0-3 | Walton & Hersham | League | | | Match report |
| 05-05-2001 | Chesham United | 2-0 | Slough Town | League | | | Match report |
| 28-04-2001 | Slough Town | 3-1 | Carshalton Ath | League | | | Match report |
| 24-04-2001 | Slough Town | 2-0 | Ebbsfleet United | League | | | Match report |
| 21-04-2001 | Harrow Borough | 1-0 | Slough Town | League | | | Match report |
| 19-04-2001 | Slough Town | 0-1 | Canvey Island | League | | | Match report |
| 16-04-2001 | Slough Town | 1-0 | Maidenhead United | League | | | Match report |
| 14-04-2001 | Farnborough Town | 1-1 | Slough Town | League | | | Match report |
| 10-04-2001 | Slough Town | 2-3 | Billericay Town | League | | | Match report |
| 07-04-2001 | Slough Town | 1-1 | Dulwich Hamlet | League | | | Match report |
| 02-04-2001 | Croydon | 4-1 | Slough Town | League | | | Match report |
| 31-03-2001 | Slough Town | 0-3 | Hitchin Town | League | | | Match report |
| 10-03-2001 | Slough Town | 4-4 | Sutton United | League | | | Match report |
| 03-03-2001 | Slough Town | 1-1 | Heybridge Swifts | League | | | Match report |
| 24-02-2001 | St Albans City | 1-0 | Slough Town | League | | | Match report |
| 20-02-2001 | Maidenhead United | 2-0 | Slough Town | B&B Senior Cup | | | Match report |
| 17-02-2001 | Slough Town | 1-0 | Hendon | League | | | Match report |
| 10-02-2001 | Aldershot Town | 1-0 | Slough Town | League | | | Match report |
| 03-02-2001 | Slough Town | 3-1 | Enfield | League | | | Match report |
| 27-01-2001 | Hampton & Richmond Boro' | 2-0 | Slough Town | League | | | Match report |
| 13-01-2001 | Purfleet | 2-0 | Slough Town | League | | | Match report |
| 24-10-2000 | Slough Town | 4-3 | Aldershot Town | Full Members Cup | | | Match report |
| 21-10-2000 | Hitchin Town | 3-0 | Slough Town | League | | | Match report |
| 14-10-2000 | Slough Town | 1-2 | St Albans City | League | | | Match report |
| 12-09-2000 | Flackwell Heath | 1-3 | Slough Town | League Cup | | | Match report |
| 09-09-2000 | Hendon | 2-1 | Slough Town | League | | | Match report |
| 05-09-2000 | Slough Town | 0-1 | Aldershot Town | League | | | Match report |
| 02-09-2000 | Canvey Island | 1-0 | Slough Town | League | | | Match report |
| 28-08-2000 | Enfield | 1-1 | Slough Town | League | | | Match report |
| 26-08-2000 | Slough Town | 3-2 | Purfleet | League | | | Match report |
| 22-08-2000 | Slough Town | 1-0 | Grays Athletic | League | | | Match report |
| 19-08-2000 | Ebbsfleet United | 1-2 | Slough Town | League | | | Match report |
| 06-05-2000 | Dagenham & R. | 2-1 | Slough Town | League | | | Match report |
| 02-05-2000 | Slough Town | 0-0 | Aldershot Town | League | | | Match report |
| 29-04-2000 | Slough Town | 2-1 | Heybridge Swifts | League | | | Match report |
| 24-04-2000 | Basingstoke Town | 1-0 | Slough Town | League | | | Match report |
| 22-04-2000 | Slough Town | 2-3 | Boreham Wood | League | | | Match report |
| 18-04-2000 | Heybridge Swifts | 1-1 | Slough Town | League | | | Match report |
| 15-04-2000 | Enfield | 1-3 | Slough Town | League | | | Match report |
| 10-04-2000 | Purfleet | 2-0 | Slough Town | League | | | Match report |
| 08-04-2000 | Slough Town | 2-3 | Harrow Borough | League | | | Match report |
| 01-04-2000 | Slough Town | 2-0 | Chesham United | League | | | Match report |
| 28-03-2000 | Aylesbury United | 4-2 | Slough Town | B&B Senior Cup | | | Match report |
| 25-03-2000 | Aldershot Town | 2-0 | Slough Town | League | | | Match report |
| 21-03-2000 | Slough Town | 2-1 | Enfield | League | | | Match report |
| 18-03-2000 | Canvey Island | 2-0 | Slough Town | League | | | Match report |
| 11-03-2000 | Slough Town | 1-1 | Hampton & Richmond Boro' | League | | | Match report |
| 04-03-2000 | Slough Town | 3-1 | Walton & Hersham | League | | | Match report |
| 26-02-2000 | Hitchin Town | 1-2 | Slough Town | League | | | Match report |
| 22-02-2000 | Slough Town | 3-0 | Hungerford Town | B&B Senior Cup | | | Match report |
| 19-02-2000 | Slough Town | 2-1 | Ebbsfleet United | League | | | Match report |
| 05-02-2000 | Slough Town | 2-1 | Carshalton Ath | League | | | Match report |
| 29-01-2000 | Hendon | 1-1 | Slough Town | League | | | Match report |
| 22-01-2000 | Slough Town | 0-3 | St Albans City | League | | | Match report |
| 15-01-2000 | Slough Town | 3-0 | Hitchin Town | League | | | Match report |
| 08-01-2000 | Slough Town | 1-2 | Farnborough Town | League | | | Match report |
Slough Town FC is not responsible for content produced on external websites | Copyright Slough Town FC 2021