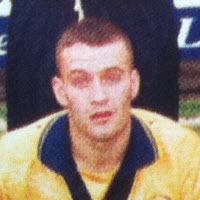 Position:
Midfielder
Bio
Striker who scored a famous goal for Slough which secured a 1-0 win over Bromley and as a result gained the Isthmian League title for Slough and their promotion to the Conference for the first time in their history.
Midfielder signed from Marlow where manager Dave Russell had just joined the club from. A real box to box player, Catlin had a bit of everything to his game. Often got into goalscoring opportunities and was also able to put the boot in.
Joined Stevenage Borough following two successful seasons at Slough. Also represented Flackwell Heath and Thame United.
Mens
| First Appearance | Appearances | First Goal | Goals |
| --- | --- | --- | --- |
| 13-08-1994 vs Hendon | 95 | 10-09-1994 vs Sutton United | 17 |
History
| Match Date | Home | Score | Away | Competition | Goals | Cards | |
| --- | --- | --- | --- | --- | --- | --- | --- |
| 04-05-1996 | Slough Town | 0-1 | Runcorn | League | | | Match report |
| 02-05-1996 | Macclesfield Town | 1-1 | Slough Town | League | | | Match report |
| 27-04-1996 | Hednesford Town | 3-1 | Slough Town | League | | | Match report |
| 20-04-1996 | Slough Town | 1-1 | Morecambe | League | | | Match report |
| 13-04-1996 | Slough Town | 0-0 | Welling United | League | | | Match report |
| 08-04-1996 | Southport | 2-0 | Slough Town | League | | | Match report |
| 03-04-1996 | Bath City | 3-1 | Slough Town | League | | | Match report |
| 30-03-1996 | Bromsgrove Rovers | 0-0 | Slough Town | League | | | Match report |
| 23-03-1996 | Slough Town | 2-1 | Stalybridge Celtic | League | | | Match report |
| 19-03-1996 | Woking | 3-0 | Slough Town | League | | | Match report |
| 16-03-1996 | Northwich Victoria | 0-3 | Slough Town | League | | | Match report |
| 12-03-1996 | Slough Town | 2-6 | Stevenage Borough | League | | | Match report |
| 09-03-1996 | Slough Town | 5-0 | Dagenham & R. | League | | | Match report |
| 02-03-1996 | Farnborough Town | 0-1 | Slough Town | League | | | Match report |
| 10-02-1996 | Slough Town | 1-2 | Kettering Town | FA Trophy | | | Match report |
| 23-01-1996 | Slough Town | 4-3 | Farnborough Town | FA Trophy | | | Match report |
| 20-01-1996 | Farnborough Town | 1-1 | Slough Town | FA Trophy | | | Match report |
| 13-01-1996 | Altrincham | 0-1 | Slough Town | League | | | Match report |
| 06-01-1996 | Slough Town | 1-2 | Gateshead | League | | | Match report |
| 01-01-1996 | Stevenage Borough | 3-1 | Slough Town | League | | | Match report |
| 16-12-1995 | Slough Town | 3-0 | Woking | Isthmian Lge Sub. Cup | | | Match report |
| 09-12-1995 | Slough Town | 2-3 | Halifax Town | League | | | Match report |
| 02-12-1995 | Stalybridge Celtic | 0-1 | Slough Town | League | | | Match report |
| 25-11-1995 | Slough Town | 1-1 | Northwich Victoria | League | | | Match report |
| 20-11-1995 | Dagenham & R. | 1-3 | Slough Town | League | | | Match report |
| 18-11-1995 | Slough Town | 2-3 | Woking | League | | | Match report |
| 11-11-1995 | Slough Town | 0-2 | Plymouth Argyle | FA Cup | | | Match report |
| 04-11-1995 | Gateshead | 2-1 | Slough Town | League | | | Match report |
| 31-10-1995 | Slough Town | 1-1 | Farnborough Town | League | | | Match report |
| 28-10-1995 | Telford Utd | 2-0 | Slough Town | League | | | Match report |
| 21-10-1995 | Yeading | 0-2 | Slough Town | FA Cup | | | Match report |
| 14-10-1995 | Slough Town | 2-2 | Macclesfield Town | League | | | Match report |
| 07-10-1995 | Kettering Town | 2-0 | Slough Town | League | | | Match report |
| 03-10-1995 | Slough Town | 3-0 | Dagenham & R. | Isthmian Lge Sub. Cup | | | Match report |
| 30-09-1995 | Slough Town | 0-2 | Hednesford Town | League | | | Match report |
| 26-09-1995 | Dover Athletic | 0-1 | Slough Town | League | | | Match report |
| 23-09-1995 | Slough Town | 2-3 | Bromsgrove Rovers | League | | | Match report |
| 18-09-1995 | Dagenham & R. | 0-3 | Slough Town | Isthmian Lge Sub. Cup | | | Match report |
| 16-09-1995 | Slough Town | 1-2 | Altrincham | League | | | Match report |
| 12-09-1995 | Slough Town | 3-2 | Dover Athletic | League | | | Match report |
| 09-09-1995 | Runcorn | 4-3 | Slough Town | League | | | Match report |
| 05-09-1995 | Slough Town | 1-1 | Bath City | League | | | Match report |
| 02-09-1995 | Morecambe | 1-2 | Slough Town | League | | | Match report |
| 28-08-1995 | Slough Town | 5-4 | Kidderminster Harriers | League | | | Match report |
| 22-08-1995 | Welling United | 0-3 | Slough Town | League | | | Match report |
| 19-08-1995 | Slough Town | 2-5 | Southport | League | | | Match report |
| 08-05-1995 | Aylesbury United | 1-1 | Slough Town | Ryman League Cup | | | Match report |
| 04-05-1995 | Slough Town | 1-4 | Enfield | League | | | Match report |
| 02-05-1995 | Reading | 1-0 | Slough Town | B&B Senior Cup | | | Match report |
| 29-04-1995 | Molesey | 0-2 | Slough Town | League | | | Match report |
| 27-04-1995 | Sutton United | 1-1 | Slough Town | League | | | Match report |
| 25-04-1995 | Slough Town | 5-2 | Chesham United | League | | | Match report |
| 22-04-1995 | Harrow Borough | 0-3 | Slough Town | League | | | Match report |
| 19-04-1995 | Bromley | 1-1 | Slough Town | League | | | Match report |
| 17-04-1995 | Slough Town | 1-0 | Wokingham Town | League | | | Match report |
| 14-04-1995 | Hitchin Town | 1-0 | Slough Town | League | | | Match report |
| 11-04-1995 | Slough Town | 2-1 | Kingstonian | League | | | Match report |
| 28-03-1995 | Slough Town | 3-2 | Hitchin Town | League | | | Match report |
| 25-03-1995 | St Albans City | 3-1 | Slough Town | League | | | Match report |
| 21-03-1995 | Marlow | 0-2 | Slough Town | B&B Senior Cup | | | Match report |
| 18-03-1995 | Dulwich Hamlet | 0-2 | Slough Town | Ryman League Cup | | | Match report |
| 14-03-1995 | Dulwich Hamlet | 1-2 | Slough Town | Ryman League Cup | | | Match report |
| 11-03-1995 | Slough Town | 1-0 | Bishop's Stortford | League | | | Match report |
| 07-03-1995 | Aylesbury United | 3-3 | Slough Town | League | | | Match report |
| 28-02-1995 | Slough Town | 3-1 | Dulwich Hamlet | League | | | Match report |
| 18-02-1995 | Yeading | 0-0 | Slough Town | League | | | Match report |
| 14-02-1995 | St Albans City | 3-4 | Slough Town | League Cup | | | Match report |
| 09-02-1995 | Slough Town | 2-1 | Wycombe Wanderers | B&B Senior Cup | | | Match report |
| 04-02-1995 | Grays Athletic | 3-3 | Slough Town | League | | | Match report |
| 24-01-1995 | Merthyr Tydfil | 3-2 | Slough Town | FA Trophy | | | Match report |
| 17-01-1995 | Slough Town | 4-0 | Thatcham Town | B&B Senior Cup | | | Match report |
| 31-12-1994 | Slough Town | 4-1 | Bromley | League | | | Match report |
| 26-12-1994 | Wokingham Town | 2-0 | Slough Town | League | | | Match report |
| 17-12-1994 | Slough Town | 2-4 | Purfleet | League | | | Match report |
| 13-12-1994 | Slough Town | 5-1 | Sutton United | League Cup | | | Match report |
| 10-12-1994 | Carshalton Ath | 1-3 | Slough Town | League | | | Match report |
| 03-12-1994 | Slough Town | 3-1 | Molesey | League | | | Match report |
| 12-11-1994 | Slough Town | 0-4 | Birmingham City | FA Cup | | | Match report |
| 05-11-1994 | Slough Town | 1-1 | St Albans City | League | | | Match report |
| 01-11-1994 | Slough Town | 4-0 | Collier Row | League Cup | | | Match report |
| 29-10-1994 | Walton & Hersham | 3-3 | Slough Town | League | | | Match report |
| 22-10-1994 | Stafford Rangers | 0-4 | Slough Town | FA Cup | | | Match report |
| 15-10-1994 | Enfield | 0-1 | Slough Town | League | | | Match report |
| 08-10-1994 | Bishop's Stortford | 2-2 | Slough Town | League | | | Match report |
| 01-10-1994 | Slough Town | 1-1 | Dulwich Hamlet | League | | | Match report |
| 17-09-1994 | Kingstonian | 0-3 | Slough Town | League | | | Match report |
| 10-09-1994 | Slough Town | 3-2 | Sutton United | League | | | Match report |
| 06-09-1994 | Hayes | 0-1 | Slough Town | Ryman League Cup | | | Match report |
| 03-09-1994 | Slough Town | 5-3 | Yeading | League | | | Match report |
| 29-08-1994 | Purfleet | 3-0 | Slough Town | League | | | Match report |
| 27-08-1994 | Slough Town | 1-0 | Aylesbury United | League | | | Match report |
| 23-08-1994 | Slough Town | 2-0 | Grays Athletic | League | | | Match report |
| 20-08-1994 | Chesham United | 0-1 | Slough Town | League | | | Match report |
| 16-08-1994 | Marlow | 0-2 | Slough Town | League | | | Match report |
| 13-08-1994 | Slough Town | 2-2 | Hendon | League | | | Match report |
Slough Town FC is not responsible for content produced on external websites | Copyright Slough Town FC 2023