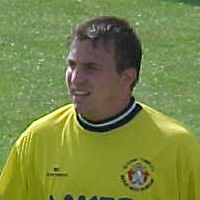 Position:
Striker
Bio
Sammy Winston signed from Ryman Premier Division side Kingstonian in 2001.
He took a little time to settle, but once he did he struck goals frequently for the club. He formed a lethal partnership with Tony Boot at the club and was a passionate player, as the referees came to notice quite quickly!
Scored some spectacular goals and his run of scoring at the start of the 2002/3 season was nearly record breaking, scoring in the opening four games of the season and six of the starting seven.
Sammy hit the back of the net 25 times in his time with the club with some excellent strikes as part of the total.
Mens
| First Appearance | Appearances | First Goal | Goals |
| --- | --- | --- | --- |
| 10-11-2001 vs Bognor Regis Town | 72 | 17-08-2002 vs Hornchurch | 25 |
History
| Match Date | Home | Score | Away | Competition | Goals | Cards | |
| --- | --- | --- | --- | --- | --- | --- | --- |
| 21-04-2003 | Slough Town | 0-2 | Yeading | League | | | Match report |
| 19-04-2003 | Leyton Pennant | 0-2 | Slough Town | League | | | Match report |
| 15-04-2003 | Slough Town | 2-0 | East Thurrock United | League | | | Match report |
| 12-04-2003 | Slough Town | 1-1 | Uxbridge | League | | | Match report |
| 08-04-2003 | Wivenhoe Town | 1-2 | Slough Town | League | | | Match report |
| 05-04-2003 | Harlow Town | 2-2 | Slough Town | League | | | Match report |
| 01-04-2003 | Aveley | 1-1 | Slough Town | League | | | Match report |
| 29-03-2003 | Thame United | 1-1 | Slough Town | League | | | Match report |
| 22-03-2003 | Slough Town | 5-1 | Tilbury | League | | | Match report |
| 15-03-2003 | Hemel Hempstead Town | 2-2 | Slough Town | League | | | Match report |
| 08-03-2003 | Slough Town | 1-1 | Aveley | League | | | Match report |
| 01-03-2003 | Hertford Town | 1-3 | Slough Town | League | | | Match report |
| 25-02-2003 | Maidenhead United | 3-1 | Slough Town | B&B Senior Cup | | | Match report |
| 22-02-2003 | Slough Town | 3-1 | Barking & East Ham Utd | League | | | Match report |
| 15-02-2003 | Barton Rovers | 2-2 | Slough Town | League | | | Match report |
| 08-02-2003 | Slough Town | 3-0 | Arlesey Town | League | | | Match report |
| 04-02-2003 | Slough Town | 2-0 | Thame United | League | | | Match report |
| 28-01-2003 | Slough Town | 2-2 | Hertford Town | League | | | Match report |
| 25-01-2003 | Slough Town | 3-0 | Oxford City | League | | | Match report |
| 18-01-2003 | Wealdstone | 3-2 | Slough Town | League | | | Match report |
| 14-01-2003 | Great Wakering Rovers | 2-2 | Slough Town | League | | | Match report |
| 04-01-2003 | Northwood | 5-1 | Slough Town | League | | | Match report |
| 28-12-2002 | Slough Town | 2-0 | Marlow | League | | | Match report |
| 26-12-2002 | Yeading | 0-2 | Slough Town | League | | | Match report |
| 21-12-2002 | Slough Town | 5-1 | Leyton Pennant | League | | | Match report |
| 17-12-2002 | Slough Town | 1-1 | Wealdstone | League | | | Match report |
| 14-12-2002 | Hornchurch | 3-2 | Slough Town | League | | | Match report |
| 07-12-2002 | Slough Town | 3-2 | Berkhamsted Town | League | | | Match report |
| 16-11-2002 | Slough Town | 1-2 | Harrogate Railway | FA Cup | | | Match report |
| 12-11-2002 | Slough Town | 1-0 | Wycombe Wanderers | B&B Senior Cup | | | Match report |
| 09-11-2002 | Slough Town | 0-1 | Hemel Hempstead Town | League | | | Match report |
| 02-11-2002 | Lewes | 6-4 | Slough Town | FA Trophy | | | Match report |
| 26-10-2002 | Slough Town | 3-2 | Canvey Island | FA Cup | | | Match report |
| 19-10-2002 | Oxford City | 1-1 | Slough Town | League | | | Match report |
| 15-10-2002 | Wingate & Finchley | 2-3 | Slough Town | League | | | Match report |
| 12-10-2002 | Slough Town | 4-2 | Hampton & Richmond Boro' | FA Cup | | | Match report |
| 08-10-2002 | Barking & East Ham Utd | 2-1 | Slough Town | League | | | Match report |
| 05-10-2002 | Slough Town | 2-0 | Wembley | FA Trophy | | | Match report |
| 01-10-2002 | Slough Town | 2-0 | AFC Totton | FA Cup | | | Match report |
| 28-09-2002 | AFC Totton | 2-2 | Slough Town | FA Cup | | | Match report |
| 24-09-2002 | Arlesey Town | 1-0 | Slough Town | League | | | Match report |
| 21-09-2002 | Slough Town | 1-0 | Barton Rovers | League | | | Match report |
| 14-09-2002 | St. Leonards | 1-2 | Slough Town | FA Cup | | | Match report |
| 10-09-2002 | Slough Town | 1-1 | Harlow Town | League | | | Match report |
| 06-09-2002 | Uxbridge | 0-1 | Slough Town | League | | | Match report |
| 31-08-2002 | Thame United | 1-2 | Slough Town | FA Cup | | | Match report |
| 26-08-2002 | Slough Town | 2-1 | Northwood | League | | | Match report |
| 24-08-2002 | Marlow | 2-3 | Slough Town | League | | | Match report |
| 20-08-2002 | East Thurrock United | 0-2 | Slough Town | League | | | Match report |
| 17-08-2002 | Slough Town | 1-1 | Hornchurch | League | | | Match report |
| 27-04-2002 | Slough Town | 0-1 | Bognor Regis Town | League | | | Match report |
| 20-04-2002 | Staines Town | 0-1 | Slough Town | League | | | Match report |
| 13-04-2002 | Slough Town | 0-1 | Bishop's Stortford | League | | | Match report |
| 06-04-2002 | Dulwich Hamlet | 0-0 | Slough Town | League | | | Match report |
| 30-03-2002 | Slough Town | 3-0 | Bromley | League | | | Match report |
| 23-03-2002 | Slough Town | 1-2 | Ford Utd | League | | | Match report |
| 19-03-2002 | Maidenhead United | 3-2 | Slough Town | B&B Senior Cup | | | Match report |
| 16-03-2002 | Aylesbury United | 4-0 | Slough Town | League | | | Match report |
| 09-03-2002 | Slough Town | 0-0 | Whyteleafe | League | | | Match report |
| 23-02-2002 | Slough Town | 3-0 | Uxbridge | League | | | Match report |
| 19-02-2002 | Slough Town | 4-1 | Abingdon Town | B&B Senior Cup | | | Match report |
| 12-02-2002 | Slough Town | 2-1 | Barking & East Ham Utd | League | | | Match report |
| 09-02-2002 | Slough Town | 3-1 | Tooting & Mitcham Utd | League | | | Match report |
| 12-01-2002 | Slough Town | 6-0 | Wealdstone | League | | | Match report |
| 05-01-2002 | Worthing | 0-3 | Slough Town | League | | | Match report |
| 01-01-2002 | Yeading | 0-0 | Slough Town | League | | | Match report |
| 29-12-2001 | Slough Town | 1-2 | Oxford City | League | | | Match report |
| 22-12-2001 | Slough Town | 0-1 | Hitchin Town | Ryman League Cup | | | Match report |
| 15-12-2001 | Walton & Hersham | 1-1 | Slough Town | League | | | Match report |
| 11-12-2001 | Slough Town | 1-0 | Bracknell Town | B&B Senior Cup | | | Match report |
| 17-11-2001 | Slough Town | 2-0 | Staines Town | League | | | Match report |
| 10-11-2001 | Bognor Regis Town | 0-0 | Slough Town | League | | | Match report |
Slough Town FC is not responsible for content produced on external websites | Copyright Slough Town FC 2023