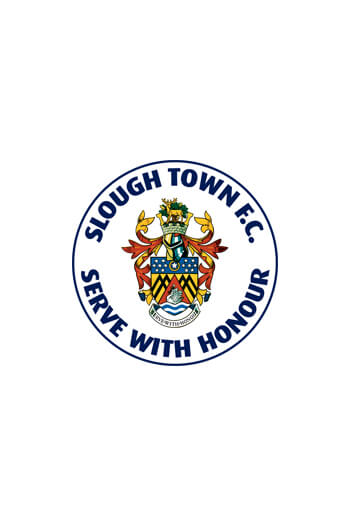 Stats
Position:
Striker
First Appearance:
09-11-1985 vs Kingstonian
Appearances:
139
First Goal:
18-03-1986 vs Bishop's Stortford
Goals:
67
Bio
The clubs leading goalscorer in the 86/87 season when he hit no less than four hat tricks. A proven goal scorer in non league circles for both his former clubs Wokingham and Hillingdon. Joined Slough in November 1985 from Wokingham Town where he had been their Player of the Year. Was subject of an 'illegal approach' row earlier prior to his transfer to Slough.
History
| Match Date | Home | Score | Away | Competition | Goals | Cards | |
| --- | --- | --- | --- | --- | --- | --- | --- |
| 05-05-1988 | Slough Town | 3-1 | Wokingham Town | League | | | Match report |
| 30-04-1988 | Slough Town | 1-0 | Croydon | League | | | Match report |
| 23-04-1988 | Slough Town | 1-0 | Bromley | League | | | Match report |
| 16-04-1988 | Barking | 1-0 | Slough Town | League | | | Match report |
| 12-04-1988 | Bishop's Stortford | 1-1 | Slough Town | League | | | Match report |
| 02-04-1988 | Leytonstone Ilford | 3-0 | Slough Town | League | | | Match report |
| 28-03-1988 | Bognor Regis Town | 0-2 | Slough Town | League | | | Match report |
| 26-03-1988 | Slough Town | 3-0 | St Albans City | League | | | Match report |
| 22-03-1988 | Carshalton Ath | 1-1 | Slough Town | League | | | Match report |
| 19-03-1988 | Slough Town | 0-1 | Windsor & Eton | B&B Senior Cup | | | Match report |
| 12-03-1988 | Slough Town | 1-1 | Leyton Wingate | League | | | Match report |
| 08-03-1988 | St Albans City | 1-3 | Slough Town | League | | | Match report |
| 05-03-1988 | Kingstonian | 1-0 | Slough Town | League | | | Match report |
| 01-03-1988 | Slough Town | 0-0 | Hendon | League | | | Match report |
| 27-02-1988 | Harrow Borough | 1-3 | Slough Town | League | | | Match report |
| 23-02-1988 | Slough Town | 3-1 | Hungerford Town | B&B Senior Cup | | | Match report |
| 20-02-1988 | Slough Town | 0-1 | Carshalton Ath | League | | | Match report |
| 13-02-1988 | Slough Town | 1-0 | Hitchin Town | League | | | Match report |
| 06-02-1988 | Tooting | 2-0 | Slough Town | League | | | Match report |
| 01-02-1988 | Fisher Ath | 2-1 | Slough Town | FA Trophy | | | Match report |
| 26-01-1988 | Slough Town | 6-1 | Chalfont St Peter | B&B Senior Cup | | | Match report |
| 19-01-1988 | Slough Town | 1-1 | Basingstoke Town | League | | | Match report |
| 16-01-1988 | Slough Town | 2-0 | Barking | League | | | Match report |
| 09-01-1988 | Hayes | 3-1 | Slough Town | League | | | Match report |
| 02-01-1988 | Slough Town | 3-2 | Leytonstone Ilford | League | | | Match report |
| 26-12-1987 | Wokingham Town | 0-3 | Slough Town | League | | | Match report |
| 19-12-1987 | Slough Town | 3-1 | Dagenham | FA Trophy | | | Match report |
| 08-12-1987 | Slough Town | 2-2 | Yeovil Town | League | | | Match report |
| 05-12-1987 | Leyton Wingate | 1-1 | Slough Town | League | | | Match report |
| 28-11-1987 | Basingstoke Town | 0-3 | Slough Town | League | | | Match report |
| 25-11-1987 | Saltash | 2-5 | Slough Town | FA Trophy | | | Match report |
| 21-11-1987 | Slough Town | 3-3 | Saltash | FA Trophy | | | Match report |
| 14-11-1987 | Slough Town | 3-1 | Kingstonian | League | | | Match report |
| 10-11-1987 | Windsor & Eton | 1-0 | Slough Town | League | | | Match report |
| 07-11-1987 | Slough Town | 2-0 | Dulwich Hamlet | League | | | Match report |
| 03-11-1987 | Slough Town | 2-3 | Bognor Regis Town | General Motors A Cup | | | Match report |
| 31-10-1987 | Slough Town | 3-1 | Harrow Borough | League | | | Match report |
| 25-10-1987 | Bath City | 3-1 | Slough Town | FA Cup | | | Match report |
| 17-10-1987 | Dulwich Hamlet | 1-0 | Slough Town | League | | | Match report |
| 07-10-1987 | Cheltenham Town | 1-2 | Slough Town | General Motors A Cup | | | Match report |
| 03-10-1987 | Hendon | 1-4 | Slough Town | League | | | Match report |
| 29-09-1987 | Slough Town | 1-1 | Hayes | League | | | Match report |
| 26-09-1987 | Farnborough Town | 4-1 | Slough Town | League | | | Match report |
| 23-09-1987 | Southwick | 3-1 | Slough Town | AC Delco Cup | | | Match report |
| 19-09-1987 | Slough Town | 0-0 | Bishop's Stortford | League | | | Match report |
| 15-09-1987 | Slough Town | 3-1 | Farnborough Town | League | | | Match report |
| 12-09-1987 | Slough Town | 0-1 | Bognor Regis Town | League | | | Match report |
| 09-09-1987 | Yeovil Town | 2-1 | Slough Town | League | | | Match report |
| 05-09-1987 | Croydon | 0-1 | Slough Town | League | | | Match report |
| 01-09-1987 | Slough Town | 1-0 | Windsor & Eton | League | | | Match report |
| 29-08-1987 | Slough Town | 4-1 | Tooting | League | | | Match report |
| 25-08-1987 | Hitchin Town | 1-6 | Slough Town | League | | | Match report |
| 22-08-1987 | Bromley | 2-1 | Slough Town | League | | | Match report |
| 25-04-1987 | Farnborough Town | 0-1 | Slough Town | League | | | Match report |
| 21-04-1987 | Slough Town | 3-1 | Farnborough Town | League | | | Match report |
| 18-04-1987 | Worthing | 1-1 | Slough Town | League | | | Match report |
| 14-04-1987 | Aylesbury United | 2-0 | Slough Town | B&B Senior Cup | | | Match report |
| 11-04-1987 | Slough Town | 1-1 | Barking | League | | | Match report |
| 04-04-1987 | Yeovil Town | 2-0 | Slough Town | League | | | Match report |
| 28-03-1987 | Slough Town | 3-0 | Harrow Borough | League | | | Match report |
| 24-03-1987 | Slough Town | 4-4 | Aylesbury United | B&B Senior Cup | | | Match report |
| 21-03-1987 | Tooting | 0-1 | Slough Town | League | | | Match report |
| 17-03-1987 | Kingstonian | 2-1 | Slough Town | League | | | Match report |
| 14-03-1987 | Barking | 4-4 | Slough Town | League | | | Match report |
| 10-03-1987 | Slough Town | 3-0 | St Albans City | League | | | Match report |
| 03-03-1987 | Harrow Borough | 4-0 | Slough Town | League | | | Match report |
| 28-02-1987 | Wycombe Wanderers | 1-1 | Slough Town | League | | | Match report |
| 24-02-1987 | Slough Town | 1-0 | Bishop's Stortford | League | | | Match report |
| 21-02-1987 | Slough Town | 2-1 | Dulwich Hamlet | League | | | Match report |
| 17-02-1987 | Slough Town | 3-4 | Yeovil Town | General Motors A Cup | | | Match report |
| 14-02-1987 | Carshalton Ath | 0-1 | Slough Town | League | | | Match report |
| 10-02-1987 | Slough Town | 7-4 | Buckingham Town | B&B Senior Cup | | | Match report |
| 07-02-1987 | Slough Town | 2-1 | Hendon | League | | | Match report |
| 31-01-1987 | Bognor Regis Town | 0-0 | Slough Town | League | | | Match report |
| 27-01-1987 | Slough Town | 5-1 | Milton Keynes City | B&B Senior Cup | | | Match report |
| 24-01-1987 | Slough Town | 0-1 | Croydon | League | | | Match report |
| 06-01-1987 | Slough Town | 1-0 | Tooting | League | | | Match report |
| 03-01-1987 | Walthamstow | 0-2 | Slough Town | League | | | Match report |
| 01-01-1987 | Wokingham Town | 1-3 | Slough Town | League | | | Match report |
| 23-12-1986 | Cheltenham Town | 0-1 | Slough Town | General Motors A Cup | | | Match report |
| 16-12-1986 | Slough Town | 0-2 | Basildon | AC Delco Cup | | | Match report |
| 09-12-1986 | Slough Town | 0-1 | Yeovil Town | League | | | Match report |
| 06-12-1986 | Swansea City | 3-0 | Slough Town | FA Cup | | | Match report |
| 02-12-1986 | Slough Town | 3-0 | Didcot Town | B&B Senior Cup | | | Match report |
| 25-11-1986 | Tooting | 1-0 | Slough Town | FA Trophy | | | Match report |
| 22-11-1986 | Slough Town | 0-0 | Tooting | FA Trophy | | | Match report |
| 18-11-1986 | Bognor Regis Town | 0-1 | Slough Town | FA Cup | | | Match report |
| 15-11-1986 | Slough Town | 1-1 | Bognor Regis Town | FA Cup | | | Match report |
| 11-11-1986 | Slough Town | 2-0 | Dorking | AC Delco Cup | | | Match report |
| 08-11-1986 | St Albans City | 0-2 | Slough Town | League | | | Match report |
| 04-11-1986 | Slough Town | 3-1 | Windsor & Eton | League | | | Match report |
| 28-10-1986 | Dover Athletic | 2-3 | Slough Town | FA Cup | | | Match report |
| 25-10-1986 | Slough Town | 1-1 | Dover Athletic | FA Cup | | | Match report |
| 18-10-1986 | Hayes | 1-4 | Slough Town | League | | | Match report |
| 11-10-1986 | Slough Town | 0-3 | Wycombe Wanderers | League | | | Match report |
| 07-10-1986 | Hitchin Town | 0-2 | Slough Town | League | | | Match report |
| 04-10-1986 | Dulwich Hamlet | 0-3 | Slough Town | League | | | Match report |
| 23-09-1986 | Slough Town | 2-1 | Ware | AC Delco Cup | | | Match report |
| 20-09-1986 | Hendon | 0-4 | Slough Town | League | | | Match report |
| 13-09-1986 | Slough Town | 1-1 | Bognor Regis Town | League | | | Match report |
| 06-09-1986 | Croydon | 1-1 | Slough Town | League | | | Match report |
| 02-09-1986 | Windsor & Eton | 3-1 | Slough Town | League | | | Match report |
| 30-08-1986 | Slough Town | 2-0 | Kingstonian | League | | | Match report |
| 26-08-1986 | Slough Town | 5-2 | Wokingham Town | League | | | Match report |
| 23-08-1986 | Bishop's Stortford | 2-1 | Slough Town | League | | | Match report |
| 19-08-1986 | Slough Town | 3-0 | Hitchin Town | League | | | Match report |
| 16-08-1986 | Slough Town | 1-0 | Walthamstow | League | | | Match report |
| 03-05-1986 | Kingstonian | 1-1 | Slough Town | League | | | Match report |
| 01-05-1986 | Slough Town | 2-3 | Yeovil Town | League | | | Match report |
| 29-04-1986 | Slough Town | 1-4 | Hendon | League | | | Match report |
| 26-04-1986 | Worthing | 2-1 | Slough Town | League | | | Match report |
| 19-04-1986 | Slough Town | 1-0 | Walthamstow | League | | | Match report |
| 17-04-1986 | Slough Town | 3-1 | Worthing | League | | | Match report |
| 15-04-1986 | Billericay Town | 2-3 | Slough Town | League | | | Match report |
| 12-04-1986 | Hitchin Town | 0-1 | Slough Town | League | | | Match report |
| 09-04-1986 | Yeovil Town | 3-4 | Slough Town | League | | | Match report |
| 31-03-1986 | Walthamstow | 1-2 | Slough Town | League | | | Match report |
| 29-03-1986 | Epsom | 2-1 | Slough Town | League | | | Match report |
| 27-03-1986 | Slough Town | 0-1 | Sutton United | League | | | Match report |
| 25-03-1986 | Slough Town | 4-3 | Billericay Town | League | | | Match report |
| 22-03-1986 | Slough Town | 1-2 | Dulwich Hamlet | League | | | Match report |
| 18-03-1986 | Bishop's Stortford | 0-3 | Slough Town | League | | | Match report |
| 11-03-1986 | Slough Town | 4-1 | Tooting | League | | | Match report |
| 08-03-1986 | Slough Town | 2-0 | Barking | League | | | Match report |
| 03-02-1986 | Dulwich Hamlet | 0-1 | Slough Town | League | | | Match report |
| 01-02-1986 | Slough Town | 2-3 | Farnborough Town | League | | | Match report |
| 28-01-1986 | Harrow Borough | 4-2 | Slough Town | League | | | Match report |
| 25-01-1986 | Bognor Regis Town | 3-0 | Slough Town | League | | | Match report |
| 21-01-1986 | Slough Town | 4-4 | Epsom | League | | | Match report |
| 18-01-1986 | Slough Town | 1-2 | Kettering Town | FA Trophy | | | Match report |
| 13-01-1986 | Slough Town | 0-2 | Hayes | League | | | Match report |
| 11-01-1986 | Carshalton Ath | 1-1 | Slough Town | League | | | Match report |
| 07-01-1986 | Barking | 4-3 | Slough Town | League | | | Match report |
| 01-01-1986 | Slough Town | 1-1 | Wokingham Town | League | | | Match report |
| 26-12-1985 | Windsor & Eton | 0-0 | Slough Town | League | | | Match report |
| 03-12-1985 | Slough Town | 0-2 | Carshalton Ath | AC Delco Cup | | | Match report |
| 30-11-1985 | Slough Town | 1-0 | Bromley | FA Trophy | | | Match report |
| 23-11-1985 | Sutton United | 4-1 | Slough Town | League | | | Match report |
| 09-11-1985 | Slough Town | 3-2 | Kingstonian | League | | | Match report |
Slough Town FC is not responsible for content produced on external websites | Copyright Slough Town FC 2021