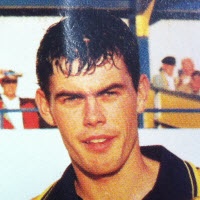 Position:
Defender
Bio
Accomplished defender who was equally capable playing on the right as he was in the centre of defence.
As a schoolboy Brian was an all round sportsman equally comfortable and successful playing football, cricket and basketball as well as other recreational games such as snooker and ten pin bowling. It was football however which he targeted and achieved his greatest success.
Success indeed, as a 13 year old at Leyton Orient's School of Excellence who would have dreamt that four years later he would be captaining Miliwall's FA Youth Cup Winners team in 1991 against Sheffield Wednesday - the same year he collected a runners up medal in the South of England Floodlit Cup, losing narrowly to Arsenal Youth.
Within days of his 18th birthday Brian was offered and accepted a professional contract at Miliwall FC but left The Den when the contract expired and joined Slough Town going on to make over 150 appearances for the club.
Mens
| First Appearance | Appearances | First Goal | Goals |
| --- | --- | --- | --- |
| 23-02-1993 vs Farnborough Town | 148 | 02-05-1994 vs Gateshead | 4 |
History
| Match Date | Home | Score | Away | Competition | Goals | Cards | |
| --- | --- | --- | --- | --- | --- | --- | --- |
| 04-05-1996 | Slough Town | 0-1 | Runcorn | League | | | Match report |
| 02-05-1996 | Macclesfield Town | 1-1 | Slough Town | League | | | Match report |
| 27-04-1996 | Hednesford Town | 3-1 | Slough Town | League | | | Match report |
| 20-04-1996 | Slough Town | 1-1 | Morecambe | League | | | Match report |
| 13-04-1996 | Slough Town | 0-0 | Welling United | League | | | Match report |
| 08-04-1996 | Southport | 2-0 | Slough Town | League | | | Match report |
| 30-03-1996 | Bromsgrove Rovers | 0-0 | Slough Town | League | | | Match report |
| 23-03-1996 | Slough Town | 2-1 | Stalybridge Celtic | League | | | Match report |
| 19-03-1996 | Woking | 3-0 | Slough Town | League | | | Match report |
| 16-03-1996 | Northwich Victoria | 0-3 | Slough Town | League | | | Match report |
| 12-03-1996 | Slough Town | 2-6 | Stevenage Borough | League | | | Match report |
| 09-03-1996 | Slough Town | 5-0 | Dagenham & R. | League | | | Match report |
| 02-03-1996 | Farnborough Town | 0-1 | Slough Town | League | | | Match report |
| 24-02-1996 | Kidderminster Harriers | 4-3 | Slough Town | League | | | Match report |
| 17-02-1996 | Slough Town | 1-2 | Kettering Town | League | | | Match report |
| 10-02-1996 | Slough Town | 1-2 | Kettering Town | FA Trophy | | | Match report |
| 03-02-1996 | Slough Town | 1-2 | Telford Utd | League | | | Match report |
| 30-01-1996 | Reading | 3-2 | Slough Town | B&B Senior Cup | | | Match report |
| 23-01-1996 | Slough Town | 4-3 | Farnborough Town | FA Trophy | | | Match report |
| 20-01-1996 | Farnborough Town | 1-1 | Slough Town | FA Trophy | | | Match report |
| 13-01-1996 | Altrincham | 0-1 | Slough Town | League | | | Match report |
| 06-01-1996 | Slough Town | 1-2 | Gateshead | League | | | Match report |
| 01-01-1996 | Stevenage Borough | 3-1 | Slough Town | League | | | Match report |
| 16-12-1995 | Slough Town | 3-0 | Woking | Isthmian Lge Sub. Cup | | | Match report |
| 09-12-1995 | Slough Town | 2-3 | Halifax Town | League | | | Match report |
| 02-12-1995 | Stalybridge Celtic | 0-1 | Slough Town | League | | | Match report |
| 25-11-1995 | Slough Town | 1-1 | Northwich Victoria | League | | | Match report |
| 20-11-1995 | Dagenham & R. | 1-3 | Slough Town | League | | | Match report |
| 18-11-1995 | Slough Town | 2-3 | Woking | League | | | Match report |
| 11-11-1995 | Slough Town | 0-2 | Plymouth Argyle | FA Cup | | | Match report |
| 04-11-1995 | Gateshead | 2-1 | Slough Town | League | | | Match report |
| 28-10-1995 | Telford Utd | 2-0 | Slough Town | League | | | Match report |
| 21-10-1995 | Yeading | 0-2 | Slough Town | FA Cup | | | Match report |
| 03-10-1995 | Slough Town | 3-0 | Dagenham & R. | Isthmian Lge Sub. Cup | | | Match report |
| 30-09-1995 | Slough Town | 0-2 | Hednesford Town | League | | | Match report |
| 26-09-1995 | Dover Athletic | 0-1 | Slough Town | League | | | Match report |
| 23-09-1995 | Slough Town | 2-3 | Bromsgrove Rovers | League | | | Match report |
| 18-09-1995 | Dagenham & R. | 0-3 | Slough Town | Isthmian Lge Sub. Cup | | | Match report |
| 16-09-1995 | Slough Town | 1-2 | Altrincham | League | | | Match report |
| 12-09-1995 | Slough Town | 3-2 | Dover Athletic | League | | | Match report |
| 09-09-1995 | Runcorn | 4-3 | Slough Town | League | | | Match report |
| 28-08-1995 | Slough Town | 5-4 | Kidderminster Harriers | League | | | Match report |
| 26-08-1995 | Halifax Town | 1-2 | Slough Town | League | | | Match report |
| 22-08-1995 | Welling United | 0-3 | Slough Town | League | | | Match report |
| 19-08-1995 | Slough Town | 2-5 | Southport | League | | | Match report |
| 08-05-1995 | Aylesbury United | 1-1 | Slough Town | Ryman League Cup | | | Match report |
| 04-05-1995 | Slough Town | 1-4 | Enfield | League | | | Match report |
| 02-05-1995 | Reading | 1-0 | Slough Town | B&B Senior Cup | | | Match report |
| 29-04-1995 | Molesey | 0-2 | Slough Town | League | | | Match report |
| 27-04-1995 | Sutton United | 1-1 | Slough Town | League | | | Match report |
| 25-04-1995 | Slough Town | 5-2 | Chesham United | League | | | Match report |
| 22-04-1995 | Harrow Borough | 0-3 | Slough Town | League | | | Match report |
| 19-04-1995 | Bromley | 1-1 | Slough Town | League | | | Match report |
| 17-04-1995 | Slough Town | 1-0 | Wokingham Town | League | | | Match report |
| 14-04-1995 | Hitchin Town | 1-0 | Slough Town | League | | | Match report |
| 11-04-1995 | Slough Town | 2-1 | Kingstonian | League | | | Match report |
| 08-04-1995 | Slough Town | 3-1 | Hayes | League | | | Match report |
| 04-04-1995 | Hendon | 1-2 | Slough Town | League | | | Match report |
| 01-04-1995 | Slough Town | 0-0 | Walton & Hersham | League | | | Match report |
| 28-03-1995 | Slough Town | 3-2 | Hitchin Town | League | | | Match report |
| 25-03-1995 | St Albans City | 3-1 | Slough Town | League | | | Match report |
| 21-03-1995 | Marlow | 0-2 | Slough Town | B&B Senior Cup | | | Match report |
| 18-03-1995 | Dulwich Hamlet | 0-2 | Slough Town | Ryman League Cup | | | Match report |
| 14-03-1995 | Dulwich Hamlet | 1-2 | Slough Town | Ryman League Cup | | | Match report |
| 11-03-1995 | Slough Town | 1-0 | Bishop's Stortford | League | | | Match report |
| 07-03-1995 | Aylesbury United | 3-3 | Slough Town | League | | | Match report |
| 28-02-1995 | Slough Town | 3-1 | Dulwich Hamlet | League | | | Match report |
| 18-02-1995 | Yeading | 0-0 | Slough Town | League | | | Match report |
| 14-02-1995 | St Albans City | 3-4 | Slough Town | League Cup | | | Match report |
| 09-02-1995 | Slough Town | 2-1 | Wycombe Wanderers | B&B Senior Cup | | | Match report |
| 04-02-1995 | Grays Athletic | 3-3 | Slough Town | League | | | Match report |
| 24-01-1995 | Merthyr Tydfil | 3-2 | Slough Town | FA Trophy | | | Match report |
| 17-01-1995 | Slough Town | 4-0 | Thatcham Town | B&B Senior Cup | | | Match report |
| 31-12-1994 | Slough Town | 4-1 | Bromley | League | | | Match report |
| 26-12-1994 | Wokingham Town | 2-0 | Slough Town | League | | | Match report |
| 17-12-1994 | Slough Town | 2-4 | Purfleet | League | | | Match report |
| 13-12-1994 | Slough Town | 5-1 | Sutton United | League Cup | | | Match report |
| 10-12-1994 | Carshalton Ath | 1-3 | Slough Town | League | | | Match report |
| 03-12-1994 | Slough Town | 3-1 | Molesey | League | | | Match report |
| 26-11-1994 | Hayes | 3-1 | Slough Town | League | | | Match report |
| 19-11-1994 | Slough Town | 1-1 | Harrow Borough | League | | | Match report |
| 12-11-1994 | Slough Town | 0-4 | Birmingham City | FA Cup | | | Match report |
| 05-11-1994 | Slough Town | 1-1 | St Albans City | League | | | Match report |
| 01-11-1994 | Slough Town | 4-0 | Collier Row | League Cup | | | Match report |
| 29-10-1994 | Walton & Hersham | 3-3 | Slough Town | League | | | Match report |
| 22-10-1994 | Stafford Rangers | 0-4 | Slough Town | FA Cup | | | Match report |
| 15-10-1994 | Enfield | 0-1 | Slough Town | League | | | Match report |
| 08-10-1994 | Bishop's Stortford | 2-2 | Slough Town | League | | | Match report |
| 01-10-1994 | Slough Town | 1-1 | Dulwich Hamlet | League | | | Match report |
| 17-09-1994 | Kingstonian | 0-3 | Slough Town | League | | | Match report |
| 10-09-1994 | Slough Town | 3-2 | Sutton United | League | | | Match report |
| 06-09-1994 | Hayes | 0-1 | Slough Town | Ryman League Cup | | | Match report |
| 03-09-1994 | Slough Town | 5-3 | Yeading | League | | | Match report |
| 29-08-1994 | Purfleet | 3-0 | Slough Town | League | | | Match report |
| 27-08-1994 | Slough Town | 1-0 | Aylesbury United | League | | | Match report |
| 23-08-1994 | Slough Town | 2-0 | Grays Athletic | League | | | Match report |
| 20-08-1994 | Chesham United | 0-1 | Slough Town | League | | | Match report |
| 16-08-1994 | Marlow | 0-2 | Slough Town | League | | | Match report |
| 13-08-1994 | Slough Town | 2-2 | Hendon | League | | | Match report |
| 07-05-1994 | Halifax Town | 1-0 | Slough Town | League | | | Match report |
| 02-05-1994 | Slough Town | 2-1 | Gateshead | League | | | Match report |
| 30-04-1994 | Slough Town | 0-0 | Southport | League | | | Match report |
| 23-04-1994 | Slough Town | 0-2 | Altrincham | League | | | Match report |
| 16-04-1994 | Witton Albion | 1-0 | Slough Town | League | | | Match report |
| 14-04-1994 | Slough Town | 1-1 | Bromsgrove Rovers | League | | | Match report |
| 09-04-1994 | Slough Town | 1-1 | Macclesfield Town | League | | | Match report |
| 04-04-1994 | Slough Town | 0-0 | Woking | League | | | Match report |
| 02-04-1994 | Bromsgrove Rovers | 0-1 | Slough Town | League | | | Match report |
| 26-03-1994 | Slough Town | 2-2 | Northwich Victoria | League | | | Match report |
| 19-03-1994 | Slough Town | 0-0 | Telford Utd | League | | | Match report |
| 15-03-1994 | Kettering Town | 2-0 | Slough Town | League | | | Match report |
| 05-03-1994 | Yeovil Town | 0-2 | Slough Town | League | | | Match report |
| 05-02-1994 | Merthyr Tydfil | 5-1 | Slough Town | League | | | Match report |
| 01-02-1994 | Slough Town | 1-1 | Welling United | League | | | Match report |
| 29-01-1994 | Telford Utd | 4-1 | Slough Town | League | | | Match report |
| 22-01-1994 | Billericay Town | 0-2 | Slough Town | FA Trophy | | | Match report |
| 15-01-1994 | Slough Town | 2-3 | Stalybridge Celtic | League | | | Match report |
| 11-01-1994 | Marlow | 1-0 | Slough Town | B&B Senior Cup | | | Match report |
| 08-01-1994 | Runcorn | 3-2 | Slough Town | League | | | Match report |
| 04-12-1993 | Dover Athletic | 0-0 | Slough Town | League | | | Match report |
| 27-11-1993 | Slough Town | 0-2 | Kettering Town | League | | | Match report |
| 20-11-1993 | Macclesfield Town | 2-2 | Slough Town | League | | | Match report |
| 13-11-1993 | Slough Town | 1-2 | Torquay United | FA Cup | | | Match report |
| 06-11-1993 | Slough Town | 0-1 | Witton Albion | League | | | Match report |
| 02-11-1993 | Bromsgrove Rovers | 2-1 | Slough Town | Drinkwise Trophy | | | Match report |
| 30-10-1993 | Slough Town | 1-5 | Kidderminster Harriers | League | | | Match report |
| 23-10-1993 | Hayes | 0-2 | Slough Town | FA Cup | | | Match report |
| 16-10-1993 | Altrincham | 2-0 | Slough Town | League | | | Match report |
| 12-10-1993 | Slough Town | 3-2 | Merthyr Tydfil | League | | | Match report |
| 09-10-1993 | Slough Town | 0-0 | Bath City | League | | | Match report |
| 02-10-1993 | Gateshead | 0-0 | Slough Town | League | | | Match report |
| 25-09-1993 | Southport | 1-0 | Slough Town | League | | | Match report |
| 21-09-1993 | Slough Town | 5-2 | Yeovil Town | League | | | Match report |
| 18-09-1993 | Northwich Victoria | 1-1 | Slough Town | League | | | Match report |
| 11-09-1993 | Slough Town | 3-0 | Stafford Rangers | League | | | Match report |
| 04-09-1993 | Kidderminster Harriers | 0-0 | Slough Town | League | | | Match report |
| 30-08-1993 | Dagenham & R. | 1-0 | Slough Town | League | | | Match report |
| 28-08-1993 | Slough Town | 2-0 | Halifax Town | League | | | Match report |
| 24-08-1993 | Slough Town | 1-0 | Dover Athletic | League | | | Match report |
| 21-08-1993 | Stalybridge Celtic | 0-1 | Slough Town | League | | | Match report |
| 01-05-1993 | Stafford Rangers | 1-0 | Slough Town | League | | | Match report |
| 17-04-1993 | Yeovil Town | 5-1 | Slough Town | League | | | Match report |
| 13-04-1993 | Slough Town | 1-1 | Wycombe Wanderers | League | | | Match report |
| 10-04-1993 | Merthyr Tydfil | 1-1 | Slough Town | League | | | Match report |
| 09-03-1993 | Woking | 1-2 | Slough Town | League | | | Match report |
| 06-03-1993 | Slough Town | 1-1 | Runcorn | League | | | Match report |
| 27-02-1993 | Gateshead | 1-0 | Slough Town | League | | | Match report |
| 23-02-1993 | Farnborough Town | 1-0 | Slough Town | League | | | Match report |
Slough Town FC is not responsible for content produced on external websites | Copyright Slough Town FC 2023