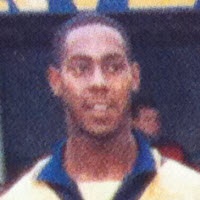 Stats
Position:
Striker
First Appearance:
13-08-1994 vs Hendon
Appearances:
95
First Goal:
13-08-1994 vs Hendon
Goals:
43
Bio
Striker with an eye for goal who joined the club from St. Albans.

Immediately linked up with fellow strikers Andy Sayer and Mark West to form a formidable front line for Slough and hit 32 goals in his opening season with the club, second only to Mark West's 35. Struggled in his first season in the Conference, but still managed a creditable twelve goals before moving on. Also played for Marlow and Woking before coming to Slough.
History
| Match Date | Home | Score | Away | Competition | Goals | Cards | |
| --- | --- | --- | --- | --- | --- | --- | --- |
| 13-04-1996 | Slough Town | 0-0 | Welling United | League | | | Match report |
| 08-04-1996 | Southport | 2-0 | Slough Town | League | | | Match report |
| 03-04-1996 | Bath City | 3-1 | Slough Town | League | | | Match report |
| 19-03-1996 | Woking | 3-0 | Slough Town | League | | | Match report |
| 12-03-1996 | Slough Town | 2-6 | Stevenage Borough | League | | | Match report |
| 09-03-1996 | Slough Town | 5-0 | Dagenham & R. | League | | | Match report |
| 24-02-1996 | Kidderminster Harriers | 4-3 | Slough Town | League | | | Match report |
| 17-02-1996 | Slough Town | 1-2 | Kettering Town | League | | | Match report |
| 13-02-1996 | Kettering Town | 2-0 | Slough Town | Isthmian Lge Sub. Cup | | | Match report |
| 10-02-1996 | Slough Town | 1-2 | Kettering Town | FA Trophy | | | Match report |
| 03-02-1996 | Slough Town | 1-2 | Telford Utd | League | | | Match report |
| 30-01-1996 | Reading | 3-2 | Slough Town | B&B Senior Cup | | | Match report |
| 23-01-1996 | Slough Town | 4-3 | Farnborough Town | FA Trophy | | | Match report |
| 20-01-1996 | Farnborough Town | 1-1 | Slough Town | FA Trophy | | | Match report |
| 13-01-1996 | Altrincham | 0-1 | Slough Town | League | | | Match report |
| 06-01-1996 | Slough Town | 1-2 | Gateshead | League | | | Match report |
| 09-12-1995 | Slough Town | 2-3 | Halifax Town | League | | | Match report |
| 02-12-1995 | Stalybridge Celtic | 0-1 | Slough Town | League | | | Match report |
| 25-11-1995 | Slough Town | 1-1 | Northwich Victoria | League | | | Match report |
| 20-11-1995 | Dagenham & R. | 1-3 | Slough Town | League | | | Match report |
| 18-11-1995 | Slough Town | 2-3 | Woking | League | | | Match report |
| 11-11-1995 | Slough Town | 0-2 | Plymouth Argyle | FA Cup | | | Match report |
| 04-11-1995 | Gateshead | 2-1 | Slough Town | League | | | Match report |
| 31-10-1995 | Slough Town | 1-1 | Farnborough Town | League | | | Match report |
| 28-10-1995 | Telford Utd | 2-0 | Slough Town | League | | | Match report |
| 21-10-1995 | Yeading | 0-2 | Slough Town | FA Cup | | | Match report |
| 14-10-1995 | Slough Town | 2-2 | Macclesfield Town | League | | | Match report |
| 07-10-1995 | Kettering Town | 2-0 | Slough Town | League | | | Match report |
| 03-10-1995 | Slough Town | 3-0 | Dagenham & R. | Isthmian Lge Sub. Cup | | | Match report |
| 30-09-1995 | Slough Town | 0-2 | Hednesford Town | League | | | Match report |
| 26-09-1995 | Dover Athletic | 0-1 | Slough Town | League | | | Match report |
| 23-09-1995 | Slough Town | 2-3 | Bromsgrove Rovers | League | | | Match report |
| 18-09-1995 | Dagenham & R. | 0-3 | Slough Town | Isthmian Lge Sub. Cup | | | Match report |
| 16-09-1995 | Slough Town | 1-2 | Altrincham | League | | | Match report |
| 12-09-1995 | Slough Town | 3-2 | Dover Athletic | League | | | Match report |
| 09-09-1995 | Runcorn | 4-3 | Slough Town | League | | | Match report |
| 05-09-1995 | Slough Town | 1-1 | Bath City | League | | | Match report |
| 26-08-1995 | Halifax Town | 1-2 | Slough Town | League | | | Match report |
| 22-08-1995 | Welling United | 0-3 | Slough Town | League | | | Match report |
| 19-08-1995 | Slough Town | 2-5 | Southport | League | | | Match report |
| 08-05-1995 | Aylesbury United | 1-1 | Slough Town | Ryman League Cup | | | Match report |
| 04-05-1995 | Slough Town | 1-4 | Enfield | League | | | Match report |
| 02-05-1995 | Reading | 1-0 | Slough Town | B&B Senior Cup | | | Match report |
| 29-04-1995 | Molesey | 0-2 | Slough Town | League | | | Match report |
| 27-04-1995 | Sutton United | 1-1 | Slough Town | League | | | Match report |
| 25-04-1995 | Slough Town | 5-2 | Chesham United | League | | | Match report |
| 22-04-1995 | Harrow Borough | 0-3 | Slough Town | League | | | Match report |
| 19-04-1995 | Bromley | 1-1 | Slough Town | League | | | Match report |
| 17-04-1995 | Slough Town | 1-0 | Wokingham Town | League | | | Match report |
| 14-04-1995 | Hitchin Town | 1-0 | Slough Town | League | | | Match report |
| 11-04-1995 | Slough Town | 2-1 | Kingstonian | League | | | Match report |
| 08-04-1995 | Slough Town | 3-1 | Hayes | League | | | Match report |
| 04-04-1995 | Hendon | 1-2 | Slough Town | League | | | Match report |
| 01-04-1995 | Slough Town | 0-0 | Walton & Hersham | League | | | Match report |
| 28-03-1995 | Slough Town | 3-2 | Hitchin Town | League | | | Match report |
| 21-03-1995 | Marlow | 0-2 | Slough Town | B&B Senior Cup | | | Match report |
| 18-03-1995 | Dulwich Hamlet | 0-2 | Slough Town | Ryman League Cup | | | Match report |
| 14-03-1995 | Dulwich Hamlet | 1-2 | Slough Town | Ryman League Cup | | | Match report |
| 11-03-1995 | Slough Town | 1-0 | Bishop's Stortford | League | | | Match report |
| 07-03-1995 | Aylesbury United | 3-3 | Slough Town | League | | | Match report |
| 28-02-1995 | Slough Town | 3-1 | Dulwich Hamlet | League | | | Match report |
| 18-02-1995 | Yeading | 0-0 | Slough Town | League | | | Match report |
| 14-02-1995 | St Albans City | 3-4 | Slough Town | League Cup | | | Match report |
| 09-02-1995 | Slough Town | 2-1 | Wycombe Wanderers | B&B Senior Cup | | | Match report |
| 04-02-1995 | Grays Athletic | 3-3 | Slough Town | League | | | Match report |
| 24-01-1995 | Merthyr Tydfil | 3-2 | Slough Town | FA Trophy | | | Match report |
| 17-01-1995 | Slough Town | 4-0 | Thatcham Town | B&B Senior Cup | | | Match report |
| 14-01-1995 | Slough Town | 4-0 | Marlow | League | | | Match report |
| 31-12-1994 | Slough Town | 4-1 | Bromley | League | | | Match report |
| 26-12-1994 | Wokingham Town | 2-0 | Slough Town | League | | | Match report |
| 17-12-1994 | Slough Town | 2-4 | Purfleet | League | | | Match report |
| 13-12-1994 | Slough Town | 5-1 | Sutton United | League Cup | | | Match report |
| 10-12-1994 | Carshalton Ath | 1-3 | Slough Town | League | | | Match report |
| 03-12-1994 | Slough Town | 3-1 | Molesey | League | | | Match report |
| 29-11-1994 | Worthing | 3-6 | Slough Town | League Cup | | | Match report |
| 26-11-1994 | Hayes | 3-1 | Slough Town | League | | | Match report |
| 19-11-1994 | Slough Town | 1-1 | Harrow Borough | League | | | Match report |
| 12-11-1994 | Slough Town | 0-4 | Birmingham City | FA Cup | | | Match report |
| 05-11-1994 | Slough Town | 1-1 | St Albans City | League | | | Match report |
| 01-11-1994 | Slough Town | 4-0 | Collier Row | League Cup | | | Match report |
| 29-10-1994 | Walton & Hersham | 3-3 | Slough Town | League | | | Match report |
| 22-10-1994 | Stafford Rangers | 0-4 | Slough Town | FA Cup | | | Match report |
| 15-10-1994 | Enfield | 0-1 | Slough Town | League | | | Match report |
| 08-10-1994 | Bishop's Stortford | 2-2 | Slough Town | League | | | Match report |
| 01-10-1994 | Slough Town | 1-1 | Dulwich Hamlet | League | | | Match report |
| 17-09-1994 | Kingstonian | 0-3 | Slough Town | League | | | Match report |
| 10-09-1994 | Slough Town | 3-2 | Sutton United | League | | | Match report |
| 06-09-1994 | Hayes | 0-1 | Slough Town | Ryman League Cup | | | Match report |
| 03-09-1994 | Slough Town | 5-3 | Yeading | League | | | Match report |
| 29-08-1994 | Purfleet | 3-0 | Slough Town | League | | | Match report |
| 27-08-1994 | Slough Town | 1-0 | Aylesbury United | League | | | Match report |
| 23-08-1994 | Slough Town | 2-0 | Grays Athletic | League | | | Match report |
| 20-08-1994 | Chesham United | 0-1 | Slough Town | League | | | Match report |
| 16-08-1994 | Marlow | 0-2 | Slough Town | League | | | Match report |
| 13-08-1994 | Slough Town | 2-2 | Hendon | League | | | Match report |
Slough Town FC is not responsible for content produced on external websites | Copyright Slough Town FC 2021