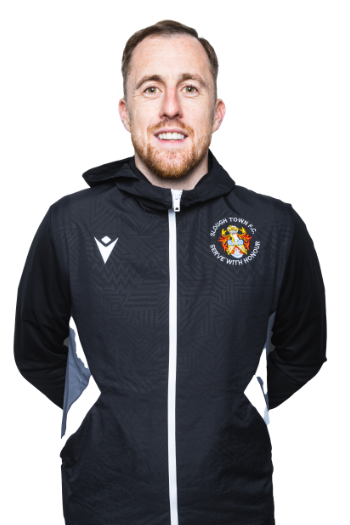 Squad Number:
14
Position:
Management
Achievements
2017/18 Won promotion to National League South
2018/19 Berks & Bucks FA Senior Cup
2019/20 Goal of the Season
Appointed first team manager on 23 November 2022
Bio
35-year-old Scott Davies became first team manager on 23 November 2022 having taken on the role of caretaker manager the previous week, following the departure of Neil Baker and Jon Underwood.
Scott combines his management role with playing duties in either midfield or at the heart of the defence. He originally joined the Rebels in March 2018 to boost the squad in a packed end of season promotion run-in and has played a big part ever since.
He is a technically gifted midfield player with a habit of chipping in with a sensational goal from time to time, most notably twice from inside his own half with several others from free kicks.
Scott began his career as a professional at Reading and enjoyed a successful loan spell at Aldershot Town, where he won promotion to League Two. He also won the Conference National goal of the season award with his injury time goal against Torquay United. Scott went on to score 13 goals in 41 appearances in League Two for the Shots.
He played around 100 games in the Football League for Aldershot, Wycombe Wanderers and Crawley Town amongst others, and went on to make well over 100 appearances in National League South for Wealdstone, Oxford City and Chelmsford City.
Scott works for club sponsors EPIC Risk Management, educating others by promoting responsible and safer gambling, mainly in football working alongside SkyBet and the EFL.
EDS
| First Appearance | Appearances | First Goal | Goals |
| --- | --- | --- | --- |
| 24-04-2021 vs Hanwell Town | 7 | N/A | 0 |
Mens
| First Appearance | Appearances | First Goal | Goals |
| --- | --- | --- | --- |
| 20-03-2018 vs St Ives Town | 182 | 04-01-2020 vs Eastbourne Borough | 9 |
History
| Match Date | Home | Score | Away | Competition | Goals | Cards | |
| --- | --- | --- | --- | --- | --- | --- | --- |
| 05-01-2022 | Cardiff City U23 | 3-1 | Slough Town EDS | Friendly | | | Match report |
| 24-09-2021 | Slough Town EDS | 4-2 | Abbey Rangers Development | League | | | Match report |
| 05-06-2021 | Abbey Rangers Development | 2-2 | Slough Town EDS | Suburban Shield | | | Match report |
| 08-05-2021 | Slough Town EDS | 1-2 | Chippenham Town U23 | Suburban Shield | | | Match report |
| 04-05-2021 | Oxford City U23 | 1-2 | Slough Town EDS | Suburban Shield | | | Match report |
| 01-05-2021 | AFC Dunstable Development | 2-0 | Slough Town EDS | Suburban Shield | | | Match report |
| 24-04-2021 | Hanwell Town | 1-1 | Slough Town EDS | Friendly | | | Match report |
| Match Date | Home | Score | Away | Competition | Goals | Cards | |
| --- | --- | --- | --- | --- | --- | --- | --- |
| 28-11-2023 | Flackwell Heath | 5-1 | Slough Town | B&B Senior Cup | | | Match report |
| 14-11-2023 | Grimsby Town | 7-2 | Slough Town | FA Cup | | | Match report |
| 05-11-2023 | Slough Town | 1-1 | Grimsby Town | FA Cup | | | Match report |
| 28-10-2023 | Eastbourne Borough | 3-3 | Slough Town | League | | | Match report |
| 21-10-2023 | Slough Town | 0-0 | Chelmsford City | League | | | Match report |
| 17-10-2023 | Slough Town | 2-0 | Ebbsfleet United | FA Cup | | | Match report |
| 14-10-2023 | Ebbsfleet United | 2-2 | Slough Town | FA Cup | | | Match report |
| 07-10-2023 | Slough Town | 0-0 | Weymouth | League | | | Match report |
| 03-10-2023 | Slough Town | 3-0 | Salisbury | FA Cup | | | Match report |
| 30-09-2023 | Salisbury | 0-0 | Slough Town | FA Cup | | | Match report |
| 23-09-2023 | Farnborough | 2-2 | Slough Town | League | | | Match report |
| 16-09-2023 | Hayes & Yeading United | 0-2 | Slough Town | FA Cup | | | Match report |
| 09-09-2023 | Slough Town | 2-0 | Aveley | League | | | Match report |
| 05-09-2023 | Dartford | 1-2 | Slough Town | League | | | Match report |
| 02-09-2023 | Slough Town | 2-5 | Tonbridge Angels | League | | | Match report |
| 28-08-2023 | Chippenham Town | 2-1 | Slough Town | League | | | Match report |
| 26-08-2023 | Slough Town | 1-2 | Torquay United | League | | | Match report |
| 19-08-2023 | Weston-super-Mare | 0-3 | Slough Town | League | | | Match report |
| 15-08-2023 | Slough Town | 1-4 | Worthing | League | | | Match report |
| 12-08-2023 | Slough Town | 1-2 | Dover Athletic | League | | | Match report |
| 05-08-2023 | Maidstone United | 2-1 | Slough Town | League | | | Match report |
| 29-04-2023 | Slough Town | 1-1 | Braintree Town | League | | | Match report |
| 15-04-2023 | Slough Town | 2-0 | Farnborough | League | | | Match report |
| 10-04-2023 | Taunton Town | 2-1 | Slough Town | League | | | Match report |
| 07-04-2023 | Slough Town | 6-1 | Chippenham Town | League | | | Match report |
| 01-04-2023 | Hemel Hempstead Town | 1-1 | Slough Town | League | | | Match report |
| 25-03-2023 | Slough Town | 0-1 | Ebbsfleet United | League | | | Match report |
| 21-03-2023 | Farnborough | 4-1 | Slough Town | League | | | Match report |
| 18-03-2023 | Eastbourne Borough | 2-0 | Slough Town | League | | | Match report |
| 11-03-2023 | Slough Town | 4-0 | Hungerford Town | League | | | Match report |
| 04-03-2023 | Slough Town | 1-1 | Worthing | League | | | Match report |
| 28-02-2023 | Slough Town | 0-3 | Bath City | League | | | Match report |
| 25-02-2023 | St Albans City | 1-2 | Slough Town | League | | | Match report |
| 21-02-2023 | Dartford | 1-0 | Slough Town | League | | | Match report |
| 18-02-2023 | Slough Town | 0-3 | Welling United | League | | | Match report |
| 11-02-2023 | Hampton & Richmond | 0-1 | Slough Town | League | | | Match report |
| 04-02-2023 | Slough Town | 1-1 | Dover Athletic | League | | | Match report |
| 28-01-2023 | Cheshunt | 1-1 | Slough Town | League | | | Match report |
| 21-01-2023 | Slough Town | 4-3 | Dulwich Hamlet | League | | | Match report |
| 07-01-2023 | Tonbridge Angels | 3-3 | Slough Town | League | | | Match report |
| 01-01-2023 | Slough Town | 2-2 | Oxford City | League | | | Match report |
| 26-12-2022 | Oxford City | 1-3 | Slough Town | League | | | Match report |
| 10-12-2022 | Slough Town | 1-3 | Havant & Waterlooville | League | | | Match report |
| 06-12-2022 | Slough Town | 0-0 | Concord Rangers | League | | | Match report |
| 03-12-2022 | Ebbsfleet United | 2-0 | Slough Town | League | | | Match report |
| 26-11-2022 | Slough Town | 1-5 | Eastbourne Borough | League | | | Match report |
| 19-11-2022 | Hanwell Town | 0-3 | Slough Town | FA Trophy | | | Match report |
| 15-11-2022 | Maidenhead United | 1-1 | Slough Town | B&B Senior Cup | | | Match report |
| 12-11-2022 | Hungerford Town | 2-1 | Slough Town | League | | | Match report |
| 08-11-2022 | Welling United | 0-0 | Slough Town | League | | | Match report |
| 05-11-2022 | Slough Town | 1-3 | St Albans City | League | | | Match report |
| 29-10-2022 | Worthing | 2-2 | Slough Town | League | | | Match report |
| 25-10-2022 | Slough Town | 1-2 | Dartford | League | | | Match report |
| 22-10-2022 | Slough Town | 2-3 | Weymouth | League | | | Match report |
| 15-10-2022 | Dover Athletic | 3-0 | Slough Town | League | | | Match report |
| 08-10-2022 | Slough Town | 0-2 | Hemel Hempstead Town | League | | | Match report |
| 27-09-2022 | Chippenham Town | 0-1 | Slough Town | League | | | Match report |
| 03-09-2022 | Slough Town | 2-1 | Hampton & Richmond | League | | | Match report |
| 29-08-2022 | Bath City | 5-1 | Slough Town | League | | | Match report |
| 27-08-2022 | Slough Town | 3-1 | Cheshunt | League | | | Match report |
| 20-08-2022 | Dulwich Hamlet | 1-2 | Slough Town | League | | | Match report |
| 16-08-2022 | Slough Town | 0-2 | Chelmsford City | League | | | Match report |
| 13-08-2022 | Slough Town | 1-1 | Tonbridge Angels | League | | | Match report |
| 06-08-2022 | Havant & Waterlooville | 3-1 | Slough Town | League | | | Match report |
| 30-04-2022 | Slough Town | 0-6 | Dartford | League | | | Match report |
| 23-04-2022 | Chelmsford City | 1-1 | Slough Town | League | | | Match report |
| 18-04-2022 | Slough Town | 2-0 | Hemel Hempstead Town | League | | | Match report |
| 15-04-2022 | Tonbridge Angels | 0-1 | Slough Town | League | | | Match report |
| 09-04-2022 | Slough Town | 2-2 | Eastbourne Borough | League | | | Match report |
| 02-04-2022 | Dorking Wanderers | 5-0 | Slough Town | League | | | Match report |
| 26-03-2022 | Slough Town | 0-2 | Braintree Town | League | | | Match report |
| 19-03-2022 | Dulwich Hamlet | 1-1 | Slough Town | League | | | Match report |
| 15-03-2022 | Bath City | 1-1 | Slough Town | League | | | Match report |
| 12-03-2022 | Slough Town | 2-1 | Maidstone United | League | | | Match report |
| 01-03-2022 | Braintree Town | 1-0 | Slough Town | League | | | Match report |
| 26-02-2022 | Slough Town | 1-1 | Havant & Waterlooville | League | | | Match report |
| 19-02-2022 | Slough Town | 2-1 | Welling United | League | | | Match report |
| 12-02-2022 | Ebbsfleet United | 1-2 | Slough Town | League | | | Match report |
| 29-01-2022 | St Albans City | 1-0 | Slough Town | League | | | Match report |
| 25-01-2022 | Slough Town | 1-1 | Billericay Town | League | | | Match report |
| 15-01-2022 | York City | 1-0 | Slough Town | FA Trophy | | | Match report |
| 08-01-2022 | Chippenham Town | 6-1 | Slough Town | League | | | Match report |
| 02-01-2022 | Slough Town | 2-2 | Oxford City | League | | | Match report |
| 28-12-2021 | Slough Town | 4-1 | Hampton & Richmond | League | | | Match report |
| 26-12-2021 | Oxford City | 3-2 | Slough Town | League | | | Match report |
| 18-12-2021 | Slough Town | 3-1 | Eastbourne Borough | FA Trophy | | | Match report |
| 11-12-2021 | Hemel Hempstead Town | 2-2 | Slough Town | League | | | Match report |
| 04-12-2021 | Slough Town | 2-1 | Tonbridge Angels | League | | | Match report |
| 27-11-2021 | Slough Town | 1-0 | Havant & Waterlooville | FA Trophy | | | Match report |
| 20-11-2021 | Eastbourne Borough | 3-1 | Slough Town | League | | | Match report |
| 13-11-2021 | Slough Town | 2-1 | Dorking Wanderers | League | | | Match report |
| 06-11-2021 | Maidstone United | 0-1 | Slough Town | League | | | Match report |
| 30-10-2021 | Slough Town | 1-1 | Concord Rangers | League | | | Match report |
| 26-10-2021 | Slough Town | 2-0 | Bath City | League | | | Match report |
| 23-10-2021 | Havant & Waterlooville | 1-2 | Slough Town | League | | | Match report |
| 16-10-2021 | Billericay Town | 2-1 | Slough Town | League | | | Match report |
| 09-10-2021 | Slough Town | 1-3 | Ebbsfleet United | League | | | Match report |
| 25-09-2021 | Hungerford Town | 1-1 | Slough Town | League | | | Match report |
| 28-08-2021 | Slough Town | 0-1 | Chippenham Town | League | | | Match report |
| 21-08-2021 | Dartford | 3-0 | Slough Town | League | | | Match report |
| 14-08-2021 | Slough Town | 1-0 | Chelmsford City | League | | | Match report |
| 19-07-2020 | Slough Town | 0-3 | Dartford | Play Off | | | Match report |
| 14-03-2020 | Weymouth | 2-0 | Slough Town | League | | | Match report |
| 10-03-2020 | Slough Town | 2-2 | MK Dons | B&B Senior Cup | | | Match report |
| 07-03-2020 | Slough Town | 0-2 | Hungerford Town | League | | | Match report |
| 26-02-2020 | Havant & Waterlooville | 1-0 | Slough Town | League | | | Match report |
| 01-02-2020 | Slough Town | 0-1 | Oxford City | League | | | Match report |
| 11-01-2020 | Billericay Town | 2-2 | Slough Town | League | | | Match report |
| 04-01-2020 | Slough Town | 1-1 | Eastbourne Borough | League | | | Match report |
| 01-01-2020 | Wealdstone | 2-1 | Slough Town | League | | | Match report |
| 28-12-2019 | Hemel Hempstead Town | 1-1 | Slough Town | League | | | Match report |
| 26-12-2019 | Slough Town | 2-1 | Wealdstone | League | | | Match report |
| 07-12-2019 | Slough Town | 1-0 | Braintree Town | League | | | Match report |
| 30-11-2019 | Slough Town | 0-0 | Tonbridge Angels | League | | | Match report |
| 26-11-2019 | Slough Town | 2-3 | Concord Rangers | FA Trophy | | | Match report |
| 02-11-2019 | Slough Town | 2-1 | Chelmsford City | League | | | Match report |
| 29-10-2019 | Slough Town | 1-0 | Welling United | League | | | Match report |
| 26-10-2019 | Oxford City | 2-1 | Slough Town | League | | | Match report |
| 12-10-2019 | Slough Town | 3-1 | Billericay Town | League | | | Match report |
| 08-10-2019 | Slough Town | 2-3 | Chippenham Town | FA Cup | | | Match report |
| 05-10-2019 | Chippenham Town | 3-3 | Slough Town | FA Cup | | | Match report |
| 28-09-2019 | Dartford | 2-3 | Slough Town | League | | | Match report |
| 14-09-2019 | Slough Town | 3-1 | Hampton & Richmond | League | | | Match report |
| 07-09-2019 | Eastbourne Borough | 0-2 | Slough Town | League | | | Match report |
| 03-09-2019 | Slough Town | 2-0 | Hemel Hempstead Town | League | | | Match report |
| 31-08-2019 | Slough Town | 1-1 | St Albans City | League | | | Match report |
| 26-08-2019 | Dulwich Hamlet | 2-3 | Slough Town | League | | | Match report |
| 17-08-2019 | Maidstone United | 1-1 | Slough Town | League | | | Match report |
| 13-08-2019 | Slough Town | 1-1 | Weymouth | League | | | Match report |
| 10-08-2019 | Concord Rangers | 2-1 | Slough Town | League | | | Match report |
| 06-08-2019 | Hungerford Town | 1-0 | Slough Town | League | | | Match report |
| 03-08-2019 | Slough Town | 0-1 | Dorking Wanderers | League | | | Match report |
| 06-05-2019 | Reading | 1-3 | Slough Town | B&B Senior Cup | | | Match report |
| 29-01-2019 | Billericay Town | 3-2 | Slough Town | League | | | Match report |
| 19-01-2019 | Slough Town | 2-2 | Chippenham Town | League | | | Match report |
| 15-01-2019 | Hungerford Town | 1-2 | Slough Town | B&B Senior Cup | | | Match report |
| 12-01-2019 | Slough Town | 1-0 | Chelmsford City | League | | | Match report |
| 08-01-2019 | Slough Town | 0-0 | Bath City | League | | | Match report |
| 05-01-2019 | Torquay United | 4-0 | Slough Town | League | | | Match report |
| 01-01-2019 | Slough Town | 0-1 | Wealdstone | League | | | Match report |
| 29-12-2018 | Dulwich Hamlet | 0-1 | Slough Town | League | | | Match report |
| 26-12-2018 | Wealdstone | 0-3 | Slough Town | League | | | Match report |
| 22-12-2018 | Slough Town | 3-1 | East Thurrock United | League | | | Match report |
| 11-12-2018 | Slough Town | 1-2 | Truro City | League | | | Match report |
| 08-12-2018 | Dartford | 1-1 | Slough Town | League | | | Match report |
| 02-12-2018 | Slough Town | 0-1 | Gillingham | FA Cup | | | Match report |
| 20-11-2018 | Slough Town | 1-1 | Sutton United | FA Cup | | | Match report |
| 17-11-2018 | Slough Town | 0-1 | Woking | League | | | Match report |
| 13-11-2018 | Slough Town | 6-3 | Chalfont St Peter | B&B Senior Cup | | | Match report |
| 10-11-2018 | Sutton United | 0-0 | Slough Town | FA Cup | | | Match report |
| 03-11-2018 | Slough Town | 1-0 | Concord Rangers | League | | | Match report |
| 30-10-2018 | Hemel Hempstead Town | 1-1 | Slough Town | League | | | Match report |
| 27-10-2018 | St Albans City | 3-2 | Slough Town | League | | | Match report |
| 20-10-2018 | Eastbourne Borough | 1-2 | Slough Town | FA Cup | | | Match report |
| 06-10-2018 | Slough Town | 2-2 | Bristol Manor Farm | FA Cup | | | Match report |
| 29-09-2018 | Slough Town | 2-0 | Hungerford Town | League | | | Match report |
| 25-09-2018 | Sholing | 0-3 | Slough Town | FA Cup | | | Match report |
| 22-09-2018 | Slough Town | 2-2 | Sholing | FA Cup | | | Match report |
| 15-09-2018 | Eastbourne Borough | 2-4 | Slough Town | League | | | Match report |
| 01-09-2018 | Chelmsford City | 0-1 | Slough Town | League | | | Match report |
| 27-08-2018 | Slough Town | 1-2 | Dulwich Hamlet | League | | | Match report |
| 25-08-2018 | East Thurrock United | 1-0 | Slough Town | League | | | Match report |
| 18-08-2018 | Slough Town | 0-0 | Torquay United | League | | | Match report |
| 14-08-2018 | Slough Town | 2-1 | Weston-super-Mare | League | | | Match report |
| 11-08-2018 | Gloucester City | 1-2 | Slough Town | League | | | Match report |
| 07-08-2018 | Chippenham Town | 1-0 | Slough Town | League | | | Match report |
| 04-08-2018 | Slough Town | 1-1 | Hampton & Richmond | League | | | Match report |
| 07-05-2018 | King's Lynn Town | 1-2 | Slough Town | Play Off | | | Match report |
| 02-05-2018 | Slough Town | 3-1 | Kettering Town | Play Off | | | Match report |
| 28-04-2018 | Slough Town | 2-1 | Royston Town | League | | | Match report |
| 24-04-2018 | Royston Town | 0-4 | Slough Town | League | | | Match report |
| 21-04-2018 | Dorchester Town | 0-1 | Slough Town | League | | | Match report |
| 16-04-2018 | Hitchin Town | 0-1 | Slough Town | League | | | Match report |
| 14-04-2018 | Slough Town | 2-2 | King's Lynn Town | League | | | Match report |
| 10-04-2018 | Biggleswade Town | 3-5 | Slough Town | League | | | Match report |
| 07-04-2018 | Stratford Town | 0-1 | Slough Town | League | | | Match report |
| 04-04-2018 | Frome Town | 0-4 | Slough Town | League | | | Match report |
| 02-04-2018 | Slough Town | 2-1 | Chesham United | League | | | Match report |
| 30-03-2018 | Dunstable Town | 0-3 | Slough Town | League | | | Match report |
| 27-03-2018 | Weymouth | 1-0 | Slough Town | League | | | Match report |
| 24-03-2018 | Basingstoke Town | 1-4 | Slough Town | League | | | Match report |
| 20-03-2018 | St Ives Town | 1-4 | Slough Town | League | | | Match report |
Slough Town FC is not responsible for content produced on external websites | Copyright Slough Town FC 2023