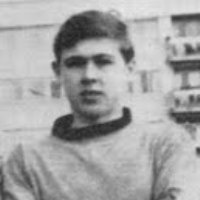 Position:
Defender
Achievements
Amateur Cup - runner-up 1972/73
Bio
Former England skipper who represented Slough in the 1973 Amateur Cup final defeat to Walton & Hersham at Wembley.
A native of the North-East, Reid came south in his full-time role as a schoolteacher. Ian won his first Amateur Cup winners medal for Crook Town after a 2-1 win against Enfield in 1964, and won another in 1967 for Enfield against Skelmersdale, before his runners-up medal at Slough in 1973. Although a full-back, Reid was a regular goalscorer for the Rebels.
He also played for Hitchin Town, signing from Enfield in 1968. An established England international, he enjoyed an outstanding career. He became a popular and key member of the Hitchin side that finished runners-up in the Isthmian League in 1968-69 and a year later, lifted the London Senior Cup.
In total, Ian made 28 appearances for England, and also represented Great Britain at the 1972 Olympics. Ian died in 2011 aged 68, having been suffering from Huntington's Chorea for some years.
Mens
| First Appearance | Appearances | First Goal | Goals |
| --- | --- | --- | --- |
| 11-01-1971 vs Wycombe Wanderers | 137 | 27-02-1971 vs Aveley | 18 |
History
| Match Date | Home | Score | Away | Competition | Goals | Cards | |
| --- | --- | --- | --- | --- | --- | --- | --- |
| 11-09-1973 | Hertford Town | 2-0 | Slough Town | League | | | Match report |
| 08-09-1973 | Slough Town | 2-3 | Dagenham | League | | | Match report |
| 05-09-1973 | Slough Town | 2-1 | Finchley | League | | | Match report |
| 28-08-1973 | Chesham United | 1-2 | Slough Town | League | | | Match report |
| 25-08-1973 | Slough Town | 2-1 | Aveley | League | | | Match report |
| 15-05-1973 | Slough Town | 2-0 | Worthing | Athenian League Cup | | | Match report |
| 04-05-1973 | Slough Town | 1-0 | Dagenham | League | | | Match report |
| 30-04-1973 | Slough Town | 4-0 | Cheshunt | League | | | Match report |
| 28-04-1973 | Wembley | 0-2 | Slough Town | League | | | Match report |
| 23-04-1973 | Wycombe Wanderers | 0-1 | Slough Town | B&B Senior Cup | | | Match report |
| 21-04-1973 | Slough Town | 5-1 | Erith | League | | | Match report |
| 19-04-1973 | Hornchurch | 1-2 | Slough Town | League | | | Match report |
| 16-04-1973 | Slough Town | 5-0 | Wembley | Athenian League Cup | | | Match report |
| 14-04-1973 | Walton & Hersham | 1-0 | Slough Town | FA Amateur Cup | | | Match report |
| 07-04-1973 | Slough Town | 4-1 | Hornchurch | League | | | Match report |
| 31-03-1973 | Slough Town | 0-0 | Croydon | League | | | Match report |
| 26-03-1973 | Redhill | 0-7 | Slough Town | League | | | Match report |
| 24-03-1973 | Harwich | 2-4 | Slough Town | League | | | Match report |
| 19-03-1973 | Slough Town | 2-0 | Maidenhead United | Athenian League Cup | | | Match report |
| 10-03-1973 | Bishop's Stortford | 0-1 | Slough Town | FA Amateur Cup | | | Match report |
| 03-03-1973 | Wokingham Town | 0-1 | Slough Town | B&B Senior Cup | | | Match report |
| 26-02-1973 | Slough Town | 0-0 | Hayes | Premier Midweek FL | | | Match report |
| 24-02-1973 | Harlow Town | 1-3 | Slough Town | League | | | Match report |
| 20-02-1973 | Hampton | 1-3 | Slough Town | Premier Midweek FL | | | Match report |
| 17-02-1973 | Slough Town | 2-1 | Blyth Spartans | FA Amateur Cup | | | Match report |
| 10-02-1973 | Slough Town | 3-0 | Cheshunt | Athenian League Cup | | | Match report |
| 30-01-1973 | Hayes | 0-0 | Slough Town | Premier Midweek FL | | | Match report |
| 27-01-1973 | Slough Town | 2-1 | Leytonstone | FA Amateur Cup | | | Match report |
| 20-01-1973 | Slough Town | 3-1 | Aylesbury United | B&B Senior Cup | | | Match report |
| 13-01-1973 | Maidenhead United | 0-0 | Slough Town | League | | | Match report |
| 08-01-1973 | Slough Town | 3-2 | Southall | Premier Midweek FL | | | Match report |
| 06-01-1973 | Eastbourne Utd | 0-2 | Slough Town | FA Amateur Cup | | | Match report |
| 30-12-1972 | Lewes | 1-0 | Slough Town | League | | | Match report |
| 27-12-1972 | Slough Town | 6-1 | Maidenhead United | League | | | Match report |
| 16-12-1972 | Aveley | 1-0 | Slough Town | League | | | Match report |
| 09-12-1972 | Slough Town | 2-1 | Cadbury Heath | FA Amateur Cup | | | Match report |
| 25-11-1972 | Slough Town | 2-1 | Boreham Wood | Athenian League Cup | | | Match report |
| 20-11-1972 | Slough Town | 1-1 | Hampton | Premier Midweek FL | | | Match report |
| 18-11-1972 | Croydon | 2-3 | Slough Town | League | | | Match report |
| 11-11-1972 | Slough Town | 2-0 | Tilbury | League | | | Match report |
| 04-11-1972 | Erith | 2-0 | Slough Town | League | | | Match report |
| 01-11-1972 | Maidenhead United | 1-3 | Slough Town | Premier Midweek FL | | | Match report |
| 28-10-1972 | Redhill | 0-2 | Slough Town | League | | | Match report |
| 24-10-1972 | Wembley | 1-3 | Slough Town | Premier Midweek FL | | | Match report |
| 21-10-1972 | Slough Town | 5-0 | Southall | League | | | Match report |
| 14-10-1972 | Cheshunt | 0-1 | Slough Town | League | | | Match report |
| 07-10-1972 | Banbury United | 2-1 | Slough Town | FA Cup | | | Match report |
| 02-10-1972 | Slough Town | 1-0 | Wembley | Premier Midweek FL | | | Match report |
| 30-09-1972 | Slough Town | 2-0 | Redhill | League | | | Match report |
| 23-09-1972 | Tilbury | 1-1 | Slough Town | League | | | Match report |
| 19-09-1972 | Bletchley | 0-3 | Slough Town | FA Cup | | | Match report |
| 16-09-1972 | Slough Town | 0-0 | Bletchley | FA Cup | | | Match report |
| 11-09-1972 | Slough Town | 4-2 | Lewes | League | | | Match report |
| 09-09-1972 | Slough Town | 1-1 | Harwich | League | | | Match report |
| 05-09-1972 | Boreham Wood | 0-2 | Slough Town | League | | | Match report |
| 02-09-1972 | Slough Town | 1-0 | Bedford | FA Cup | | | Match report |
| 31-08-1972 | Slough Town | 1-0 | Aveley | League | | | Match report |
| 26-08-1972 | Dagenham | 2-0 | Slough Town | League | | | Match report |
| 22-08-1972 | Southall | 0-2 | Slough Town | League | | | Match report |
| 19-08-1972 | Slough Town | 5-2 | Harlow Town | League | | | Match report |
| 22-05-1972 | Slough Town | 1-0 | Walton & Hersham | Premier Midweek FL | | | Match report |
| 12-05-1972 | Dagenham | 0-2 | Slough Town | Athenian League Cup | | | Match report |
| 09-05-1972 | Leytonstone | 0-1 | Slough Town | Premier Midweek FL | | | Match report |
| 05-05-1972 | Cheshunt | 0-1 | Slough Town | League | | | Match report |
| 02-05-1972 | Southall | 3-3 | Slough Town | League | | | Match report |
| 29-04-1972 | Slough Town | 4-0 | Erith | League | | | Match report |
| 21-04-1972 | Slough Town | 1-0 | Cheshunt | League | | | Match report |
| 18-04-1972 | Marlow | 0-2 | Slough Town | Premier Midweek FL | | | Match report |
| 15-04-1972 | Aveley | 0-1 | Slough Town | Athenian League Cup | | | Match report |
| 08-04-1972 | Harwich | 1-0 | Slough Town | League | | | Match report |
| 03-04-1972 | Wycombe Wanderers | 0-3 | Slough Town | B&B Senior Cup | | | Match report |
| 25-03-1972 | Aveley | 1-2 | Slough Town | League | | | Match report |
| 20-03-1972 | Slough Town | 2-2 | Wycombe Wanderers | Premier Midweek FL | | | Match report |
| 18-03-1972 | Slough Town | 4-0 | Harwich | League | | | Match report |
| 11-03-1972 | Enfield | 5-1 | Slough Town | FA Amateur Cup | | | Match report |
| 04-03-1972 | Slough Town | 1-0 | Sutton United | FA Amateur Cup | | | Match report |
| 26-02-1972 | Slough Town | 6-1 | Windsor & Eton | B&B Senior Cup | | | Match report |
| 29-01-1972 | Slough Town | 3-2 | St Albans City | FA Amateur Cup | | | Match report |
| 22-01-1972 | Slough Town | 2-0 | Stony Stratford | B&B Senior Cup | | | Match report |
| 15-01-1972 | Slough Town | 1-1 | Lewes | League | | | Match report |
| 08-01-1972 | Slough Town | 2-0 | Kingstonian | FA Amateur Cup | | | Match report |
| 01-01-1972 | Slough Town | 1-0 | Redhill | League | | | Match report |
| 27-12-1971 | Maidenhead United | 0-0 | Slough Town | League | | | Match report |
| 20-12-1971 | Slough Town | 3-0 | Oxford City | Premier Midweek FL | | | Match report |
| 18-12-1971 | Boreham Wood | 0-2 | Slough Town | League | | | Match report |
| 13-12-1971 | Slough Town | 3-0 | Maidenhead United | League | | | Match report |
| 11-12-1971 | Slough Town | 3-1 | Tilbury | Athenian League Cup | | | Match report |
| 06-12-1971 | Slough Town | 7-0 | Banbury United | Premier Midweek FL | | | Match report |
| 04-12-1971 | Slough Town | 1-1 | Leatherhead | League | | | Match report |
| 01-12-1971 | Oxford City | 1-3 | Slough Town | Premier Midweek FL | | | Match report |
| 26-11-1971 | Hornchurch | 0-1 | Slough Town | League | | | Match report |
| 22-11-1971 | Slough Town | 2-0 | Marlow | Premier Midweek FL | | | Match report |
| 20-11-1971 | Slough Town | 4-0 | Grays Athletic | League | | | Match report |
| 16-11-1971 | Chesham United | 0-2 | Slough Town | Premier Midweek FL | | | Match report |
| 13-11-1971 | Slough Town | 2-0 | Dagenham | League | | | Match report |
| 09-11-1971 | Maidenhead United | 1-1 | Slough Town | Premier Midweek FL | | | Match report |
| 06-11-1971 | Erith | 0-4 | Slough Town | League | | | Match report |
| 02-11-1971 | Wycombe Wanderers | 1-2 | Slough Town | Premier Midweek FL | | | Match report |
| 30-10-1971 | Wembley | 0-1 | Slough Town | League | | | Match report |
| 23-10-1971 | Slough Town | 3-0 | Hornchurch | Athenian League Cup | | | Match report |
| 18-10-1971 | Banbury United | 2-3 | Slough Town | Premier Midweek FL | | | Match report |
| 16-10-1971 | Grays Athletic | 2-3 | Slough Town | League | | | Match report |
| 11-10-1971 | Wokingham Town | 0-2 | Slough Town | Premier Midweek FL | | | Match report |
| 09-10-1971 | Slough Town | 0-1 | Romford | FA Cup | | | Match report |
| 04-10-1971 | Slough Town | 5-1 | Chesham United | Premier Midweek FL | | | Match report |
| 02-10-1971 | Slough Town | 3-1 | Hornchurch | League | | | Match report |
| 25-09-1971 | Tilbury | 2-0 | Slough Town | League | | | Match report |
| 21-09-1971 | Woking | 0-2 | Slough Town | FA Cup | | | Match report |
| 18-09-1971 | Slough Town | 1-1 | Woking | FA Cup | | | Match report |
| 13-09-1971 | Slough Town | 5-0 | Wokingham Town | Premier Midweek FL | | | Match report |
| 11-09-1971 | Slough Town | 5-0 | Aveley | League | | | Match report |
| 06-09-1971 | Slough Town | 2-0 | Boreham Wood | League | | | Match report |
| 04-09-1971 | Lewes | 0-1 | Slough Town | League | | | Match report |
| 30-08-1971 | Leatherhead | 1-0 | Slough Town | League | | | Match report |
| 28-08-1971 | Slough Town | 2-1 | Wembley | League | | | Match report |
| 23-08-1971 | Slough Town | 4-0 | Southall | League | | | Match report |
| 21-08-1971 | Dagenham | 3-2 | Slough Town | League | | | Match report |
| 18-08-1971 | Redhill | 0-2 | Slough Town | League | | | Match report |
| 14-08-1971 | Slough Town | 1-0 | Tilbury | League | | | Match report |
| 12-05-1971 | Slough Town | 2-1 | Hayes | League | | | Match report |
| 08-05-1971 | Dagenham | 1-0 | Slough Town | League | | | Match report |
| 01-05-1971 | Wembley | 0-0 | Slough Town | League | | | Match report |
| 17-04-1971 | Slough Town | 2-0 | Tilbury | League | | | Match report |
| 15-04-1971 | Boreham Wood | 1-2 | Slough Town | League | | | Match report |
| 12-04-1971 | Slough Town | 2-0 | Grays Athletic | League | | | Match report |
| 27-03-1971 | Slough Town | 1-2 | Dagenham | FA Amateur Cup | | | Match report |
| 20-03-1971 | Dagenham | 3-3 | Slough Town | FA Amateur Cup | | | Match report |
| 08-03-1971 | Slough Town | 2-1 | Boreham Wood | League | | | Match report |
| 01-03-1971 | Slough Town | 1-1 | Oxford City | Premier Midweek FL | | | Match report |
| 27-02-1971 | Aveley | 0-2 | Slough Town | FA Amateur Cup | | | Match report |
| 23-02-1971 | Wycombe Wanderers | 0-2 | Slough Town | Premier Midweek FL | | | Match report |
| 20-02-1971 | Slough Town | 3-1 | Hendon | FA Amateur Cup | | | Match report |
| 13-02-1971 | Hendon | 1-1 | Slough Town | FA Amateur Cup | | | Match report |
| 09-02-1971 | Leatherhead | 1-1 | Slough Town | League | | | Match report |
| 02-02-1971 | Cheshunt | 1-0 | Slough Town | League | | | Match report |
| 30-01-1971 | Harwich | 0-3 | Slough Town | FA Amateur Cup | | | Match report |
| 11-01-1971 | Slough Town | 1-2 | Wycombe Wanderers | Premier Midweek FL | | | Match report |
Slough Town FC is not responsible for content produced on external websites | Copyright Slough Town FC 2023