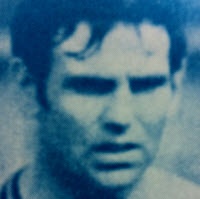 Position:
Defender
Bio
Represented Slough in the 1973 Amateur Cup final defeat to Walton & Hersham at Wembley at the age of 38, and at the time was considered the most experienced player in senior amateur football.
Played in four Amateur Cup finals and 14 semi-finals in a career that earned him over 30 caps for England and eight for Great Britain. Made his first Amateur Cup final appearance with Barnet in 1959, before joining Enfield where he collected three more medals. Established himself as a centre-back, but also played at wing-half.
Alf spent 11 years with Barnet before moving to Enfield where he gained two Amateur Cup winners medals and one runner-up medal. Add to this numerous other Cup medals, Athenian and Isthmian League honours and Championships, and not much more needs to be said.
Alf gained the first of his England caps in 1958 and in 1961 played in the same England side as his brother Denis. He also gained a number of Great Britain caps. In 1964 he had to drop out of the Great Britain squad through injury, his place being taken by Laurie Brown who also went on to make something of a name for himself.
Alf worked as a machine-setter.
Mens
| First Appearance | Appearances | First Goal | Goals |
| --- | --- | --- | --- |
| 15-08-1970 vs Tilbury | 149 | 17-11-1970 vs Wealdstone | 7 |
History
| Match Date | Home | Score | Away | Competition | Goals | Cards | |
| --- | --- | --- | --- | --- | --- | --- | --- |
| 15-05-1973 | Slough Town | 2-0 | Worthing | Athenian League Cup | | | Match report |
| 04-05-1973 | Slough Town | 1-0 | Dagenham | League | | | Match report |
| 30-04-1973 | Slough Town | 4-0 | Cheshunt | League | | | Match report |
| 28-04-1973 | Wembley | 0-2 | Slough Town | League | | | Match report |
| 23-04-1973 | Wycombe Wanderers | 0-1 | Slough Town | B&B Senior Cup | | | Match report |
| 14-04-1973 | Walton & Hersham | 1-0 | Slough Town | FA Amateur Cup | | | Match report |
| 31-03-1973 | Slough Town | 0-0 | Croydon | League | | | Match report |
| 24-03-1973 | Harwich | 2-4 | Slough Town | League | | | Match report |
| 19-03-1973 | Slough Town | 2-0 | Maidenhead United | Athenian League Cup | | | Match report |
| 10-03-1973 | Bishop's Stortford | 0-1 | Slough Town | FA Amateur Cup | | | Match report |
| 03-03-1973 | Wokingham Town | 0-1 | Slough Town | B&B Senior Cup | | | Match report |
| 26-02-1973 | Slough Town | 0-0 | Hayes | Premier Midweek FL | | | Match report |
| 24-02-1973 | Harlow Town | 1-3 | Slough Town | League | | | Match report |
| 20-02-1973 | Hampton | 1-3 | Slough Town | Premier Midweek FL | | | Match report |
| 17-02-1973 | Slough Town | 2-1 | Blyth Spartans | FA Amateur Cup | | | Match report |
| 10-02-1973 | Slough Town | 3-0 | Cheshunt | Athenian League Cup | | | Match report |
| 03-02-1973 | Slough Town | 2-1 | Boreham Wood | League | | | Match report |
| 13-01-1973 | Maidenhead United | 0-0 | Slough Town | League | | | Match report |
| 08-01-1973 | Slough Town | 3-2 | Southall | Premier Midweek FL | | | Match report |
| 06-01-1973 | Eastbourne Utd | 0-2 | Slough Town | FA Amateur Cup | | | Match report |
| 30-12-1972 | Lewes | 1-0 | Slough Town | League | | | Match report |
| 27-12-1972 | Slough Town | 6-1 | Maidenhead United | League | | | Match report |
| 16-12-1972 | Aveley | 1-0 | Slough Town | League | | | Match report |
| 09-12-1972 | Slough Town | 2-1 | Cadbury Heath | FA Amateur Cup | | | Match report |
| 25-11-1972 | Slough Town | 2-1 | Boreham Wood | Athenian League Cup | | | Match report |
| 20-11-1972 | Slough Town | 1-1 | Hampton | Premier Midweek FL | | | Match report |
| 18-11-1972 | Croydon | 2-3 | Slough Town | League | | | Match report |
| 14-11-1972 | Southall | 0-0 | Slough Town | Premier Midweek FL | | | Match report |
| 11-11-1972 | Slough Town | 2-0 | Tilbury | League | | | Match report |
| 01-11-1972 | Maidenhead United | 1-3 | Slough Town | Premier Midweek FL | | | Match report |
| 28-10-1972 | Redhill | 0-2 | Slough Town | League | | | Match report |
| 24-10-1972 | Wembley | 1-3 | Slough Town | Premier Midweek FL | | | Match report |
| 21-10-1972 | Slough Town | 5-0 | Southall | League | | | Match report |
| 14-10-1972 | Cheshunt | 0-1 | Slough Town | League | | | Match report |
| 07-10-1972 | Banbury United | 2-1 | Slough Town | FA Cup | | | Match report |
| 02-10-1972 | Slough Town | 1-0 | Wembley | Premier Midweek FL | | | Match report |
| 30-09-1972 | Slough Town | 2-0 | Redhill | League | | | Match report |
| 23-09-1972 | Tilbury | 1-1 | Slough Town | League | | | Match report |
| 19-09-1972 | Bletchley | 0-3 | Slough Town | FA Cup | | | Match report |
| 16-09-1972 | Slough Town | 0-0 | Bletchley | FA Cup | | | Match report |
| 11-09-1972 | Slough Town | 4-2 | Lewes | League | | | Match report |
| 09-09-1972 | Slough Town | 1-1 | Harwich | League | | | Match report |
| 05-09-1972 | Boreham Wood | 0-2 | Slough Town | League | | | Match report |
| 02-09-1972 | Slough Town | 1-0 | Bedford | FA Cup | | | Match report |
| 31-08-1972 | Slough Town | 1-0 | Aveley | League | | | Match report |
| 26-08-1972 | Dagenham | 2-0 | Slough Town | League | | | Match report |
| 22-08-1972 | Southall | 0-2 | Slough Town | League | | | Match report |
| 19-08-1972 | Slough Town | 5-2 | Harlow Town | League | | | Match report |
| 22-05-1972 | Slough Town | 1-0 | Walton & Hersham | Premier Midweek FL | | | Match report |
| 12-05-1972 | Dagenham | 0-2 | Slough Town | Athenian League Cup | | | Match report |
| 09-05-1972 | Leytonstone | 0-1 | Slough Town | Premier Midweek FL | | | Match report |
| 05-05-1972 | Cheshunt | 0-1 | Slough Town | League | | | Match report |
| 02-05-1972 | Southall | 3-3 | Slough Town | League | | | Match report |
| 29-04-1972 | Slough Town | 4-0 | Erith | League | | | Match report |
| 21-04-1972 | Slough Town | 1-0 | Cheshunt | League | | | Match report |
| 15-04-1972 | Aveley | 0-1 | Slough Town | Athenian League Cup | | | Match report |
| 03-04-1972 | Wycombe Wanderers | 0-3 | Slough Town | B&B Senior Cup | | | Match report |
| 20-03-1972 | Slough Town | 2-2 | Wycombe Wanderers | Premier Midweek FL | | | Match report |
| 18-03-1972 | Slough Town | 4-0 | Harwich | League | | | Match report |
| 11-03-1972 | Enfield | 5-1 | Slough Town | FA Amateur Cup | | | Match report |
| 04-03-1972 | Slough Town | 1-0 | Sutton United | FA Amateur Cup | | | Match report |
| 26-02-1972 | Slough Town | 6-1 | Windsor & Eton | B&B Senior Cup | | | Match report |
| 07-02-1972 | Slough Town | 5-1 | Maidenhead United | Premier Midweek FL | | | Match report |
| 05-02-1972 | Chesham United | 1-2 | Slough Town | Athenian League Cup | | | Match report |
| 29-01-1972 | Slough Town | 3-2 | St Albans City | FA Amateur Cup | | | Match report |
| 22-01-1972 | Slough Town | 2-0 | Stony Stratford | B&B Senior Cup | | | Match report |
| 15-01-1972 | Slough Town | 1-1 | Lewes | League | | | Match report |
| 08-01-1972 | Slough Town | 2-0 | Kingstonian | FA Amateur Cup | | | Match report |
| 01-01-1972 | Slough Town | 1-0 | Redhill | League | | | Match report |
| 27-12-1971 | Maidenhead United | 0-0 | Slough Town | League | | | Match report |
| 20-12-1971 | Slough Town | 3-0 | Oxford City | Premier Midweek FL | | | Match report |
| 18-12-1971 | Boreham Wood | 0-2 | Slough Town | League | | | Match report |
| 13-12-1971 | Slough Town | 3-0 | Maidenhead United | League | | | Match report |
| 11-12-1971 | Slough Town | 3-1 | Tilbury | Athenian League Cup | | | Match report |
| 06-12-1971 | Slough Town | 7-0 | Banbury United | Premier Midweek FL | | | Match report |
| 04-12-1971 | Slough Town | 1-1 | Leatherhead | League | | | Match report |
| 01-12-1971 | Oxford City | 1-3 | Slough Town | Premier Midweek FL | | | Match report |
| 26-11-1971 | Hornchurch | 0-1 | Slough Town | League | | | Match report |
| 22-11-1971 | Slough Town | 2-0 | Marlow | Premier Midweek FL | | | Match report |
| 20-11-1971 | Slough Town | 4-0 | Grays Athletic | League | | | Match report |
| 16-11-1971 | Chesham United | 0-2 | Slough Town | Premier Midweek FL | | | Match report |
| 13-11-1971 | Slough Town | 2-0 | Dagenham | League | | | Match report |
| 09-11-1971 | Maidenhead United | 1-1 | Slough Town | Premier Midweek FL | | | Match report |
| 06-11-1971 | Erith | 0-4 | Slough Town | League | | | Match report |
| 02-11-1971 | Wycombe Wanderers | 1-2 | Slough Town | Premier Midweek FL | | | Match report |
| 30-10-1971 | Wembley | 0-1 | Slough Town | League | | | Match report |
| 23-10-1971 | Slough Town | 3-0 | Hornchurch | Athenian League Cup | | | Match report |
| 09-10-1971 | Slough Town | 0-1 | Romford | FA Cup | | | Match report |
| 04-10-1971 | Slough Town | 5-1 | Chesham United | Premier Midweek FL | | | Match report |
| 02-10-1971 | Slough Town | 3-1 | Hornchurch | League | | | Match report |
| 21-09-1971 | Woking | 0-2 | Slough Town | FA Cup | | | Match report |
| 18-09-1971 | Slough Town | 1-1 | Woking | FA Cup | | | Match report |
| 13-09-1971 | Slough Town | 5-0 | Wokingham Town | Premier Midweek FL | | | Match report |
| 11-09-1971 | Slough Town | 5-0 | Aveley | League | | | Match report |
| 06-09-1971 | Slough Town | 2-0 | Boreham Wood | League | | | Match report |
| 04-09-1971 | Lewes | 0-1 | Slough Town | League | | | Match report |
| 30-08-1971 | Leatherhead | 1-0 | Slough Town | League | | | Match report |
| 28-08-1971 | Slough Town | 2-1 | Wembley | League | | | Match report |
| 23-08-1971 | Slough Town | 4-0 | Southall | League | | | Match report |
| 21-08-1971 | Dagenham | 3-2 | Slough Town | League | | | Match report |
| 18-08-1971 | Redhill | 0-2 | Slough Town | League | | | Match report |
| 14-08-1971 | Slough Town | 1-0 | Tilbury | League | | | Match report |
| 13-05-1971 | Slough Town | 7-0 | Hemel Hempstead Town | Premier Midweek FL | | | Match report |
| 12-05-1971 | Slough Town | 2-1 | Hayes | League | | | Match report |
| 10-05-1971 | Wycombe Wanderers | 1-0 | Slough Town | B&B Senior Cup | | | Match report |
| 03-05-1971 | Hayes | 1-1 | Slough Town | League | | | Match report |
| 01-05-1971 | Wembley | 0-0 | Slough Town | League | | | Match report |
| 28-04-1971 | Wycombe Wanderers | 0-0 | Slough Town | B&B Senior Cup | | | Match report |
| 19-04-1971 | Slough Town | 1-1 | Redhill | League | | | Match report |
| 12-04-1971 | Slough Town | 2-0 | Grays Athletic | League | | | Match report |
| 10-04-1971 | Lewes | 1-2 | Slough Town | League | | | Match report |
| 08-04-1971 | Slough Town | 6-3 | Wealdstone | Premier Midweek FL | | | Match report |
| 05-04-1971 | Slough Town | 0-1 | Leatherhead | League | | | Match report |
| 20-03-1971 | Dagenham | 3-3 | Slough Town | FA Amateur Cup | | | Match report |
| 13-03-1971 | Slough Town | 3-1 | Chesham United | B&B Senior Cup | | | Match report |
| 08-03-1971 | Slough Town | 2-1 | Boreham Wood | League | | | Match report |
| 06-03-1971 | Maidenhead United | 0-1 | Slough Town | B&B Senior Cup | | | Match report |
| 27-02-1971 | Aveley | 0-2 | Slough Town | FA Amateur Cup | | | Match report |
| 20-02-1971 | Slough Town | 3-1 | Hendon | FA Amateur Cup | | | Match report |
| 13-02-1971 | Hendon | 1-1 | Slough Town | FA Amateur Cup | | | Match report |
| 09-02-1971 | Leatherhead | 1-1 | Slough Town | League | | | Match report |
| 09-01-1971 | Slough Town | 1-1 | Redhill | FA Amateur Cup | | | Match report |
| 26-12-1970 | Slough Town | 1-1 | Maidenhead United | League | | | Match report |
| 19-12-1970 | Slough Town | 4-1 | Marlow | B&B Senior Cup | | | Match report |
| 12-12-1970 | Slough Town | 0-1 | Barnet | FA Cup | | | Match report |
| 05-12-1970 | Walton & Hersham | 1-0 | Slough Town | League | | | Match report |
| 28-11-1970 | Slough Town | 0-1 | Dagenham | League | | | Match report |
| 25-11-1970 | Slough Town | 1-0 | Wycombe Wanderers | FA Cup | | | Match report |
| 21-11-1970 | Wycombe Wanderers | 1-1 | Slough Town | FA Cup | | | Match report |
| 17-11-1970 | Wealdstone | 1-6 | Slough Town | Premier Midweek FL | | | Match report |
| 14-11-1970 | Harwich | 0-2 | Slough Town | League | | | Match report |
| 09-11-1970 | Hillingdon Borough | 0-2 | Slough Town | FA Cup | | | Match report |
| 07-11-1970 | Slough Town | 3-3 | Hillingdon Borough | FA Cup | | | Match report |
| 02-11-1970 | Oxford City | 4-1 | Slough Town | Premier Midweek FL | | | Match report |
| 31-10-1970 | Cheshunt | 4-2 | Slough Town | Athenian League Cup | | | Match report |
| 17-10-1970 | Grays Athletic | 0-1 | Slough Town | League | | | Match report |
| 10-10-1970 | Slough Town | 5-0 | Kingstonian | FA Cup | | | Match report |
| 03-10-1970 | Slough Town | 0-2 | Walton & Hersham | League | | | Match report |
| 26-09-1970 | Slough Town | 2-0 | Wembley | League | | | Match report |
| 21-09-1970 | Slough Town | 2-0 | Tilbury | FA Cup | | | Match report |
| 19-09-1970 | Tilbury | 1-1 | Slough Town | FA Cup | | | Match report |
| 12-09-1970 | Slough Town | 3-0 | Harwich | League | | | Match report |
| 07-09-1970 | Slough Town | 3-0 | Southall | League | | | Match report |
| 05-09-1970 | Eastbourne Town | 1-3 | Slough Town | Athenian League Cup | | | Match report |
| 02-09-1970 | Redhill | 1-3 | Slough Town | League | | | Match report |
| 25-08-1970 | Maidenhead United | 1-2 | Slough Town | League | | | Match report |
| 22-08-1970 | Slough Town | 4-0 | Bishop's Stortford | League | | | Match report |
| 19-08-1970 | Southall | 0-2 | Slough Town | League | | | Match report |
| 15-08-1970 | Tilbury | 2-2 | Slough Town | League | | | Match report |
Slough Town FC is not responsible for content produced on external websites | Copyright Slough Town FC 2023