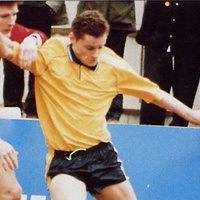 Position:
Midfielder
Bio
Winger signed from Plymouth.
Made an immediate impact at the club with a number of excellent displays on the left flank. Made over 220 appearances for the club in a six year spell which was blighted with knee injuries which prevented Slough from consistently seeing the best of "Billy".
Started his career at Wimbledon and was the clubs Football In The Community officer. Later featured for Walton & Hersham, Chesham United, Chalfont St. Peter, Windsor and Eton and Flackwell Heath.
Mens
| First Appearance | Appearances | First Goal | Goals |
| --- | --- | --- | --- |
| 03-11-1992 vs Kettering Town | 221 | 21-11-1992 vs Macclesfield Town | 25 |
History
| Match Date | Home | Score | Away | Competition | Goals | Cards | |
| --- | --- | --- | --- | --- | --- | --- | --- |
| 23-02-1999 | Maidenhead United | 4-2 | Slough Town | Isthmian Lge Cup | | | Match report |
| 16-02-1999 | Carshalton Ath | 0-3 | Slough Town | League | | | Match report |
| 13-02-1999 | Slough Town | 3-0 | Hampton | League | | | Match report |
| 06-02-1999 | Purfleet | 0-4 | Slough Town | League | | | Match report |
| 30-01-1999 | Slough Town | 1-2 | Sutton United | League | | | Match report |
| 25-01-1999 | Slough Town | 1-2 | Rushden & Diamonds | FA Trophy | | | Match report |
| 23-01-1999 | Bishop's Stortford | 0-1 | Slough Town | League | | | Match report |
| 09-01-1999 | Chesham United | 1-0 | Slough Town | League | | | Match report |
| 02-01-1999 | Slough Town | 0-1 | Heybridge Swifts | League | | | Match report |
| 28-12-1998 | Dulwich Hamlet | 2-2 | Slough Town | League | | | Match report |
| 22-12-1998 | Walton & Hersham | 2-0 | Slough Town | Puma Cup | | | Match report |
| 19-12-1998 | Slough Town | 0-3 | Boreham Wood | League | | | Match report |
| 12-12-1998 | Aylesbury United | 0-0 | Slough Town | League | | | Match report |
| 08-12-1998 | Slough Town | 1-3 | Burnham | B&B Senior Cup | | | Match report |
| 05-12-1998 | Slough Town | 3-0 | Walton & Hersham | League | | | Match report |
| 09-11-1998 | Slough Town | 3-2 | Crawley Town | FA Cup | | | Match report |
| 07-11-1998 | Slough Town | 2-2 | Enfield | League | | | Match report |
| 03-11-1998 | Crawley Town | 0-0 | Slough Town | FA Cup | | | Match report |
| 27-10-1998 | Slough Town | 1-0 | Bromley | Isthmian Lge Cup | | | Match report |
| 24-10-1998 | Hendon | 5-2 | Slough Town | League | | | Match report |
| 06-10-1998 | Fleet Town | 0-2 | Slough Town | FA Cup | | | Match report |
| 03-10-1998 | Slough Town | 1-1 | Fleet Town | FA Cup | | | Match report |
| 26-09-1998 | Dagenham & R. | 3-0 | Slough Town | League | | | Match report |
| 22-09-1998 | Slough Town | 1-1 | Billericay Town | League | | | Match report |
| 19-09-1998 | Slough Town | 2-3 | Purfleet | League | | | Match report |
| 15-09-1998 | Hampton | 2-2 | Slough Town | League | | | Match report |
| 12-09-1998 | Slough Town | 1-0 | Aylesbury United | League | | | Match report |
| 08-09-1998 | Abingdon | 0-1 | Slough Town | Isthmian Lge Cup | | | Match report |
| 05-09-1998 | Walton & Hersham | 2-0 | Slough Town | League | | | Match report |
| 01-09-1998 | Ebbsfleet United | 1-2 | Slough Town | League | | | Match report |
| 29-08-1998 | Slough Town | 3-1 | Chesham United | League | | | Match report |
| 25-08-1998 | Slough Town | 2-2 | Bishop's Stortford | League | | | Match report |
| 22-08-1998 | Sutton United | 0-1 | Slough Town | League | | | Match report |
| 31-03-1998 | Slough Town | 1-0 | Gateshead | League | | | Match report |
| 28-03-1998 | Slough Town | 0-1 | Southport | FA Trophy | | | Match report |
| 16-03-1998 | Stevenage Borough | 4-2 | Slough Town | League | | | Match report |
| 07-03-1998 | Slough Town | 2-0 | Hednesford Town | League | | | Match report |
| 03-03-1998 | Slough Town | 1-0 | Telford Utd | League | | | Match report |
| 28-02-1998 | Morecambe | 2-1 | Slough Town | League | | | Match report |
| 24-02-1998 | Boreham Wood | 1-2 | Slough Town | FA Trophy | | | Match report |
| 07-02-1998 | Slough Town | 3-0 | Hereford United | League | | | Match report |
| 27-01-1998 | Reading | 6-2 | Slough Town | B&B Senior Cup | | | Match report |
| 24-01-1998 | Halifax Town | 1-0 | Slough Town | League | | | Match report |
| 17-01-1998 | Telford Utd | 0-1 | Slough Town | League | | | Match report |
| 13-01-1998 | Slough Town | 2-1 | Welling United | FA Trophy | | | Match report |
| 10-01-1998 | Welling United | 1-1 | Slough Town | FA Trophy | | | Match report |
| 13-12-1997 | Slough Town | 2-0 | Kidderminster Harriers | League | | | Match report |
| 18-11-1997 | Hayes | 2-0 | Slough Town | Isthmian Lge Sub. Cup | | | Match report |
| 25-10-1997 | Slough Town | 2-1 | Kingstonian | FA Cup | | | Match report |
| 18-10-1997 | Slough Town | 3-3 | Morecambe | League | | | Match report |
| 07-10-1997 | Slough Town | 1-0 | Welling United | Isthmian Lge Sub. Cup | | | Match report |
| 04-10-1997 | Leek Town | 0-2 | Slough Town | League | | | Match report |
| 30-09-1997 | Slough Town | 0-0 | Walton & Hersham | FA Cup | | | Match report |
| 27-09-1997 | Walton & Hersham | 0-0 | Slough Town | FA Cup | | | Match report |
| 23-09-1997 | Cheltenham Town | 1-1 | Slough Town | League | | | Match report |
| 16-08-1997 | Kettering Town | 3-3 | Slough Town | League | | | Match report |
| 03-05-1997 | Stalybridge Celtic | 2-2 | Slough Town | League | | | Match report |
| 26-04-1997 | Morecambe | 0-0 | Slough Town | League | | | Match report |
| 19-04-1997 | Hednesford Town | 2-1 | Slough Town | League | | | Match report |
| 05-04-1997 | Slough Town | 1-0 | Halifax Town | League | | | Match report |
| 31-03-1997 | Slough Town | 2-2 | Dover Athletic | League | | | Match report |
| 29-03-1997 | Bath City | 0-0 | Slough Town | League | | | Match report |
| 22-03-1997 | Slough Town | 1-1 | Southport | League | | | Match report |
| 15-03-1997 | Slough Town | 1-3 | Hayes | League | | | Match report |
| 11-03-1997 | Wycombe Wanderers | 3-2 | Slough Town | B&B Senior Cup | | | Match report |
| 08-03-1997 | Telford Utd | 0-2 | Slough Town | League | | | Match report |
| 01-03-1997 | Rushden & Diamonds | 2-2 | Slough Town | League | | | Match report |
| 22-02-1997 | Hayes | 5-0 | Slough Town | League | | | Match report |
| 15-02-1997 | Slough Town | 3-4 | Northwich Victoria | League | | | Match report |
| 25-01-1997 | Macclesfield Town | 2-0 | Slough Town | League | | | Match report |
| 21-01-1997 | Dorchester Town | 1-1 | Slough Town | FA Trophy | | | Match report |
| 18-01-1997 | Slough Town | 2-2 | Dorchester Town | FA Trophy | | | Match report |
| 14-01-1997 | Slough Town | 6-0 | Buckingham Town | B&B Senior Cup | | | Match report |
| 11-01-1997 | Slough Town | 1-1 | Farnborough Town | League | | | Match report |
| 01-01-1997 | Slough Town | 1-6 | Stevenage Borough | League | | | Match report |
| 28-12-1996 | Woking | 2-0 | Slough Town | League | | | Match report |
| 26-12-1996 | Stevenage Borough | 2-2 | Slough Town | League | | | Match report |
| 21-12-1996 | Slough Town | 3-3 | Welling United | League | | | Match report |
| 14-12-1996 | Farnborough Town | 2-1 | Slough Town | League | | | Match report |
| 07-12-1996 | Kettering Town | 0-0 | Slough Town | League | | | Match report |
| 30-11-1996 | Slough Town | 0-0 | Macclesfield Town | League | | | Match report |
| 26-11-1996 | Northwich Victoria | 0-1 | Slough Town | League | | | Match report |
| 09-11-1996 | Slough Town | 0-2 | Kidderminster Harriers | League | | | Match report |
| 26-10-1996 | Hayes | 1-0 | Slough Town | FA Cup | | | Match report |
| 19-10-1996 | Slough Town | 6-0 | Telford Utd | League | | | Match report |
| 05-10-1996 | Slough Town | 1-2 | Morecambe | League | | | Match report |
| 01-10-1996 | Slough Town | 3-0 | Woking | League | | | Match report |
| 28-09-1996 | Bromsgrove Rovers | 4-1 | Slough Town | League | | | Match report |
| 24-09-1996 | Slough Town | 1-1 | Kettering Town | League | | | Match report |
| 14-09-1996 | Slough Town | 2-0 | Bromsgrove Rovers | League | | | Match report |
| 10-09-1996 | Welling United | 3-2 | Slough Town | League | | | Match report |
| 07-09-1996 | Southport | 0-1 | Slough Town | League | | | Match report |
| 03-09-1996 | Slough Town | 5-2 | Bath City | League | | | Match report |
| 26-08-1996 | Kidderminster Harriers | 1-2 | Slough Town | League | | | Match report |
| 02-05-1996 | Macclesfield Town | 1-1 | Slough Town | League | | | Match report |
| 27-04-1996 | Hednesford Town | 3-1 | Slough Town | League | | | Match report |
| 20-04-1996 | Slough Town | 1-1 | Morecambe | League | | | Match report |
| 13-04-1996 | Slough Town | 0-0 | Welling United | League | | | Match report |
| 08-04-1996 | Southport | 2-0 | Slough Town | League | | | Match report |
| 03-04-1996 | Bath City | 3-1 | Slough Town | League | | | Match report |
| 30-03-1996 | Bromsgrove Rovers | 0-0 | Slough Town | League | | | Match report |
| 23-03-1996 | Slough Town | 2-1 | Stalybridge Celtic | League | | | Match report |
| 19-03-1996 | Woking | 3-0 | Slough Town | League | | | Match report |
| 16-03-1996 | Northwich Victoria | 0-3 | Slough Town | League | | | Match report |
| 12-03-1996 | Slough Town | 2-6 | Stevenage Borough | League | | | Match report |
| 09-03-1996 | Slough Town | 5-0 | Dagenham & R. | League | | | Match report |
| 02-03-1996 | Farnborough Town | 0-1 | Slough Town | League | | | Match report |
| 24-02-1996 | Kidderminster Harriers | 4-3 | Slough Town | League | | | Match report |
| 17-02-1996 | Slough Town | 1-2 | Kettering Town | League | | | Match report |
| 13-02-1996 | Kettering Town | 2-0 | Slough Town | Isthmian Lge Sub. Cup | | | Match report |
| 10-02-1996 | Slough Town | 1-2 | Kettering Town | FA Trophy | | | Match report |
| 03-02-1996 | Slough Town | 1-2 | Telford Utd | League | | | Match report |
| 30-01-1996 | Reading | 3-2 | Slough Town | B&B Senior Cup | | | Match report |
| 23-01-1996 | Slough Town | 4-3 | Farnborough Town | FA Trophy | | | Match report |
| 20-01-1996 | Farnborough Town | 1-1 | Slough Town | FA Trophy | | | Match report |
| 13-01-1996 | Altrincham | 0-1 | Slough Town | League | | | Match report |
| 06-01-1996 | Slough Town | 1-2 | Gateshead | League | | | Match report |
| 01-01-1996 | Stevenage Borough | 3-1 | Slough Town | League | | | Match report |
| 16-12-1995 | Slough Town | 3-0 | Woking | Isthmian Lge Sub. Cup | | | Match report |
| 09-12-1995 | Slough Town | 2-3 | Halifax Town | League | | | Match report |
| 02-12-1995 | Stalybridge Celtic | 0-1 | Slough Town | League | | | Match report |
| 25-11-1995 | Slough Town | 1-1 | Northwich Victoria | League | | | Match report |
| 20-11-1995 | Dagenham & R. | 1-3 | Slough Town | League | | | Match report |
| 18-11-1995 | Slough Town | 2-3 | Woking | League | | | Match report |
| 11-11-1995 | Slough Town | 0-2 | Plymouth Argyle | FA Cup | | | Match report |
| 04-11-1995 | Gateshead | 2-1 | Slough Town | League | | | Match report |
| 31-10-1995 | Slough Town | 1-1 | Farnborough Town | League | | | Match report |
| 28-10-1995 | Telford Utd | 2-0 | Slough Town | League | | | Match report |
| 21-10-1995 | Yeading | 0-2 | Slough Town | FA Cup | | | Match report |
| 07-10-1995 | Kettering Town | 2-0 | Slough Town | League | | | Match report |
| 03-10-1995 | Slough Town | 3-0 | Dagenham & R. | Isthmian Lge Sub. Cup | | | Match report |
| 30-09-1995 | Slough Town | 0-2 | Hednesford Town | League | | | Match report |
| 26-09-1995 | Dover Athletic | 0-1 | Slough Town | League | | | Match report |
| 23-09-1995 | Slough Town | 2-3 | Bromsgrove Rovers | League | | | Match report |
| 18-09-1995 | Dagenham & R. | 0-3 | Slough Town | Isthmian Lge Sub. Cup | | | Match report |
| 16-09-1995 | Slough Town | 1-2 | Altrincham | League | | | Match report |
| 12-09-1995 | Slough Town | 3-2 | Dover Athletic | League | | | Match report |
| 09-09-1995 | Runcorn | 4-3 | Slough Town | League | | | Match report |
| 05-09-1995 | Slough Town | 1-1 | Bath City | League | | | Match report |
| 02-09-1995 | Morecambe | 1-2 | Slough Town | League | | | Match report |
| 28-08-1995 | Slough Town | 5-4 | Kidderminster Harriers | League | | | Match report |
| 26-08-1995 | Halifax Town | 1-2 | Slough Town | League | | | Match report |
| 22-08-1995 | Welling United | 0-3 | Slough Town | League | | | Match report |
| 19-08-1995 | Slough Town | 2-5 | Southport | League | | | Match report |
| 30-04-1994 | Slough Town | 0-0 | Southport | League | | | Match report |
| 23-04-1994 | Slough Town | 0-2 | Altrincham | League | | | Match report |
| 16-04-1994 | Witton Albion | 1-0 | Slough Town | League | | | Match report |
| 14-04-1994 | Slough Town | 1-1 | Bromsgrove Rovers | League | | | Match report |
| 09-04-1994 | Slough Town | 1-1 | Macclesfield Town | League | | | Match report |
| 04-04-1994 | Slough Town | 0-0 | Woking | League | | | Match report |
| 02-04-1994 | Bromsgrove Rovers | 0-1 | Slough Town | League | | | Match report |
| 26-03-1994 | Slough Town | 2-2 | Northwich Victoria | League | | | Match report |
| 19-03-1994 | Slough Town | 0-0 | Telford Utd | League | | | Match report |
| 15-03-1994 | Kettering Town | 2-0 | Slough Town | League | | | Match report |
| 05-03-1994 | Yeovil Town | 0-2 | Slough Town | League | | | Match report |
| 19-02-1994 | Welling United | 6-2 | Slough Town | League | | | Match report |
| 12-02-1994 | Morecambe | 1-0 | Slough Town | FA Trophy | | | Match report |
| 05-02-1994 | Merthyr Tydfil | 5-1 | Slough Town | League | | | Match report |
| 01-02-1994 | Slough Town | 1-1 | Welling United | League | | | Match report |
| 29-01-1994 | Telford Utd | 4-1 | Slough Town | League | | | Match report |
| 22-01-1994 | Billericay Town | 0-2 | Slough Town | FA Trophy | | | Match report |
| 15-01-1994 | Slough Town | 2-3 | Stalybridge Celtic | League | | | Match report |
| 11-01-1994 | Marlow | 1-0 | Slough Town | B&B Senior Cup | | | Match report |
| 08-01-1994 | Runcorn | 3-2 | Slough Town | League | | | Match report |
| 01-01-1994 | Slough Town | 3-1 | Dagenham & R. | League | | | Match report |
| 27-12-1993 | Woking | 2-1 | Slough Town | League | | | Match report |
| 18-12-1993 | Stafford Rangers | 0-0 | Slough Town | League | | | Match report |
| 11-12-1993 | Slough Town | 3-0 | Runcorn | League | | | Match report |
| 04-12-1993 | Dover Athletic | 0-0 | Slough Town | League | | | Match report |
| 30-11-1993 | Bath City | 3-0 | Slough Town | League | | | Match report |
| 27-11-1993 | Slough Town | 0-2 | Kettering Town | League | | | Match report |
| 20-11-1993 | Macclesfield Town | 2-2 | Slough Town | League | | | Match report |
| 13-11-1993 | Slough Town | 1-2 | Torquay United | FA Cup | | | Match report |
| 06-11-1993 | Slough Town | 0-1 | Witton Albion | League | | | Match report |
| 02-11-1993 | Bromsgrove Rovers | 2-1 | Slough Town | Drinkwise Trophy | | | Match report |
| 30-10-1993 | Slough Town | 1-5 | Kidderminster Harriers | League | | | Match report |
| 23-10-1993 | Hayes | 0-2 | Slough Town | FA Cup | | | Match report |
| 16-10-1993 | Altrincham | 2-0 | Slough Town | League | | | Match report |
| 12-10-1993 | Slough Town | 3-2 | Merthyr Tydfil | League | | | Match report |
| 09-10-1993 | Slough Town | 0-0 | Bath City | League | | | Match report |
| 02-10-1993 | Gateshead | 0-0 | Slough Town | League | | | Match report |
| 25-09-1993 | Southport | 1-0 | Slough Town | League | | | Match report |
| 21-09-1993 | Slough Town | 5-2 | Yeovil Town | League | | | Match report |
| 18-09-1993 | Northwich Victoria | 1-1 | Slough Town | League | | | Match report |
| 11-09-1993 | Slough Town | 3-0 | Stafford Rangers | League | | | Match report |
| 04-09-1993 | Kidderminster Harriers | 0-0 | Slough Town | League | | | Match report |
| 30-08-1993 | Dagenham & R. | 1-0 | Slough Town | League | | | Match report |
| 28-08-1993 | Slough Town | 2-0 | Halifax Town | League | | | Match report |
| 24-08-1993 | Slough Town | 1-0 | Dover Athletic | League | | | Match report |
| 21-08-1993 | Stalybridge Celtic | 0-1 | Slough Town | League | | | Match report |
| 01-05-1993 | Stafford Rangers | 1-0 | Slough Town | League | | | Match report |
| 24-04-1993 | Slough Town | 2-3 | Witton Albion | League | | | Match report |
| 17-04-1993 | Yeovil Town | 5-1 | Slough Town | League | | | Match report |
| 13-04-1993 | Slough Town | 1-1 | Wycombe Wanderers | League | | | Match report |
| 10-04-1993 | Merthyr Tydfil | 1-1 | Slough Town | League | | | Match report |
| 07-04-1993 | Boston Utd | 0-0 | Slough Town | League | | | Match report |
| 03-04-1993 | Slough Town | 2-1 | Stafford Rangers | League | | | Match report |
| 27-03-1993 | Witton Albion | 1-1 | Slough Town | League | | | Match report |
| 23-03-1993 | Wycombe Wanderers | 1-0 | Slough Town | League | | | Match report |
| 20-03-1993 | Slough Town | 1-0 | Gateshead | League | | | Match report |
| 09-03-1993 | Woking | 1-2 | Slough Town | League | | | Match report |
| 06-03-1993 | Slough Town | 1-1 | Runcorn | League | | | Match report |
| 27-02-1993 | Gateshead | 1-0 | Slough Town | League | | | Match report |
| 23-02-1993 | Farnborough Town | 1-0 | Slough Town | League | | | Match report |
| 06-02-1993 | Slough Town | 2-3 | Stalybridge Celtic | League | | | Match report |
| 26-01-1993 | Slough Town | 3-1 | Farnborough Town | League | | | Match report |
| 23-01-1993 | Slough Town | 3-1 | Kidderminster Harriers | League | | | Match report |
| 16-01-1993 | Altrincham | 1-1 | Slough Town | League | | | Match report |
| 12-01-1993 | Slough Town | 2-1 | Yeading | FA Trophy | | | Match report |
| 09-01-1993 | Yeading | 1-1 | Slough Town | FA Trophy | | | Match report |
| 02-01-1993 | Slough Town | 0-1 | Woking | League | | | Match report |
| 26-12-1992 | Slough Town | 2-1 | Merthyr Tydfil | League | | | Match report |
| 19-12-1992 | Telford Utd | 1-1 | Slough Town | League | | | Match report |
| 12-12-1992 | Slough Town | 2-1 | Macclesfield Town | League | | | Match report |
| 05-12-1992 | Kidderminster Harriers | 1-1 | Slough Town | League | | | Match report |
| 28-11-1992 | Slough Town | 3-1 | Bromley | FA Trophy | | | Match report |
| 21-11-1992 | Macclesfield Town | 1-2 | Slough Town | League | | | Match report |
| 14-11-1992 | Colchester Utd | 4-0 | Slough Town | FA Cup | | | Match report |
| 10-11-1992 | Slough Town | 4-2 | Welling United | League | | | Match report |
| 07-11-1992 | Stalybridge Celtic | 0-0 | Slough Town | League | | | Match report |
| 03-11-1992 | Kettering Town | 5-0 | Slough Town | League | | | Match report |
Slough Town FC is not responsible for content produced on external websites | Copyright Slough Town FC 2023