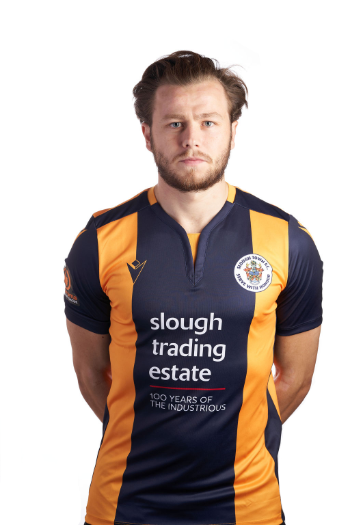 Stats
Position:
Midfielder
First Appearance:
12-08-2017 vs Kettering Town
Appearances:
120
First Goal:
15-08-2017 vs Gosport Borough
Goals:
29
Achievements
2017/18 Won promotion to National League South
2019/20 Supporters' Player of the Season
2019/20 Managers' Player of the Season
Bio
Slough secured the signature of 26-year-old Matthew Lench from fellow Southern League, Premier Division side Hitchin Town in June 2017.

Matthew can play in any attacking midfield positions, and gives excellent attacking options. He is technically very good, works hard, is good in the air and has a real eye for goal. Lench was with Hitchin for four seasons and scored 16 goals in the 2016/2017 season - including the Canaries' goal in the Playoff final against Leamington.

He started the 2017/2018 season in excellent form, making a name for himself by scoring back to back hat-tricks against Kidlington in the FA Trophy and then Gainsborough in the FA Cup First Round, and also helped the club to promotion to National League South.

Lench left to join Wealdstone in the summer of 2018, but rejoined Slough for a second spell in January 2019 and featured regularly in the Rebels' midfield.

Matthew left for Wealdstone again in December 2020, this time making the step up with the Middlesex club playing in the National League.
History
| Match Date | Home | Score | Away | Competition | Goals | Cards | |
| --- | --- | --- | --- | --- | --- | --- | --- |
| 15-12-2020 | Slough Town | 2-2 | Dartford | FA Trophy | | | Match report |
| 09-12-2020 | Havant & Waterlooville | 0-0 | Slough Town | League | | | Match report |
| 05-12-2020 | Chippenham Town | 2-2 | Slough Town | League | | | Match report |
| 21-11-2020 | Dartford | 2-0 | Slough Town | League | | | Match report |
| 17-11-2020 | Slough Town | 1-3 | Hungerford Town | League | | | Match report |
| 14-11-2020 | Billericay Town | 2-0 | Slough Town | League | | | Match report |
| 07-11-2020 | Slough Town | 2-3 | Maidstone United | League | | | Match report |
| 31-10-2020 | Slough Town | 2-1 | Bath City | League | | | Match report |
| 17-10-2020 | Slough Town | 4-4 | Welling United | League | | | Match report |
| 10-10-2020 | Dorking Wanderers | 3-1 | Slough Town | League | | | Match report |
| 06-10-2020 | Slough Town | 1-0 | Hemel Hempstead Town | League | | | Match report |
| 03-10-2020 | Dartford | 0-1 | Slough Town | FA Cup | | | Match report |
| 19-07-2020 | Slough Town | 0-3 | Dartford | Play Off | | | Match report |
| 14-03-2020 | Weymouth | 2-0 | Slough Town | League | | | Match report |
| 07-03-2020 | Slough Town | 0-2 | Hungerford Town | League | | | Match report |
| 29-02-2020 | Dorking Wanderers | 3-5 | Slough Town | League | | | Match report |
| 26-02-2020 | Havant & Waterlooville | 1-0 | Slough Town | League | | | Match report |
| 22-02-2020 | Chelmsford City | 1-1 | Slough Town | League | | | Match report |
| 15-02-2020 | Slough Town | 1-1 | Havant & Waterlooville | League | | | Match report |
| 08-02-2020 | Welling United | 1-2 | Slough Town | League | | | Match report |
| 01-02-2020 | Slough Town | 0-1 | Oxford City | League | | | Match report |
| 28-01-2020 | Hampton & Richmond Boro' | 1-2 | Slough Town | League | | | Match report |
| 25-01-2020 | Braintree Town | 0-1 | Slough Town | League | | | Match report |
| 18-01-2020 | Slough Town | 1-0 | Dartford | League | | | Match report |
| 11-01-2020 | Billericay Town | 2-2 | Slough Town | League | | | Match report |
| 04-01-2020 | Slough Town | 1-1 | Eastbourne Borough | League | | | Match report |
| 01-01-2020 | Wealdstone | 2-1 | Slough Town | League | | | Match report |
| 28-12-2019 | Hemel Hempstead Town | 1-1 | Slough Town | League | | | Match report |
| 26-12-2019 | Slough Town | 2-1 | Wealdstone | League | | | Match report |
| 07-12-2019 | Slough Town | 1-0 | Braintree Town | League | | | Match report |
| 30-11-2019 | Slough Town | 0-0 | Tonbridge Angels | League | | | Match report |
| 26-11-2019 | Slough Town | 2-3 | Concord Rangers | FA Trophy | | | Match report |
| 16-11-2019 | Chippenham Town | 0-3 | Slough Town | League | | | Match report |
| 02-11-2019 | Slough Town | 2-1 | Chelmsford City | League | | | Match report |
| 29-10-2019 | Slough Town | 1-0 | Welling United | League | | | Match report |
| 26-10-2019 | Oxford City | 2-1 | Slough Town | League | | | Match report |
| 12-10-2019 | Slough Town | 3-1 | Billericay Town | League | | | Match report |
| 08-10-2019 | Slough Town | 2-3 | Chippenham Town | FA Cup | | | Match report |
| 05-10-2019 | Chippenham Town | 3-3 | Slough Town | FA Cup | | | Match report |
| 28-09-2019 | Dartford | 2-3 | Slough Town | League | | | Match report |
| 14-09-2019 | Slough Town | 3-1 | Hampton & Richmond Boro' | League | | | Match report |
| 07-09-2019 | Eastbourne Borough | 0-2 | Slough Town | League | | | Match report |
| 03-09-2019 | Slough Town | 2-0 | Hemel Hempstead Town | League | | | Match report |
| 31-08-2019 | Slough Town | 1-1 | St Albans City | League | | | Match report |
| 26-08-2019 | Dulwich Hamlet | 2-3 | Slough Town | League | | | Match report |
| 24-08-2019 | Slough Town | 3-2 | Bath City | League | | | Match report |
| 17-08-2019 | Maidstone United | 1-1 | Slough Town | League | | | Match report |
| 13-08-2019 | Slough Town | 1-1 | Weymouth | League | | | Match report |
| 10-08-2019 | Concord Rangers | 2-1 | Slough Town | League | | | Match report |
| 06-08-2019 | Hungerford Town | 1-0 | Slough Town | League | | | Match report |
| 03-08-2019 | Slough Town | 0-1 | Dorking Wanderers | League | | | Match report |
| 27-04-2019 | Truro City | 3-3 | Slough Town | League | | | Match report |
| 22-04-2019 | Slough Town | 1-1 | Eastbourne Borough | League | | | Match report |
| 20-04-2019 | Oxford City | 1-3 | Slough Town | League | | | Match report |
| 13-04-2019 | Slough Town | 1-0 | Welling United | League | | | Match report |
| 06-04-2019 | Hungerford Town | 1-2 | Slough Town | League | | | Match report |
| 30-03-2019 | Slough Town | 2-2 | St Albans City | League | | | Match report |
| 23-03-2019 | Woking | 0-1 | Slough Town | League | | | Match report |
| 16-03-2019 | Slough Town | 2-1 | Billericay Town | League | | | Match report |
| 09-03-2019 | Concord Rangers | 2-2 | Slough Town | League | | | Match report |
| 02-03-2019 | Slough Town | 1-0 | Hemel Hempstead Town | League | | | Match report |
| 23-02-2019 | Bath City | 2-0 | Slough Town | League | | | Match report |
| 16-02-2019 | Slough Town | 2-2 | Dartford | League | | | Match report |
| 12-02-2019 | Slough Town | 1-2 | Gloucester City | League | | | Match report |
| 09-02-2019 | Hampton & Richmond Boro' | 1-1 | Slough Town | League | | | Match report |
| 29-01-2019 | Billericay Town | 3-2 | Slough Town | League | | | Match report |
| 26-01-2019 | Weston-super-Mare | 2-0 | Slough Town | League | | | Match report |
| 19-01-2019 | Slough Town | 2-2 | Chippenham Town | League | | | Match report |
| 12-01-2019 | Slough Town | 1-0 | Chelmsford City | League | | | Match report |
| 02-05-2018 | Slough Town | 3-1 | Kettering Town | Play Off | | | Match report |
| 28-04-2018 | Slough Town | 2-1 | Royston Town | League | | | Match report |
| 24-04-2018 | Royston Town | 0-4 | Slough Town | League | | | Match report |
| 21-04-2018 | Dorchester Town | 0-1 | Slough Town | League | | | Match report |
| 18-04-2018 | Slough Town | 1-4 | MK Dons | B&B Senior Cup | | | Match report |
| 16-04-2018 | Hitchin Town | 0-1 | Slough Town | League | | | Match report |
| 14-04-2018 | Slough Town | 2-2 | King's Lynn Town | League | | | Match report |
| 10-04-2018 | Biggleswade Town | 3-5 | Slough Town | League | | | Match report |
| 07-04-2018 | Stratford Town | 0-1 | Slough Town | League | | | Match report |
| 04-04-2018 | Frome Town | 0-4 | Slough Town | League | | | Match report |
| 02-04-2018 | Slough Town | 2-1 | Chesham United | League | | | Match report |
| 30-03-2018 | Dunstable Town | 0-3 | Slough Town | League | | | Match report |
| 27-03-2018 | Weymouth | 1-0 | Slough Town | League | | | Match report |
| 17-03-2018 | Bishop's Stortford | 2-2 | Slough Town | League | | | Match report |
| 13-03-2018 | King's Lynn Town | 1-0 | Slough Town | League | | | Match report |
| 10-03-2018 | Slough Town | 2-1 | Frome Town | League | | | Match report |
| 06-03-2018 | Slough Town | 1-1 | Basingstoke Town | League | | | Match report |
| 24-02-2018 | Slough Town | 2-1 | St Neots Town | League | | | Match report |
| 17-02-2018 | Kings Langley | 0-2 | Slough Town | League | | | Match report |
| 10-02-2018 | Slough Town | 0-1 | Banbury United | League | | | Match report |
| 03-02-2018 | Tiverton Town | 3-0 | Slough Town | League | | | Match report |
| 30-01-2018 | Slough Town | 1-1 | Kings Langley | League | | | Match report |
| 27-01-2018 | Slough Town | 3-2 | Merthyr Town | League | | | Match report |
| 23-01-2018 | Bracknell Town | 2-3 | Slough Town | B&B Senior Cup | | | Match report |
| 16-01-2018 | Slough Town | 2-0 | Dorchester Town | League | | | Match report |
| 09-12-2017 | Slough Town | 2-4 | Bishop's Stortford | League | | | Match report |
| 04-12-2017 | Slough Town | 0-4 | Rochdale | FA Cup | | | Match report |
| 28-11-2017 | Slough Town | 1-1 | Hendon | FA Trophy | | | Match report |
| 25-11-2017 | Hendon | 1-1 | Slough Town | FA Trophy | | | Match report |
| 21-11-2017 | Banbury United | 2-2 | Slough Town | League | | | Match report |
| 18-11-2017 | Slough Town | 3-0 | Weymouth | League | | | Match report |
| 11-11-2017 | Maldon & Tiptree | 1-4 | Slough Town | FA Trophy | | | Match report |
| 04-11-2017 | Gainsborough Trinity | 0-6 | Slough Town | FA Cup | | | Match report |
| 28-10-2017 | Kidlington | 1-4 | Slough Town | FA Trophy | | | Match report |
| 24-10-2017 | Slough Town | 5-1 | Gosport Borough | League | | | Match report |
| 21-10-2017 | Kettering Town | 0-0 | Slough Town | League | | | Match report |
| 14-10-2017 | Slough Town | 1-0 | Folkestone Invicta | FA Cup | | | Match report |
| 10-10-2017 | Merthyr Town | 4-5 | Slough Town | League | | | Match report |
| 07-10-2017 | Slough Town | 2-1 | Biggleswade Town | League | | | Match report |
| 02-10-2017 | Beaconsfield Town | 2-2 | Slough Town | League Cup | | | Match report |
| 30-09-2017 | Slough Town | 2-1 | Poole Town | FA Cup | | | Match report |
| 26-09-2017 | Redditch United | 1-4 | Slough Town | League | | | Match report |
| 23-09-2017 | St Neots Town | 3-1 | Slough Town | League | | | Match report |
| 16-09-2017 | Slough Town | 3-2 | Dulwich Hamlet | FA Cup | | | Match report |
| 12-09-2017 | Slough Town | 4-0 | Hitchin Town | League | | | Match report |
| 09-09-2017 | Slough Town | 8-1 | Dunstable Town | League | | | Match report |
| 02-09-2017 | Berkhamsted | 1-3 | Slough Town | FA Cup | | | Match report |
| 28-08-2017 | Farnborough | 1-2 | Slough Town | League | | | Match report |
| 19-08-2017 | Hereford | 0-1 | Slough Town | League | | | Match report |
| 15-08-2017 | Gosport Borough | 1-5 | Slough Town | League | | | Match report |
| 12-08-2017 | Slough Town | 1-2 | Kettering Town | League | | | Match report |
Slough Town FC is not responsible for content produced on external websites | Copyright Slough Town FC 2021