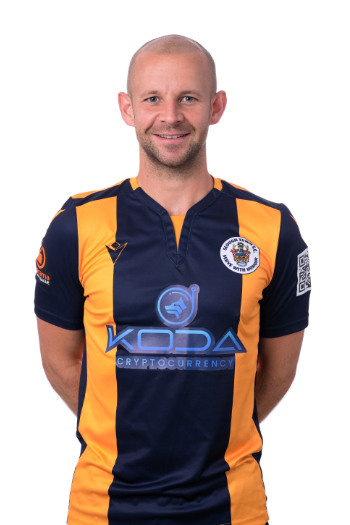 Position:
Midfielder
Achievements
2016/17 Barmy Army Player of the Season
2017/18 Won promotion to National League South
2017/18, 2018/19 Players' Player of the Season
2018/19 Berks & Bucks FA Senior Cup
Bio
'Togs' signed for the Rebels in the summer of 2016 following spells at local sides Burnham and Beaconsfield SYCOB, where he was club captain.
The 33-year-old is predominantly a combative and hard-working midfield player but has also put in some very good performances as a centre back.
At the start of the 2017/18 season he also took on the responsibility of a player/coach role and has a huge influence on the team on the training pitch.
Mens
| First Appearance | Appearances | First Goal | Goals |
| --- | --- | --- | --- |
| 06-08-2016 vs St Neots Town | 259 | 04-10-2016 vs Ashford Town (Middx) | 18 |
History
| Match Date | Home | Score | Away | Competition | Goals | Cards | |
| --- | --- | --- | --- | --- | --- | --- | --- |
| 27-09-2022 | Chippenham Town | 0-1 | Slough Town | League | | | Match report |
| 24-09-2022 | Braintree Town | 1-1 | Slough Town | League | | | Match report |
| 17-09-2022 | Slough Town | 1-3 | Worthing | FA Cup | | | Match report |
| 13-09-2022 | Slough Town | 1-0 | Taunton Town | League | | | Match report |
| 29-08-2022 | Bath City | 5-1 | Slough Town | League | | | Match report |
| 16-08-2022 | Slough Town | 0-2 | Chelmsford City | League | | | Match report |
| 06-08-2022 | Havant & Waterlooville | 3-1 | Slough Town | League | | | Match report |
| 02-05-2022 | Hampton & Richmond Boro' | 3-1 | Slough Town | League | | | Match report |
| 26-04-2022 | Concord Rangers | 1-1 | Slough Town | League | | | Match report |
| 23-04-2022 | Chelmsford City | 1-1 | Slough Town | League | | | Match report |
| 18-04-2022 | Slough Town | 2-0 | Hemel Hempstead Town | League | | | Match report |
| 15-04-2022 | Tonbridge Angels | 0-1 | Slough Town | League | | | Match report |
| 09-04-2022 | Slough Town | 2-2 | Eastbourne Borough | League | | | Match report |
| 02-04-2022 | Dorking Wanderers | 5-0 | Slough Town | League | | | Match report |
| 26-03-2022 | Slough Town | 0-2 | Braintree Town | League | | | Match report |
| 19-03-2022 | Dulwich Hamlet | 1-1 | Slough Town | League | | | Match report |
| 15-03-2022 | Bath City | 1-1 | Slough Town | League | | | Match report |
| 12-03-2022 | Slough Town | 2-1 | Maidstone United | League | | | Match report |
| 01-03-2022 | Braintree Town | 1-0 | Slough Town | League | | | Match report |
| 26-02-2022 | Slough Town | 1-1 | Havant & Waterlooville | League | | | Match report |
| 19-02-2022 | Slough Town | 2-1 | Welling United | League | | | Match report |
| 12-02-2022 | Ebbsfleet United | 1-2 | Slough Town | League | | | Match report |
| 08-02-2022 | Slough Town | 1-2 | Dulwich Hamlet | League | | | Match report |
| 05-02-2022 | Slough Town | 2-2 | Hungerford Town | League | | | Match report |
| 29-01-2022 | St Albans City | 1-0 | Slough Town | League | | | Match report |
| 25-01-2022 | Slough Town | 1-1 | Billericay Town | League | | | Match report |
| 15-01-2022 | York City | 1-0 | Slough Town | FA Trophy | | | Match report |
| 08-01-2022 | Chippenham Town | 6-1 | Slough Town | League | | | Match report |
| 02-01-2022 | Slough Town | 2-2 | Oxford City | League | | | Match report |
| 28-12-2021 | Slough Town | 4-1 | Hampton & Richmond Boro' | League | | | Match report |
| 26-12-2021 | Oxford City | 3-2 | Slough Town | League | | | Match report |
| 29-11-2021 | Beaconsfield Town | 5-1 | Slough Town | B&B Senior Cup | | | Match report |
| 27-11-2021 | Slough Town | 1-0 | Havant & Waterlooville | FA Trophy | | | Match report |
| 20-11-2021 | Eastbourne Borough | 3-1 | Slough Town | League | | | Match report |
| 13-11-2021 | Slough Town | 2-1 | Dorking Wanderers | League | | | Match report |
| 06-11-2021 | Maidstone United | 0-1 | Slough Town | League | | | Match report |
| 30-10-2021 | Slough Town | 1-1 | Concord Rangers | League | | | Match report |
| 26-10-2021 | Slough Town | 2-0 | Bath City | League | | | Match report |
| 23-10-2021 | Havant & Waterlooville | 1-2 | Slough Town | League | | | Match report |
| 16-10-2021 | Billericay Town | 2-1 | Slough Town | League | | | Match report |
| 09-10-2021 | Slough Town | 1-3 | Ebbsfleet United | League | | | Match report |
| 25-09-2021 | Hungerford Town | 1-1 | Slough Town | League | | | Match report |
| 04-09-2021 | Welling United | 2-2 | Slough Town | League | | | Match report |
| 28-08-2021 | Slough Town | 0-1 | Chippenham Town | League | | | Match report |
| 14-08-2021 | Slough Town | 1-0 | Chelmsford City | League | | | Match report |
| 19-01-2021 | Slough Town | 0-2 | Ebbsfleet United | League | | | Match report |
| 16-01-2021 | Slough Town | 3-2 | Braintree Town | League | | | Match report |
| 15-12-2020 | Slough Town | 2-2 | Dartford | FA Trophy | | | Match report |
| 09-12-2020 | Havant & Waterlooville | 0-0 | Slough Town | League | | | Match report |
| 05-12-2020 | Chippenham Town | 2-2 | Slough Town | League | | | Match report |
| 21-11-2020 | Dartford | 2-0 | Slough Town | League | | | Match report |
| 17-11-2020 | Slough Town | 1-3 | Hungerford Town | League | | | Match report |
| 14-11-2020 | Billericay Town | 2-0 | Slough Town | League | | | Match report |
| 07-11-2020 | Slough Town | 2-3 | Maidstone United | League | | | Match report |
| 31-10-2020 | Slough Town | 2-1 | Bath City | League | | | Match report |
| 10-10-2020 | Dorking Wanderers | 3-1 | Slough Town | League | | | Match report |
| 06-10-2020 | Slough Town | 1-0 | Hemel Hempstead Town | League | | | Match report |
| 03-10-2020 | Dartford | 0-1 | Slough Town | FA Cup | | | Match report |
| 19-07-2020 | Slough Town | 0-3 | Dartford | Play Off | | | Match report |
| 14-03-2020 | Weymouth | 2-0 | Slough Town | League | | | Match report |
| 10-03-2020 | Slough Town | 2-2 | MK Dons | B&B Senior Cup | | | Match report |
| 07-03-2020 | Slough Town | 0-2 | Hungerford Town | League | | | Match report |
| 29-02-2020 | Dorking Wanderers | 3-5 | Slough Town | League | | | Match report |
| 26-02-2020 | Havant & Waterlooville | 1-0 | Slough Town | League | | | Match report |
| 22-02-2020 | Chelmsford City | 1-1 | Slough Town | League | | | Match report |
| 15-02-2020 | Slough Town | 1-1 | Havant & Waterlooville | League | | | Match report |
| 08-02-2020 | Welling United | 1-2 | Slough Town | League | | | Match report |
| 01-02-2020 | Slough Town | 0-1 | Oxford City | League | | | Match report |
| 28-01-2020 | Hampton & Richmond Boro' | 1-2 | Slough Town | League | | | Match report |
| 25-01-2020 | Braintree Town | 0-1 | Slough Town | League | | | Match report |
| 18-01-2020 | Slough Town | 1-0 | Dartford | League | | | Match report |
| 11-01-2020 | Billericay Town | 2-2 | Slough Town | League | | | Match report |
| 04-01-2020 | Slough Town | 1-1 | Eastbourne Borough | League | | | Match report |
| 01-01-2020 | Wealdstone | 2-1 | Slough Town | League | | | Match report |
| 28-12-2019 | Hemel Hempstead Town | 1-1 | Slough Town | League | | | Match report |
| 26-12-2019 | Slough Town | 2-1 | Wealdstone | League | | | Match report |
| 30-11-2019 | Slough Town | 0-0 | Tonbridge Angels | League | | | Match report |
| 29-10-2019 | Slough Town | 1-0 | Welling United | League | | | Match report |
| 26-10-2019 | Oxford City | 2-1 | Slough Town | League | | | Match report |
| 12-10-2019 | Slough Town | 3-1 | Billericay Town | League | | | Match report |
| 08-10-2019 | Slough Town | 2-3 | Chippenham Town | FA Cup | | | Match report |
| 05-10-2019 | Chippenham Town | 3-3 | Slough Town | FA Cup | | | Match report |
| 28-09-2019 | Dartford | 2-3 | Slough Town | League | | | Match report |
| 21-09-2019 | Flackwell Heath | 0-3 | Slough Town | FA Cup | | | Match report |
| 14-09-2019 | Slough Town | 3-1 | Hampton & Richmond Boro' | League | | | Match report |
| 07-09-2019 | Eastbourne Borough | 0-2 | Slough Town | League | | | Match report |
| 03-09-2019 | Slough Town | 2-0 | Hemel Hempstead Town | League | | | Match report |
| 31-08-2019 | Slough Town | 1-1 | St Albans City | League | | | Match report |
| 26-08-2019 | Dulwich Hamlet | 2-3 | Slough Town | League | | | Match report |
| 24-08-2019 | Slough Town | 3-2 | Bath City | League | | | Match report |
| 17-08-2019 | Maidstone United | 1-1 | Slough Town | League | | | Match report |
| 13-08-2019 | Slough Town | 1-1 | Weymouth | League | | | Match report |
| 10-08-2019 | Concord Rangers | 2-1 | Slough Town | League | | | Match report |
| 06-08-2019 | Hungerford Town | 1-0 | Slough Town | League | | | Match report |
| 03-08-2019 | Slough Town | 0-1 | Dorking Wanderers | League | | | Match report |
| 06-05-2019 | Reading | 1-3 | Slough Town | B&B Senior Cup | | | Match report |
| 27-04-2019 | Truro City | 3-3 | Slough Town | League | | | Match report |
| 22-04-2019 | Slough Town | 1-1 | Eastbourne Borough | League | | | Match report |
| 20-04-2019 | Oxford City | 1-3 | Slough Town | League | | | Match report |
| 13-04-2019 | Slough Town | 1-0 | Welling United | League | | | Match report |
| 06-04-2019 | Hungerford Town | 1-2 | Slough Town | League | | | Match report |
| 30-03-2019 | Slough Town | 2-2 | St Albans City | League | | | Match report |
| 26-03-2019 | Marlow | 1-0 | Slough Town | B&B Senior Cup | | | Match report |
| 23-03-2019 | Woking | 0-1 | Slough Town | League | | | Match report |
| 16-03-2019 | Slough Town | 2-1 | Billericay Town | League | | | Match report |
| 09-03-2019 | Concord Rangers | 2-2 | Slough Town | League | | | Match report |
| 02-03-2019 | Slough Town | 1-0 | Hemel Hempstead Town | League | | | Match report |
| 23-02-2019 | Bath City | 2-0 | Slough Town | League | | | Match report |
| 16-02-2019 | Slough Town | 2-2 | Dartford | League | | | Match report |
| 12-02-2019 | Slough Town | 1-2 | Gloucester City | League | | | Match report |
| 09-02-2019 | Hampton & Richmond Boro' | 1-1 | Slough Town | League | | | Match report |
| 26-01-2019 | Weston-super-Mare | 2-0 | Slough Town | League | | | Match report |
| 19-01-2019 | Slough Town | 2-2 | Chippenham Town | League | | | Match report |
| 15-01-2019 | Hungerford Town | 1-2 | Slough Town | B&B Senior Cup | | | Match report |
| 12-01-2019 | Slough Town | 1-0 | Chelmsford City | League | | | Match report |
| 08-01-2019 | Slough Town | 0-0 | Bath City | League | | | Match report |
| 05-01-2019 | Torquay United | 4-0 | Slough Town | League | | | Match report |
| 01-01-2019 | Slough Town | 0-1 | Wealdstone | League | | | Match report |
| 29-12-2018 | Dulwich Hamlet | 0-1 | Slough Town | League | | | Match report |
| 26-12-2018 | Wealdstone | 0-3 | Slough Town | League | | | Match report |
| 22-12-2018 | Slough Town | 3-1 | East Thurrock United | League | | | Match report |
| 11-12-2018 | Slough Town | 1-2 | Truro City | League | | | Match report |
| 08-12-2018 | Dartford | 1-1 | Slough Town | League | | | Match report |
| 02-12-2018 | Slough Town | 0-1 | Gillingham | FA Cup | | | Match report |
| 24-11-2018 | Slough Town | 2-3 | Weston-super-Mare | FA Trophy | | | Match report |
| 20-11-2018 | Slough Town | 1-1 | Sutton United | FA Cup | | | Match report |
| 17-11-2018 | Slough Town | 0-1 | Woking | League | | | Match report |
| 10-11-2018 | Sutton United | 0-0 | Slough Town | FA Cup | | | Match report |
| 03-11-2018 | Slough Town | 1-0 | Concord Rangers | League | | | Match report |
| 30-10-2018 | Hemel Hempstead Town | 1-1 | Slough Town | League | | | Match report |
| 27-10-2018 | St Albans City | 3-2 | Slough Town | League | | | Match report |
| 20-10-2018 | Eastbourne Borough | 1-2 | Slough Town | FA Cup | | | Match report |
| 13-10-2018 | Welling United | 2-1 | Slough Town | League | | | Match report |
| 09-10-2018 | Bristol Manor Farm | 0-4 | Slough Town | FA Cup | | | Match report |
| 06-10-2018 | Slough Town | 2-2 | Bristol Manor Farm | FA Cup | | | Match report |
| 29-09-2018 | Slough Town | 2-0 | Hungerford Town | League | | | Match report |
| 25-09-2018 | Sholing | 0-3 | Slough Town | FA Cup | | | Match report |
| 22-09-2018 | Slough Town | 2-2 | Sholing | FA Cup | | | Match report |
| 15-09-2018 | Eastbourne Borough | 2-4 | Slough Town | League | | | Match report |
| 08-09-2018 | Slough Town | 2-0 | Oxford City | League | | | Match report |
| 01-09-2018 | Chelmsford City | 0-1 | Slough Town | League | | | Match report |
| 27-08-2018 | Slough Town | 1-2 | Dulwich Hamlet | League | | | Match report |
| 25-08-2018 | East Thurrock United | 1-0 | Slough Town | League | | | Match report |
| 18-08-2018 | Slough Town | 0-0 | Torquay United | League | | | Match report |
| 14-08-2018 | Slough Town | 2-1 | Weston-super-Mare | League | | | Match report |
| 11-08-2018 | Gloucester City | 1-2 | Slough Town | League | | | Match report |
| 07-08-2018 | Chippenham Town | 1-0 | Slough Town | League | | | Match report |
| 04-08-2018 | Slough Town | 1-1 | Hampton & Richmond Boro' | League | | | Match report |
| 07-05-2018 | King's Lynn Town | 1-2 | Slough Town | Play Off | | | Match report |
| 02-05-2018 | Slough Town | 3-1 | Kettering Town | Play Off | | | Match report |
| 28-04-2018 | Slough Town | 2-1 | Royston Town | League | | | Match report |
| 24-04-2018 | Royston Town | 0-4 | Slough Town | League | | | Match report |
| 21-04-2018 | Dorchester Town | 0-1 | Slough Town | League | | | Match report |
| 14-04-2018 | Slough Town | 2-2 | King's Lynn Town | League | | | Match report |
| 10-04-2018 | Biggleswade Town | 3-5 | Slough Town | League | | | Match report |
| 07-04-2018 | Stratford Town | 0-1 | Slough Town | League | | | Match report |
| 04-04-2018 | Frome Town | 0-4 | Slough Town | League | | | Match report |
| 02-04-2018 | Slough Town | 2-1 | Chesham United | League | | | Match report |
| 30-03-2018 | Dunstable Town | 0-3 | Slough Town | League | | | Match report |
| 27-03-2018 | Weymouth | 1-0 | Slough Town | League | | | Match report |
| 24-03-2018 | Basingstoke Town | 1-4 | Slough Town | League | | | Match report |
| 20-03-2018 | St Ives Town | 1-4 | Slough Town | League | | | Match report |
| 17-03-2018 | Bishop's Stortford | 2-2 | Slough Town | League | | | Match report |
| 13-03-2018 | King's Lynn Town | 1-0 | Slough Town | League | | | Match report |
| 10-03-2018 | Slough Town | 2-1 | Frome Town | League | | | Match report |
| 06-03-2018 | Slough Town | 1-1 | Basingstoke Town | League | | | Match report |
| 24-02-2018 | Slough Town | 2-1 | St Neots Town | League | | | Match report |
| 17-02-2018 | Kings Langley | 0-2 | Slough Town | League | | | Match report |
| 10-02-2018 | Slough Town | 0-1 | Banbury United | League | | | Match report |
| 06-02-2018 | Slough Town | 4-0 | Redditch United | League | | | Match report |
| 03-02-2018 | Tiverton Town | 3-0 | Slough Town | League | | | Match report |
| 30-01-2018 | Slough Town | 1-1 | Kings Langley | League | | | Match report |
| 27-01-2018 | Slough Town | 3-2 | Merthyr Town | League | | | Match report |
| 23-01-2018 | Bracknell Town | 2-3 | Slough Town | B&B Senior Cup | | | Match report |
| 16-01-2018 | Slough Town | 2-0 | Dorchester Town | League | | | Match report |
| 06-01-2018 | Slough Town | 2-2 | Hereford | League | | | Match report |
| 01-01-2018 | Chesham United | 1-1 | Slough Town | League | | | Match report |
| 26-12-2017 | Slough Town | 5-1 | Farnborough | League | | | Match report |
| 23-12-2017 | Slough Town | 1-1 | Stratford Town | League | | | Match report |
| 19-12-2017 | Slough Town | 5-0 | Wantage Town | B&B Senior Cup | | | Match report |
| 09-12-2017 | Slough Town | 2-4 | Bishop's Stortford | League | | | Match report |
| 04-12-2017 | Slough Town | 0-4 | Rochdale | FA Cup | | | Match report |
| 28-11-2017 | Slough Town | 1-1 | Hendon | FA Trophy | | | Match report |
| 25-11-2017 | Hendon | 1-1 | Slough Town | FA Trophy | | | Match report |
| 21-11-2017 | Banbury United | 2-2 | Slough Town | League | | | Match report |
| 18-11-2017 | Slough Town | 3-0 | Weymouth | League | | | Match report |
| 14-11-2017 | Hayes & Yeading | 3-1 | Slough Town | League Cup | | | Match report |
| 11-11-2017 | Maldon & Tiptree | 1-4 | Slough Town | FA Trophy | | | Match report |
| 04-11-2017 | Gainsborough Trinity | 0-6 | Slough Town | FA Cup | | | Match report |
| 28-10-2017 | Kidlington | 1-4 | Slough Town | FA Trophy | | | Match report |
| 24-10-2017 | Slough Town | 5-1 | Gosport Borough | League | | | Match report |
| 21-10-2017 | Kettering Town | 0-0 | Slough Town | League | | | Match report |
| 17-10-2017 | Slough Town | 2-0 | Tiverton Town | League | | | Match report |
| 14-10-2017 | Slough Town | 1-0 | Folkestone Invicta | FA Cup | | | Match report |
| 10-10-2017 | Merthyr Town | 4-5 | Slough Town | League | | | Match report |
| 07-10-2017 | Slough Town | 2-1 | Biggleswade Town | League | | | Match report |
| 30-09-2017 | Slough Town | 2-1 | Poole Town | FA Cup | | | Match report |
| 26-09-2017 | Redditch United | 1-4 | Slough Town | League | | | Match report |
| 23-09-2017 | St Neots Town | 3-1 | Slough Town | League | | | Match report |
| 16-09-2017 | Slough Town | 3-2 | Dulwich Hamlet | FA Cup | | | Match report |
| 12-09-2017 | Slough Town | 4-0 | Hitchin Town | League | | | Match report |
| 02-09-2017 | Berkhamsted | 1-3 | Slough Town | FA Cup | | | Match report |
| 26-08-2017 | Slough Town | 3-0 | St Ives Town | League | | | Match report |
| 19-08-2017 | Hereford | 0-1 | Slough Town | League | | | Match report |
| 15-08-2017 | Gosport Borough | 1-5 | Slough Town | League | | | Match report |
| 26-04-2017 | Leamington | 1-0 | Slough Town | Play Off | | | Match report |
| 22-04-2017 | Slough Town | 1-1 | Redditch United | League | | | Match report |
| 17-04-2017 | Chesham United | 1-1 | Slough Town | League | | | Match report |
| 14-04-2017 | Slough Town | 0-2 | Cirencester Town | League | | | Match report |
| 08-04-2017 | Kettering Town | 3-0 | Slough Town | League | | | Match report |
| 01-04-2017 | Slough Town | 3-0 | King's Lynn Town | League | | | Match report |
| 25-03-2017 | Frome Town | 1-0 | Slough Town | League | | | Match report |
| 18-03-2017 | Slough Town | 4-1 | Cinderford Town | League | | | Match report |
| 14-03-2017 | St Neots Town | 1-1 | Slough Town | League | | | Match report |
| 11-03-2017 | Hitchin Town | 2-3 | Slough Town | League | | | Match report |
| 08-03-2017 | Biggleswade Town | 3-0 | Slough Town | League | | | Match report |
| 25-02-2017 | Dorchester Town | 0-4 | Slough Town | League | | | Match report |
| 21-02-2017 | Cinderford Town | 2-1 | Slough Town | League | | | Match report |
| 18-02-2017 | Slough Town | 1-0 | Merthyr Town | League | | | Match report |
| 11-02-2017 | Cambridge City | 3-4 | Slough Town | League | | | Match report |
| 07-02-2017 | Slough Town | 3-0 | Weymouth | League | | | Match report |
| 04-02-2017 | Slough Town | 1-0 | Dunstable Town | League | | | Match report |
| 31-01-2017 | King's Lynn Town | 5-2 | Slough Town | League | | | Match report |
| 28-01-2017 | Leamington | 0-6 | Slough Town | League | | | Match report |
| 21-01-2017 | Slough Town | 0-1 | Chippenham Town | League | | | Match report |
| 17-01-2017 | Maidenhead United | 4-2 | Slough Town | B&B Senior Cup | | | Match report |
| 07-01-2017 | St Ives Town | 2-0 | Slough Town | League | | | Match report |
| 02-01-2017 | Slough Town | 1-2 | Chesham United | League | | | Match report |
| 27-12-2016 | Hayes & Yeading | 2-3 | Slough Town | League | | | Match report |
| 20-12-2016 | Slough Town | 3-0 | MK Dons | B&B Senior Cup | | | Match report |
| 17-12-2016 | Slough Town | 3-2 | Kettering Town | League | | | Match report |
| 06-12-2016 | Chippenham Town | 3-3 | Slough Town | League | | | Match report |
| 03-12-2016 | Slough Town | 1-2 | Frome Town | League | | | Match report |
| 29-11-2016 | Slough Town | 2-0 | Banbury United | League | | | Match report |
| 26-11-2016 | Slough Town | 2-4 | Wingate & Finchley | FA Trophy | | | Match report |
| 22-11-2016 | Stratford Town | 1-2 | Slough Town | League | | | Match report |
| 19-11-2016 | Slough Town | 2-2 | Kings Langley | League | | | Match report |
| 15-11-2016 | Slough Town | 2-0 | Merthyr Town | FA Trophy | | | Match report |
| 12-11-2016 | Merthyr Town | 2-2 | Slough Town | FA Trophy | | | Match report |
| 05-11-2016 | Slough Town | 0-1 | Hitchin Town | League | | | Match report |
| 29-10-2016 | Slough Town | 4-1 | Bognor Regis Town | FA Trophy | | | Match report |
| 25-10-2016 | Slough Town | 2-1 | Dorchester Town | League | | | Match report |
| 22-10-2016 | Basingstoke Town | 4-1 | Slough Town | League | | | Match report |
| 18-10-2016 | Slough Town | 7-4 | Beaconsfield Town | B&B Senior Cup | | | Match report |
| 15-10-2016 | Merthyr Town | 1-1 | Slough Town | League | | | Match report |
| 11-10-2016 | Dunstable Town | 0-1 | Slough Town | League | | | Match report |
| 08-10-2016 | Slough Town | 1-0 | Cambridge City | League | | | Match report |
| 04-10-2016 | Slough Town | 9-2 | Ashford Town (Middx) | League Cup | | | Match report |
| 01-10-2016 | Slough Town | 2-3 | Dartford | FA Cup | | | Match report |
| 27-09-2016 | Slough Town | 2-0 | Leamington | League | | | Match report |
| 24-09-2016 | Slough Town | 3-0 | Biggleswade Town | League | | | Match report |
| 17-09-2016 | Cambridge City | 1-3 | Slough Town | FA Cup | | | Match report |
| 13-09-2016 | Weymouth | 0-1 | Slough Town | League | | | Match report |
| 10-09-2016 | Redditch United | 0-4 | Slough Town | League | | | Match report |
| 27-08-2016 | Cirencester Town | 1-3 | Slough Town | League | | | Match report |
| 20-08-2016 | Slough Town | 3-0 | St Ives Town | League | | | Match report |
| 16-08-2016 | Slough Town | 0-0 | Stratford Town | League | | | Match report |
| 13-08-2016 | Kings Langley | 2-3 | Slough Town | League | | | Match report |
| 06-08-2016 | Slough Town | 2-0 | St Neots Town | League | | | Match report |
Slough Town FC is not responsible for content produced on external websites | Copyright Slough Town FC 2022