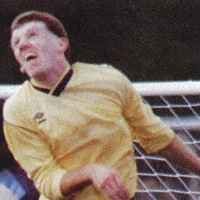 Stats
Position:
Defender
First Appearance:
24-08-1985 vs Tooting
Appearances:
269
First Goal:
28-09-1985 vs Woking
Goals:
28
Bio
After a very long spell with Hillingdon, Jeff moved to Slough with his defender colleague, Tony Knight and has represented the Vauxhall Opel league on many occasions since his move. Joined Slough from Hillingdon at the beginning of the 1985/86 season and has established himself as an indispensible part of the defence.

A Brewer's stock-taker by occupation who has also played for his local club, Harefield United.
History
| Match Date | Home | Score | Away | Competition | Goals | Cards | |
| --- | --- | --- | --- | --- | --- | --- | --- |
| 05-05-1990 | Bromley | 0-1 | Slough Town | League | | | Match report |
| 28-04-1990 | Slough Town | 3-0 | Marlow | League | | | Match report |
| 21-04-1990 | Hendon | 1-1 | Slough Town | League | | | Match report |
| 16-04-1990 | Wycombe Wanderers | 2-1 | Slough Town | B&B Senior Cup | | | Match report |
| 14-04-1990 | Slough Town | 1-0 | Hayes | League | | | Match report |
| 10-04-1990 | Slough Town | 2-1 | Kingstonian | League | | | Match report |
| 07-04-1990 | Carshalton Ath | 4-4 | Slough Town | League | | | Match report |
| 04-04-1990 | Redbridge Forest | 2-0 | Slough Town | League | | | Match report |
| 31-03-1990 | Slough Town | 3-2 | Leyton Wingate | League | | | Match report |
| 24-03-1990 | Slough Town | 2-0 | Dulwich Hamlet | League | | | Match report |
| 20-03-1990 | Slough Town | 3-1 | Hendon | League | | | Match report |
| 17-03-1990 | Bishop's Stortford | 0-1 | Slough Town | League | | | Match report |
| 13-03-1990 | Dulwich Hamlet | 2-3 | Slough Town | League | | | Match report |
| 06-03-1990 | Slough Town | 4-0 | Harrow Borough | League | | | Match report |
| 03-03-1990 | Wokingham Town | 1-1 | Slough Town | League | | | Match report |
| 27-02-1990 | Slough Town | 3-0 | Abingdon Utd | B&B Senior Cup | | | Match report |
| 24-02-1990 | Slough Town | 0-1 | Dagenham | League | | | Match report |
| 20-02-1990 | Harrow Borough | 1-5 | Slough Town | League | | | Match report |
| 17-02-1990 | Aylesbury United | 3-1 | Slough Town | League | | | Match report |
| 10-02-1990 | Slough Town | 2-1 | Basingstoke Town | League | | | Match report |
| 05-02-1990 | Slough Town | 4-1 | Buckingham Town | B&B Senior Cup | | | Match report |
| 27-01-1990 | Slough Town | 2-0 | Grays Athletic | League | | | Match report |
| 01-01-1990 | Slough Town | 1-1 | Windsor & Eton | League | | | Match report |
| 30-12-1989 | Staines Town | 0-4 | Slough Town | League | | | Match report |
| 26-12-1989 | Windsor & Eton | 0-1 | Slough Town | League | | | Match report |
| 16-12-1989 | Slough Town | 3-2 | Carshalton Ath | League | | | Match report |
| 12-12-1989 | Basingstoke Town | 1-3 | Slough Town | League | | | Match report |
| 09-12-1989 | St Albans City | 0-3 | Slough Town | League | | | Match report |
| 05-12-1989 | Slough Town | 1-0 | Bromley | League | | | Match report |
| 02-12-1989 | Stroud | 1-10 | Slough Town | FA Trophy | | | Match report |
| 25-11-1989 | Marlow | 0-0 | Slough Town | League | | | Match report |
| 20-11-1989 | Dagenham | 0-3 | Slough Town | League | | | Match report |
| 18-11-1989 | Slough Town | 1-2 | Woking | FA Cup | | | Match report |
| 11-11-1989 | Hayes | 1-1 | Slough Town | League | | | Match report |
| 07-11-1989 | Slough Town | 1-0 | Staines Town | League | | | Match report |
| 04-11-1989 | Slough Town | 1-1 | Bishop's Stortford | League | | | Match report |
| 28-10-1989 | Abingdon Town | 0-3 | Slough Town | FA Cup | | | Match report |
| 21-10-1989 | Slough Town | 1-2 | Aylesbury United | League | | | Match report |
| 17-10-1989 | Uxbridge | 1-2 | Slough Town | FA Cup | | | Match report |
| 14-10-1989 | Slough Town | 0-0 | Uxbridge | FA Cup | | | Match report |
| 30-09-1989 | Carshalton Ath | 0-2 | Slough Town | FA Cup | | | Match report |
| 23-09-1989 | Slough Town | 5-0 | Redbridge Forest | League | | | Match report |
| 16-09-1989 | Slough Town | 5-1 | Walthamstow Pennant | FA Cup | | | Match report |
| 12-09-1989 | Slough Town | 2-1 | Lewes | AC Delco Cup | | | Match report |
| 09-09-1989 | Slough Town | 0-0 | Bognor Regis Town | League | | | Match report |
| 02-09-1989 | Grays Athletic | 1-1 | Slough Town | League | | | Match report |
| 29-08-1989 | Leyton Wingate | 1-2 | Slough Town | League | | | Match report |
| 26-08-1989 | Slough Town | 4-2 | Barking | League | | | Match report |
| 22-08-1989 | Slough Town | 3-3 | St Albans City | League | | | Match report |
| 19-08-1989 | Kingstonian | 1-2 | Slough Town | League | | | Match report |
| 06-05-1989 | Slough Town | 4-1 | Tooting | League | | | Match report |
| 29-04-1989 | St Albans City | 1-4 | Slough Town | League | | | Match report |
| 22-04-1989 | Slough Town | 4-0 | Hendon | League | | | Match report |
| 08-04-1989 | Slough Town | 1-1 | Carshalton Ath | League | | | Match report |
| 01-04-1989 | Farnborough Town | 2-6 | Slough Town | League | | | Match report |
| 28-03-1989 | Leyton Wingate | 1-1 | Slough Town | League | | | Match report |
| 25-03-1989 | Slough Town | 2-0 | Kingstonian | League | | | Match report |
| 18-03-1989 | Dulwich Hamlet | 1-0 | Slough Town | League | | | Match report |
| 11-03-1989 | Slough Town | 2-0 | Grays Athletic | League | | | Match report |
| 04-03-1989 | Harrow Borough | 1-2 | Slough Town | League | | | Match report |
| 28-02-1989 | Barking | 1-0 | Slough Town | League | | | Match report |
| 25-02-1989 | Slough Town | 1-3 | Leyton Wingate | League | | | Match report |
| 18-02-1989 | Wokingham Town | 1-1 | Slough Town | League | | | Match report |
| 11-02-1989 | Marlow | 0-2 | Slough Town | League | | | Match report |
| 07-02-1989 | Grays Athletic | 2-1 | Slough Town | League | | | Match report |
| 04-02-1989 | Slough Town | 4-0 | Croydon | League | | | Match report |
| 31-01-1989 | Slough Town | 1-2 | Burnham | B&B Senior Cup | | | Match report |
| 28-01-1989 | Leytonstone Ilford | 1-0 | Slough Town | League | | | Match report |
| 24-01-1989 | Hendon | 1-1 | Slough Town | League | | | Match report |
| 21-01-1989 | Slough Town | 4-1 | Bromley | League | | | Match report |
| 17-01-1989 | Burnham | 3-3 | Slough Town | B&B Senior Cup | | | Match report |
| 14-01-1989 | Welling United | 4-0 | Slough Town | FA Trophy | | | Match report |
| 07-01-1989 | Slough Town | 0-2 | Bishop's Stortford | League | | | Match report |
| 02-01-1989 | Windsor & Eton | 3-2 | Slough Town | League | | | Match report |
| 30-12-1988 | Slough Town | 3-0 | Bognor Regis Town | League | | | Match report |
| 27-12-1988 | Slough Town | 0-3 | Farnborough Town | League | | | Match report |
| 17-12-1988 | Carshalton Ath | 0-0 | Slough Town | League | | | Match report |
| 10-12-1988 | Slough Town | 2-0 | Hayes | League | | | Match report |
| 03-12-1988 | Ashford | 0-3 | Slough Town | FA Trophy | | | Match report |
| 26-11-1988 | Slough Town | 4-3 | St Albans City | League | | | Match report |
| 15-11-1988 | Slough Town | 2-0 | Marlow | League | | | Match report |
| 12-11-1988 | Slough Town | 0-2 | Dagenham | League | | | Match report |
| 08-11-1988 | Bognor Regis Town | 1-0 | Slough Town | League | | | Match report |
| 05-11-1988 | Slough Town | 3-2 | Dulwich Hamlet | League | | | Match report |
| 01-11-1988 | Kingstonian | 0-1 | Slough Town | League | | | Match report |
| 29-10-1988 | Slough Town | 1-2 | Dartford | FA Cup | | | Match report |
| 22-10-1988 | Slough Town | 3-0 | Wokingham Town | League | | | Match report |
| 15-10-1988 | Tooting | 2-3 | Slough Town | League | | | Match report |
| 11-10-1988 | Hayes | 5-1 | Slough Town | Premier Interleague Cup | | | Match report |
| 08-10-1988 | Slough Town | 1-1 | Harrow Borough | League | | | Match report |
| 04-10-1988 | Slough Town | 2-2 | Hayes | Premier Interleague Cup | | | Match report |
| 01-10-1988 | Slough Town | 2-1 | Aylesbury United | B&B Senior Cup | | | Match report |
| 26-09-1988 | Croydon | 0-2 | Slough Town | League | | | Match report |
| 17-09-1988 | Dagenham | 0-1 | Slough Town | League | | | Match report |
| 13-09-1988 | Barking | 3-0 | Slough Town | AC Delco Cup | | | Match report |
| 10-09-1988 | Slough Town | 2-0 | Leytonstone Ilford | League | | | Match report |
| 03-09-1988 | Bromley | 0-1 | Slough Town | League | | | Match report |
| 30-08-1988 | Windsor & Eton | 0-1 | Slough Town | League | | | Match report |
| 27-08-1988 | Bishop's Stortford | 4-0 | Slough Town | League | | | Match report |
| 23-08-1988 | Hayes | 0-1 | Slough Town | League | | | Match report |
| 20-08-1988 | Slough Town | 1-0 | Barking | League | | | Match report |
| 05-05-1988 | Slough Town | 3-1 | Wokingham Town | League | | | Match report |
| 30-04-1988 | Slough Town | 1-0 | Croydon | League | | | Match report |
| 23-04-1988 | Slough Town | 1-0 | Bromley | League | | | Match report |
| 16-04-1988 | Barking | 1-0 | Slough Town | League | | | Match report |
| 12-04-1988 | Bishop's Stortford | 1-1 | Slough Town | League | | | Match report |
| 02-04-1988 | Leytonstone Ilford | 3-0 | Slough Town | League | | | Match report |
| 28-03-1988 | Bognor Regis Town | 0-2 | Slough Town | League | | | Match report |
| 26-03-1988 | Slough Town | 3-0 | St Albans City | League | | | Match report |
| 22-03-1988 | Carshalton Ath | 1-1 | Slough Town | League | | | Match report |
| 19-03-1988 | Slough Town | 0-1 | Windsor & Eton | B&B Senior Cup | | | Match report |
| 12-03-1988 | Slough Town | 1-1 | Leyton Wingate | League | | | Match report |
| 08-03-1988 | St Albans City | 1-3 | Slough Town | League | | | Match report |
| 05-03-1988 | Kingstonian | 1-0 | Slough Town | League | | | Match report |
| 01-03-1988 | Slough Town | 0-0 | Hendon | League | | | Match report |
| 27-02-1988 | Harrow Borough | 1-3 | Slough Town | League | | | Match report |
| 23-02-1988 | Slough Town | 3-1 | Hungerford Town | B&B Senior Cup | | | Match report |
| 20-02-1988 | Slough Town | 0-1 | Carshalton Ath | League | | | Match report |
| 13-02-1988 | Slough Town | 1-0 | Hitchin Town | League | | | Match report |
| 06-02-1988 | Tooting | 2-0 | Slough Town | League | | | Match report |
| 01-02-1988 | Fisher Ath | 2-1 | Slough Town | FA Trophy | | | Match report |
| 26-01-1988 | Slough Town | 6-1 | Chalfont St Peter | B&B Senior Cup | | | Match report |
| 19-01-1988 | Slough Town | 1-1 | Basingstoke Town | League | | | Match report |
| 16-01-1988 | Slough Town | 2-0 | Barking | League | | | Match report |
| 09-01-1988 | Hayes | 3-1 | Slough Town | League | | | Match report |
| 02-01-1988 | Slough Town | 3-2 | Leytonstone Ilford | League | | | Match report |
| 26-12-1987 | Wokingham Town | 0-3 | Slough Town | League | | | Match report |
| 19-12-1987 | Slough Town | 3-1 | Dagenham | FA Trophy | | | Match report |
| 12-12-1987 | Slough Town | 2-0 | Maidenhead United | B&B Senior Cup | | | Match report |
| 08-12-1987 | Slough Town | 2-2 | Yeovil Town | League | | | Match report |
| 05-12-1987 | Leyton Wingate | 1-1 | Slough Town | League | | | Match report |
| 28-11-1987 | Basingstoke Town | 0-3 | Slough Town | League | | | Match report |
| 25-11-1987 | Saltash | 2-5 | Slough Town | FA Trophy | | | Match report |
| 21-11-1987 | Slough Town | 3-3 | Saltash | FA Trophy | | | Match report |
| 14-11-1987 | Slough Town | 3-1 | Kingstonian | League | | | Match report |
| 10-11-1987 | Windsor & Eton | 1-0 | Slough Town | League | | | Match report |
| 07-11-1987 | Slough Town | 2-0 | Dulwich Hamlet | League | | | Match report |
| 03-11-1987 | Slough Town | 2-3 | Bognor Regis Town | General Motors A Cup | | | Match report |
| 31-10-1987 | Slough Town | 3-1 | Harrow Borough | League | | | Match report |
| 25-10-1987 | Bath City | 3-1 | Slough Town | FA Cup | | | Match report |
| 17-10-1987 | Dulwich Hamlet | 1-0 | Slough Town | League | | | Match report |
| 07-10-1987 | Cheltenham Town | 1-2 | Slough Town | General Motors A Cup | | | Match report |
| 03-10-1987 | Hendon | 1-4 | Slough Town | League | | | Match report |
| 29-09-1987 | Slough Town | 1-1 | Hayes | League | | | Match report |
| 26-09-1987 | Farnborough Town | 4-1 | Slough Town | League | | | Match report |
| 23-09-1987 | Southwick | 3-1 | Slough Town | AC Delco Cup | | | Match report |
| 19-09-1987 | Slough Town | 0-0 | Bishop's Stortford | League | | | Match report |
| 15-09-1987 | Slough Town | 3-1 | Farnborough Town | League | | | Match report |
| 12-09-1987 | Slough Town | 0-1 | Bognor Regis Town | League | | | Match report |
| 09-09-1987 | Yeovil Town | 2-1 | Slough Town | League | | | Match report |
| 05-09-1987 | Croydon | 0-1 | Slough Town | League | | | Match report |
| 01-09-1987 | Slough Town | 1-0 | Windsor & Eton | League | | | Match report |
| 29-08-1987 | Slough Town | 4-1 | Tooting | League | | | Match report |
| 25-08-1987 | Hitchin Town | 1-6 | Slough Town | League | | | Match report |
| 22-08-1987 | Bromley | 2-1 | Slough Town | League | | | Match report |
| 25-04-1987 | Farnborough Town | 0-1 | Slough Town | League | | | Match report |
| 21-04-1987 | Slough Town | 3-1 | Farnborough Town | League | | | Match report |
| 18-04-1987 | Worthing | 1-1 | Slough Town | League | | | Match report |
| 14-04-1987 | Aylesbury United | 2-0 | Slough Town | B&B Senior Cup | | | Match report |
| 11-04-1987 | Slough Town | 1-1 | Barking | League | | | Match report |
| 04-04-1987 | Yeovil Town | 2-0 | Slough Town | League | | | Match report |
| 28-03-1987 | Slough Town | 3-0 | Harrow Borough | League | | | Match report |
| 24-03-1987 | Slough Town | 4-4 | Aylesbury United | B&B Senior Cup | | | Match report |
| 21-03-1987 | Tooting | 0-1 | Slough Town | League | | | Match report |
| 17-03-1987 | Kingstonian | 2-1 | Slough Town | League | | | Match report |
| 14-03-1987 | Barking | 4-4 | Slough Town | League | | | Match report |
| 10-03-1987 | Slough Town | 3-0 | St Albans City | League | | | Match report |
| 07-03-1987 | Slough Town | 0-1 | Hayes | League | | | Match report |
| 03-03-1987 | Harrow Borough | 4-0 | Slough Town | League | | | Match report |
| 28-02-1987 | Wycombe Wanderers | 1-1 | Slough Town | League | | | Match report |
| 24-02-1987 | Slough Town | 1-0 | Bishop's Stortford | League | | | Match report |
| 21-02-1987 | Slough Town | 2-1 | Dulwich Hamlet | League | | | Match report |
| 17-02-1987 | Slough Town | 3-4 | Yeovil Town | General Motors A Cup | | | Match report |
| 14-02-1987 | Carshalton Ath | 0-1 | Slough Town | League | | | Match report |
| 10-02-1987 | Slough Town | 7-4 | Buckingham Town | B&B Senior Cup | | | Match report |
| 07-02-1987 | Slough Town | 2-1 | Hendon | League | | | Match report |
| 31-01-1987 | Bognor Regis Town | 0-0 | Slough Town | League | | | Match report |
| 27-01-1987 | Slough Town | 5-1 | Milton Keynes City | B&B Senior Cup | | | Match report |
| 24-01-1987 | Slough Town | 0-1 | Croydon | League | | | Match report |
| 06-01-1987 | Slough Town | 1-0 | Tooting | League | | | Match report |
| 03-01-1987 | Walthamstow | 0-2 | Slough Town | League | | | Match report |
| 01-01-1987 | Wokingham Town | 1-3 | Slough Town | League | | | Match report |
| 27-12-1986 | Slough Town | 1-3 | Bromley | League | | | Match report |
| 23-12-1986 | Cheltenham Town | 0-1 | Slough Town | General Motors A Cup | | | Match report |
| 20-12-1986 | Slough Town | 3-2 | Carshalton Ath | League | | | Match report |
| 16-12-1986 | Slough Town | 0-2 | Basildon | AC Delco Cup | | | Match report |
| 13-12-1986 | Bromley | 0-0 | Slough Town | League | | | Match report |
| 09-12-1986 | Slough Town | 0-1 | Yeovil Town | League | | | Match report |
| 06-12-1986 | Swansea City | 3-0 | Slough Town | FA Cup | | | Match report |
| 02-12-1986 | Slough Town | 3-0 | Didcot Town | B&B Senior Cup | | | Match report |
| 29-11-1986 | Slough Town | 2-3 | Worthing | League | | | Match report |
| 27-11-1986 | Slough Town | 2-2 | Cheltenham Town | General Motors A Cup | | | Match report |
| 25-11-1986 | Tooting | 1-0 | Slough Town | FA Trophy | | | Match report |
| 22-11-1986 | Slough Town | 0-0 | Tooting | FA Trophy | | | Match report |
| 18-11-1986 | Bognor Regis Town | 0-1 | Slough Town | FA Cup | | | Match report |
| 15-11-1986 | Slough Town | 1-1 | Bognor Regis Town | FA Cup | | | Match report |
| 11-11-1986 | Slough Town | 2-0 | Dorking | AC Delco Cup | | | Match report |
| 08-11-1986 | St Albans City | 0-2 | Slough Town | League | | | Match report |
| 04-11-1986 | Slough Town | 3-1 | Windsor & Eton | League | | | Match report |
| 28-10-1986 | Dover Athletic | 2-3 | Slough Town | FA Cup | | | Match report |
| 25-10-1986 | Slough Town | 1-1 | Dover Athletic | FA Cup | | | Match report |
| 18-10-1986 | Hayes | 1-4 | Slough Town | League | | | Match report |
| 11-10-1986 | Slough Town | 0-3 | Wycombe Wanderers | League | | | Match report |
| 07-10-1986 | Hitchin Town | 0-2 | Slough Town | League | | | Match report |
| 04-10-1986 | Dulwich Hamlet | 0-3 | Slough Town | League | | | Match report |
| 23-09-1986 | Slough Town | 2-1 | Ware | AC Delco Cup | | | Match report |
| 20-09-1986 | Hendon | 0-4 | Slough Town | League | | | Match report |
| 13-09-1986 | Slough Town | 1-1 | Bognor Regis Town | League | | | Match report |
| 06-09-1986 | Croydon | 1-1 | Slough Town | League | | | Match report |
| 02-09-1986 | Windsor & Eton | 3-1 | Slough Town | League | | | Match report |
| 30-08-1986 | Slough Town | 2-0 | Kingstonian | League | | | Match report |
| 26-08-1986 | Slough Town | 5-2 | Wokingham Town | League | | | Match report |
| 23-08-1986 | Bishop's Stortford | 2-1 | Slough Town | League | | | Match report |
| 19-08-1986 | Slough Town | 3-0 | Hitchin Town | League | | | Match report |
| 16-08-1986 | Slough Town | 1-0 | Walthamstow | League | | | Match report |
| 03-05-1986 | Kingstonian | 1-1 | Slough Town | League | | | Match report |
| 01-05-1986 | Slough Town | 2-3 | Yeovil Town | League | | | Match report |
| 29-04-1986 | Slough Town | 1-4 | Hendon | League | | | Match report |
| 26-04-1986 | Worthing | 2-1 | Slough Town | League | | | Match report |
| 19-04-1986 | Slough Town | 1-0 | Walthamstow | League | | | Match report |
| 17-04-1986 | Slough Town | 3-1 | Worthing | League | | | Match report |
| 15-04-1986 | Billericay Town | 2-3 | Slough Town | League | | | Match report |
| 12-04-1986 | Hitchin Town | 0-1 | Slough Town | League | | | Match report |
| 09-04-1986 | Yeovil Town | 3-4 | Slough Town | League | | | Match report |
| 05-04-1986 | Slough Town | 1-0 | Bishop's Stortford | League | | | Match report |
| 03-04-1986 | Slough Town | 1-2 | Hitchin Town | League | | | Match report |
| 31-03-1986 | Walthamstow | 1-2 | Slough Town | League | | | Match report |
| 29-03-1986 | Epsom | 2-1 | Slough Town | League | | | Match report |
| 27-03-1986 | Slough Town | 0-1 | Sutton United | League | | | Match report |
| 25-03-1986 | Slough Town | 4-3 | Billericay Town | League | | | Match report |
| 22-03-1986 | Slough Town | 1-2 | Dulwich Hamlet | League | | | Match report |
| 18-03-1986 | Bishop's Stortford | 0-3 | Slough Town | League | | | Match report |
| 11-03-1986 | Slough Town | 4-1 | Tooting | League | | | Match report |
| 08-03-1986 | Slough Town | 2-0 | Barking | League | | | Match report |
| 03-02-1986 | Dulwich Hamlet | 0-1 | Slough Town | League | | | Match report |
| 01-02-1986 | Slough Town | 2-3 | Farnborough Town | League | | | Match report |
| 07-01-1986 | Barking | 4-3 | Slough Town | League | | | Match report |
| 01-01-1986 | Slough Town | 1-1 | Wokingham Town | League | | | Match report |
| 26-12-1985 | Windsor & Eton | 0-0 | Slough Town | League | | | Match report |
| 21-12-1985 | Slough Town | 1-0 | Tilbury | FA Trophy | | | Match report |
| 14-12-1985 | Wokingham Town | 4-0 | Slough Town | League | | | Match report |
| 10-12-1985 | Slough Town | 2-3 | Orient | FA Cup | | | Match report |
| 07-12-1985 | Orient | 2-2 | Slough Town | FA Cup | | | Match report |
| 03-12-1985 | Slough Town | 0-2 | Carshalton Ath | AC Delco Cup | | | Match report |
| 30-11-1985 | Slough Town | 1-0 | Bromley | FA Trophy | | | Match report |
| 26-11-1985 | Carshalton Ath | 2-2 | Slough Town | AC Delco Cup | | | Match report |
| 23-11-1985 | Sutton United | 4-1 | Slough Town | League | | | Match report |
| 19-11-1985 | Aylesbury United | 2-5 | Slough Town | FA Cup | | | Match report |
| 16-11-1985 | Slough Town | 2-2 | Aylesbury United | FA Cup | | | Match report |
| 12-11-1985 | Windsor & Eton | 3-1 | Slough Town | B&B Senior Cup | | | Match report |
| 09-11-1985 | Slough Town | 3-2 | Kingstonian | League | | | Match report |
| 06-11-1985 | Slough Town | 0-0 | Harrow Borough | League | | | Match report |
| 04-11-1985 | Slough Town | 2-1 | Kingstonian | FA Cup | | | Match report |
| 02-11-1985 | Slough Town | 2-1 | Reading | B&B Senior Cup | | | Match report |
| 29-10-1985 | Kingstonian | 1-1 | Slough Town | FA Cup | | | Match report |
| 26-10-1985 | Slough Town | 2-2 | Kingstonian | FA Cup | | | Match report |
| 22-10-1985 | Slough Town | 3-1 | Bromley | AC Delco Cup | | | Match report |
| 19-10-1985 | Hendon | 1-1 | Slough Town | League | | | Match report |
| 15-10-1985 | Slough Town | 2-1 | Welling United | FA Cup | | | Match report |
| 12-10-1985 | Welling United | 0-0 | Slough Town | FA Cup | | | Match report |
| 05-10-1985 | Croydon | 1-0 | Slough Town | League | | | Match report |
| 28-09-1985 | Woking | 1-5 | Slough Town | FA Cup | | | Match report |
| 24-09-1985 | Slough Town | 3-1 | Windsor & Eton | League | | | Match report |
| 21-09-1985 | Farnborough Town | 2-1 | Slough Town | League | | | Match report |
| 14-09-1985 | Slough Town | 1-0 | Bognor Regis Town | League | | | Match report |
| 07-09-1985 | Merstham | 0-4 | Slough Town | FA Cup | | | Match report |
| 03-09-1985 | Hayes | 0-1 | Slough Town | League | | | Match report |
| 31-08-1985 | Slough Town | 2-1 | Carshalton Ath | League | | | Match report |
| 24-08-1985 | Tooting | 2-3 | Slough Town | League | | | Match report |
Slough Town FC is not responsible for content produced on external websites | Copyright Slough Town FC 2021