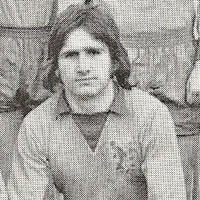 Position:
Forward
Achievements
1980/81 Isthmian League, Premier Division - winner
1980/81 Isthmian League Cup - winner
Bio
Striker who represented Slough in the 1973 Amateur Cup final defeat to Walton & Hersham at Wembley.
Micky was converted from defence earlier that season and the switch coincided with Slough's unbeaten run that took them to Wembley. A quick, tireless worker, he was a local boy, a product of the Spitals club, Windsor - the junior team where Chelsea's Peter Osgood started his career.
He was fairly small in stature, but a fantastic jumper. Micky astounded many players much taller than himself with his prowess. Fast off the mark and a tricky ball player, Micky could play as a midfield man or as a striker.
Mens
| First Appearance | Appearances | First Goal | Goals |
| --- | --- | --- | --- |
| 06-10-1970 vs Marlow | 185 | 17-11-1970 vs Wealdstone | 35 |
History
| Match Date | Home | Score | Away | Competition | Goals | Cards | |
| --- | --- | --- | --- | --- | --- | --- | --- |
| 12-09-1981 | Slough Town | 1-3 | Bromley | League | | | Match report |
| 08-09-1981 | Slough Town | 4-2 | Wootton BC | FA Cup | | | Match report |
| 05-09-1981 | Wootton BC | 2-2 | Slough Town | FA Cup | | | Match report |
| 31-08-1981 | Harwich | 0-1 | Slough Town | Hennessey Cup | | | Match report |
| 29-08-1981 | Slough Town | 0-0 | Barking | League | | | Match report |
| 25-08-1981 | Boreham Wood | 1-1 | Slough Town | League | | | Match report |
| 22-08-1981 | Slough Town | 5-2 | Tooting | League | | | Match report |
| 18-08-1981 | Slough Town | 0-0 | Woking | League | | | Match report |
| 15-08-1981 | Carshalton Ath | 1-2 | Slough Town | League | | | Match report |
| 08-08-1981 | Slough Town | 1-3 | Wycombe Wanderers | Drinkwise Trophy | | | Match report |
| 07-05-1981 | Sutton United | 1-2 | Slough Town | League | | | Match report |
| 04-05-1981 | Walthamstow | 2-4 | Slough Town | Isthmian Lge Cup | | | Match report |
| 28-04-1981 | Slough Town | 3-2 | Sutton United | League | | | Match report |
| 25-04-1981 | Slough Town | 6-0 | Carshalton Ath | League | | | Match report |
| 18-04-1981 | Slough Town | 1-2 | Hendon | League | | | Match report |
| 14-04-1981 | Hitchin Town | 1-0 | Slough Town | League | | | Match report |
| 11-04-1981 | Enfield | 0-0 | Slough Town | League | | | Match report |
| 04-04-1981 | Slough Town | 4-0 | Croydon | League | | | Match report |
| 31-03-1981 | Slough Town | 2-1 | Bishop's Stortford | Isthmian Lge Cup | | | Match report |
| 28-03-1981 | Slough Town | 0-0 | Enfield | League | | | Match report |
| 24-03-1981 | Bishop's Stortford | 1-1 | Slough Town | Isthmian Lge Cup | | | Match report |
| 07-03-1981 | Hendon | 1-1 | Slough Town | League | | | Match report |
| 28-02-1981 | Tooting | 2-1 | Slough Town | League | | | Match report |
| 21-02-1981 | Barking | 1-1 | Slough Town | League | | | Match report |
| 17-02-1981 | Slough Town | 1-0 | Enfield | Isthmian Lge Cup | | | Match report |
| 14-02-1981 | Slough Town | 5-1 | Dulwich Hamlet | League | | | Match report |
| 07-02-1981 | Leatherhead | 0-2 | Slough Town | League | | | Match report |
| 31-01-1981 | Didcot Town | 1-3 | Slough Town | B&B Senior Cup | | | Match report |
| 24-01-1981 | Dagenham | 0-2 | Slough Town | League | | | Match report |
| 17-01-1981 | Harlow Town | 1-1 | Slough Town | League | | | Match report |
| 10-01-1981 | Dartford | 4-1 | Slough Town | FA Trophy | | | Match report |
| 03-01-1981 | Slough Town | 1-0 | Boreham Wood | League | | | Match report |
| 01-01-1981 | Slough Town | 2-1 | Wycombe Wanderers | League | | | Match report |
| 23-12-1980 | Slough Town | 3-1 | Staines Town | League | | | Match report |
| 16-12-1980 | Boreham Wood | 1-0 | Slough Town | League | | | Match report |
| 13-12-1980 | Slough Town | 2-1 | Bromley | League | | | Match report |
| 09-12-1980 | Leytonstone Ilford | 3-3 | Slough Town | League | | | Match report |
| 06-12-1980 | Slough Town | 1-0 | Barking | League | | | Match report |
| 29-11-1980 | Slough Town | 6-0 | Wokingham Town | FA Trophy | | | Match report |
| 26-11-1980 | Newbury Town | 0-3 | Slough Town | B&B Senior Cup | | | Match report |
| 22-11-1980 | Croydon | 1-1 | Slough Town | League | | | Match report |
| 18-11-1980 | Slough Town | 3-1 | Barton Rovers | Isthmian Lge Cup | | | Match report |
| 11-11-1980 | Woking | 2-0 | Slough Town | League | | | Match report |
| 08-11-1980 | Slough Town | 1-0 | Leatherhead | League | | | Match report |
| 03-11-1980 | Harrow Borough | 2-0 | Slough Town | League | | | Match report |
| 01-11-1980 | Walthamstow | 0-2 | Slough Town | League | | | Match report |
| 28-10-1980 | Slough Town | 3-0 | Hayes | League | | | Match report |
| 25-10-1980 | Dulwich Hamlet | 0-1 | Slough Town | League | | | Match report |
| 21-10-1980 | Staines Town | 0-2 | Slough Town | League | | | Match report |
| 18-10-1980 | Slough Town | 0-1 | Barton Rovers | FA Cup | | | Match report |
| 11-10-1980 | Slough Town | 2-0 | Wantage Town | B&B Senior Cup | | | Match report |
| 04-10-1980 | Hounslow | 1-3 | Slough Town | FA Cup | | | Match report |
| 30-09-1980 | Slough Town | 0-0 | Hitchin Town | League | | | Match report |
| 27-09-1980 | Slough Town | 2-1 | Leytonstone Ilford | League | | | Match report |
| 23-09-1980 | Slough Town | 3-1 | Dagenham | Isthmian Lge Cup | | | Match report |
| 20-09-1980 | Slough Town | 2-1 | Tooting | League | | | Match report |
| 13-09-1980 | Slough Town | 5-1 | Ware | FA Cup | | | Match report |
| 09-09-1980 | Slough Town | 1-1 | Woking | League | | | Match report |
| 06-09-1980 | Slough Town | 2-2 | Harlow Town | League | | | Match report |
| 02-09-1980 | Slough Town | 1-0 | Harrow Borough | League | | | Match report |
| 30-08-1980 | Bromley | 1-1 | Slough Town | League | | | Match report |
| 25-08-1980 | Slough Town | 2-1 | Horsham | Isthmian Lge Cup | | | Match report |
| 23-08-1980 | Carshalton Ath | 0-3 | Slough Town | League | | | Match report |
| 19-08-1980 | Hayes | 0-0 | Slough Town | League | | | Match report |
| 16-08-1980 | Slough Town | 3-3 | Dagenham | League | | | Match report |
| 04-05-1973 | Slough Town | 1-0 | Dagenham | League | | | Match report |
| 30-04-1973 | Slough Town | 4-0 | Cheshunt | League | | | Match report |
| 28-04-1973 | Wembley | 0-2 | Slough Town | League | | | Match report |
| 23-04-1973 | Wycombe Wanderers | 0-1 | Slough Town | B&B Senior Cup | | | Match report |
| 21-04-1973 | Slough Town | 5-1 | Erith | League | | | Match report |
| 19-04-1973 | Hornchurch | 1-2 | Slough Town | League | | | Match report |
| 16-04-1973 | Slough Town | 5-0 | Wembley | Athenian League Cup | | | Match report |
| 14-04-1973 | Walton & Hersham | 1-0 | Slough Town | FA Amateur Cup | | | Match report |
| 07-04-1973 | Slough Town | 4-1 | Hornchurch | League | | | Match report |
| 31-03-1973 | Slough Town | 0-0 | Croydon | League | | | Match report |
| 26-03-1973 | Redhill | 0-7 | Slough Town | League | | | Match report |
| 24-03-1973 | Harwich | 2-4 | Slough Town | League | | | Match report |
| 19-03-1973 | Slough Town | 2-0 | Maidenhead United | Athenian League Cup | | | Match report |
| 10-03-1973 | Bishop's Stortford | 0-1 | Slough Town | FA Amateur Cup | | | Match report |
| 03-03-1973 | Wokingham Town | 0-1 | Slough Town | B&B Senior Cup | | | Match report |
| 26-02-1973 | Slough Town | 0-0 | Hayes | Premier Midweek FL | | | Match report |
| 24-02-1973 | Harlow Town | 1-3 | Slough Town | League | | | Match report |
| 20-02-1973 | Hampton | 1-3 | Slough Town | Premier Midweek FL | | | Match report |
| 17-02-1973 | Slough Town | 2-1 | Blyth Spartans | FA Amateur Cup | | | Match report |
| 10-02-1973 | Slough Town | 3-0 | Cheshunt | Athenian League Cup | | | Match report |
| 03-02-1973 | Slough Town | 2-1 | Boreham Wood | League | | | Match report |
| 30-01-1973 | Hayes | 0-0 | Slough Town | Premier Midweek FL | | | Match report |
| 27-01-1973 | Slough Town | 2-1 | Leytonstone | FA Amateur Cup | | | Match report |
| 20-01-1973 | Slough Town | 3-1 | Aylesbury United | B&B Senior Cup | | | Match report |
| 13-01-1973 | Maidenhead United | 0-0 | Slough Town | League | | | Match report |
| 08-01-1973 | Slough Town | 3-2 | Southall | Premier Midweek FL | | | Match report |
| 06-01-1973 | Eastbourne Utd | 0-2 | Slough Town | FA Amateur Cup | | | Match report |
| 30-12-1972 | Lewes | 1-0 | Slough Town | League | | | Match report |
| 16-12-1972 | Aveley | 1-0 | Slough Town | League | | | Match report |
| 09-12-1972 | Slough Town | 2-1 | Cadbury Heath | FA Amateur Cup | | | Match report |
| 25-11-1972 | Slough Town | 2-1 | Boreham Wood | Athenian League Cup | | | Match report |
| 20-11-1972 | Slough Town | 1-1 | Hampton | Premier Midweek FL | | | Match report |
| 18-11-1972 | Croydon | 2-3 | Slough Town | League | | | Match report |
| 14-11-1972 | Southall | 0-0 | Slough Town | Premier Midweek FL | | | Match report |
| 11-11-1972 | Slough Town | 2-0 | Tilbury | League | | | Match report |
| 04-11-1972 | Erith | 2-0 | Slough Town | League | | | Match report |
| 01-11-1972 | Maidenhead United | 1-3 | Slough Town | Premier Midweek FL | | | Match report |
| 28-10-1972 | Redhill | 0-2 | Slough Town | League | | | Match report |
| 24-10-1972 | Wembley | 1-3 | Slough Town | Premier Midweek FL | | | Match report |
| 21-10-1972 | Slough Town | 5-0 | Southall | League | | | Match report |
| 14-10-1972 | Cheshunt | 0-1 | Slough Town | League | | | Match report |
| 07-10-1972 | Banbury United | 2-1 | Slough Town | FA Cup | | | Match report |
| 02-10-1972 | Slough Town | 1-0 | Wembley | Premier Midweek FL | | | Match report |
| 16-09-1972 | Slough Town | 0-0 | Bletchley | FA Cup | | | Match report |
| 09-09-1972 | Slough Town | 1-1 | Harwich | League | | | Match report |
| 05-09-1972 | Boreham Wood | 0-2 | Slough Town | League | | | Match report |
| 02-09-1972 | Slough Town | 1-0 | Bedford | FA Cup | | | Match report |
| 22-05-1972 | Slough Town | 1-0 | Walton & Hersham | Premier Midweek FL | | | Match report |
| 12-05-1972 | Dagenham | 0-2 | Slough Town | Athenian League Cup | | | Match report |
| 09-05-1972 | Leytonstone | 0-1 | Slough Town | Premier Midweek FL | | | Match report |
| 05-05-1972 | Cheshunt | 0-1 | Slough Town | League | | | Match report |
| 02-05-1972 | Southall | 3-3 | Slough Town | League | | | Match report |
| 29-04-1972 | Slough Town | 4-0 | Erith | League | | | Match report |
| 21-04-1972 | Slough Town | 1-0 | Cheshunt | League | | | Match report |
| 18-04-1972 | Marlow | 0-2 | Slough Town | Premier Midweek FL | | | Match report |
| 15-04-1972 | Aveley | 0-1 | Slough Town | Athenian League Cup | | | Match report |
| 08-04-1972 | Harwich | 1-0 | Slough Town | League | | | Match report |
| 03-04-1972 | Wycombe Wanderers | 0-3 | Slough Town | B&B Senior Cup | | | Match report |
| 25-03-1972 | Aveley | 1-2 | Slough Town | League | | | Match report |
| 20-03-1972 | Slough Town | 2-2 | Wycombe Wanderers | Premier Midweek FL | | | Match report |
| 18-03-1972 | Slough Town | 4-0 | Harwich | League | | | Match report |
| 11-03-1972 | Enfield | 5-1 | Slough Town | FA Amateur Cup | | | Match report |
| 04-03-1972 | Slough Town | 1-0 | Sutton United | FA Amateur Cup | | | Match report |
| 26-02-1972 | Slough Town | 6-1 | Windsor & Eton | B&B Senior Cup | | | Match report |
| 07-02-1972 | Slough Town | 5-1 | Maidenhead United | Premier Midweek FL | | | Match report |
| 05-02-1972 | Chesham United | 1-2 | Slough Town | Athenian League Cup | | | Match report |
| 22-01-1972 | Slough Town | 2-0 | Stony Stratford | B&B Senior Cup | | | Match report |
| 15-01-1972 | Slough Town | 1-1 | Lewes | League | | | Match report |
| 08-01-1972 | Slough Town | 2-0 | Kingstonian | FA Amateur Cup | | | Match report |
| 01-01-1972 | Slough Town | 1-0 | Redhill | League | | | Match report |
| 11-12-1971 | Slough Town | 3-1 | Tilbury | Athenian League Cup | | | Match report |
| 04-12-1971 | Slough Town | 1-1 | Leatherhead | League | | | Match report |
| 01-12-1971 | Oxford City | 1-3 | Slough Town | Premier Midweek FL | | | Match report |
| 20-11-1971 | Slough Town | 4-0 | Grays Athletic | League | | | Match report |
| 16-11-1971 | Chesham United | 0-2 | Slough Town | Premier Midweek FL | | | Match report |
| 30-10-1971 | Wembley | 0-1 | Slough Town | League | | | Match report |
| 23-10-1971 | Slough Town | 3-0 | Hornchurch | Athenian League Cup | | | Match report |
| 18-10-1971 | Banbury United | 2-3 | Slough Town | Premier Midweek FL | | | Match report |
| 11-10-1971 | Wokingham Town | 0-2 | Slough Town | Premier Midweek FL | | | Match report |
| 09-10-1971 | Slough Town | 0-1 | Romford | FA Cup | | | Match report |
| 04-10-1971 | Slough Town | 5-1 | Chesham United | Premier Midweek FL | | | Match report |
| 25-09-1971 | Tilbury | 2-0 | Slough Town | League | | | Match report |
| 18-09-1971 | Slough Town | 1-1 | Woking | FA Cup | | | Match report |
| 13-09-1971 | Slough Town | 5-0 | Wokingham Town | Premier Midweek FL | | | Match report |
| 11-09-1971 | Slough Town | 5-0 | Aveley | League | | | Match report |
| 06-09-1971 | Slough Town | 2-0 | Boreham Wood | League | | | Match report |
| 04-09-1971 | Lewes | 0-1 | Slough Town | League | | | Match report |
| 28-08-1971 | Slough Town | 2-1 | Wembley | League | | | Match report |
| 23-08-1971 | Slough Town | 4-0 | Southall | League | | | Match report |
| 21-08-1971 | Dagenham | 3-2 | Slough Town | League | | | Match report |
| 18-08-1971 | Redhill | 0-2 | Slough Town | League | | | Match report |
| 13-05-1971 | Slough Town | 7-0 | Hemel Hempstead Town | Premier Midweek FL | | | Match report |
| 12-05-1971 | Slough Town | 2-1 | Hayes | League | | | Match report |
| 10-05-1971 | Wycombe Wanderers | 1-0 | Slough Town | B&B Senior Cup | | | Match report |
| 19-04-1971 | Slough Town | 1-1 | Redhill | League | | | Match report |
| 05-04-1971 | Slough Town | 0-1 | Leatherhead | League | | | Match report |
| 03-04-1971 | Bishop's Stortford | 1-1 | Slough Town | League | | | Match report |
| 31-03-1971 | Slough Town | 2-0 | Cheshunt | League | | | Match report |
| 13-03-1971 | Slough Town | 3-1 | Chesham United | B&B Senior Cup | | | Match report |
| 09-03-1971 | Hemel Hempstead Town | 0-2 | Slough Town | Premier Midweek FL | | | Match report |
| 01-03-1971 | Slough Town | 1-1 | Oxford City | Premier Midweek FL | | | Match report |
| 23-02-1971 | Wycombe Wanderers | 0-2 | Slough Town | Premier Midweek FL | | | Match report |
| 09-02-1971 | Leatherhead | 1-1 | Slough Town | League | | | Match report |
| 11-01-1971 | Slough Town | 1-2 | Wycombe Wanderers | Premier Midweek FL | | | Match report |
| 09-01-1971 | Slough Town | 1-1 | Redhill | FA Amateur Cup | | | Match report |
| 26-12-1970 | Slough Town | 1-1 | Maidenhead United | League | | | Match report |
| 21-12-1970 | Slough Town | 6-1 | Chesham United | Premier Midweek FL | | | Match report |
| 19-12-1970 | Slough Town | 4-1 | Marlow | B&B Senior Cup | | | Match report |
| 12-12-1970 | Slough Town | 0-1 | Barnet | FA Cup | | | Match report |
| 05-12-1970 | Walton & Hersham | 1-0 | Slough Town | League | | | Match report |
| 30-11-1970 | Slough Town | 3-1 | Maidenhead United | Premier Midweek FL | | | Match report |
| 28-11-1970 | Slough Town | 0-1 | Dagenham | League | | | Match report |
| 25-11-1970 | Slough Town | 1-0 | Wycombe Wanderers | FA Cup | | | Match report |
| 21-11-1970 | Wycombe Wanderers | 1-1 | Slough Town | FA Cup | | | Match report |
| 17-11-1970 | Wealdstone | 1-6 | Slough Town | Premier Midweek FL | | | Match report |
| 14-11-1970 | Harwich | 0-2 | Slough Town | League | | | Match report |
| 09-11-1970 | Hillingdon Borough | 0-2 | Slough Town | FA Cup | | | Match report |
| 24-10-1970 | Slough Town | 2-1 | Ilford | FA Cup | | | Match report |
| 20-10-1970 | Chesham United | 2-1 | Slough Town | Premier Midweek FL | | | Match report |
| 06-10-1970 | Marlow | 2-2 | Slough Town | Premier Midweek FL | | | Match report |
Slough Town FC is not responsible for content produced on external websites | Copyright Slough Town FC 2023