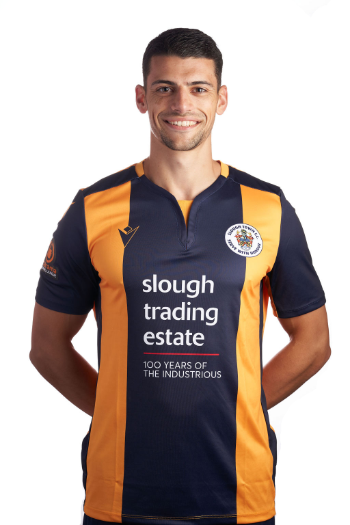 Stats
Position:
Defender
First Appearance:
13-08-2016 vs Kings Langley
Appearances:
137
First Goal:
15-08-2017 vs Gosport Borough
Goals:
8
Achievements
2017/18 Won promotion to National League South
2018/19 Berks & Bucks FA Senior Cup
Bio
Josh Jackman joined the club in the summer of 2016 from March Town after a recommendation to Neil Baker.

27-year-old Jackman is a right-back who is equally comfortable in midfield and on the left. He began to feature more regularly in 2017/18, also chipping in with his first goals for the club, and featured heavily in 2018/19, the club's first season in National League South.
History
| Match Date | Home | Score | Away | Competition | Goals | Cards | |
| --- | --- | --- | --- | --- | --- | --- | --- |
| 19-01-2021 | Slough Town | 0-2 | Ebbsfleet United | League | | | Match report |
| 16-01-2021 | Slough Town | 3-2 | Braintree Town | League | | | Match report |
| 15-12-2020 | Slough Town | 2-2 | Dartford | FA Trophy | | | Match report |
| 09-12-2020 | Havant & Waterlooville | 0-0 | Slough Town | League | | | Match report |
| 05-12-2020 | Chippenham Town | 2-2 | Slough Town | League | | | Match report |
| 21-11-2020 | Dartford | 2-0 | Slough Town | League | | | Match report |
| 14-11-2020 | Billericay Town | 2-0 | Slough Town | League | | | Match report |
| 07-11-2020 | Slough Town | 2-3 | Maidstone United | League | | | Match report |
| 31-10-2020 | Slough Town | 2-1 | Bath City | League | | | Match report |
| 17-10-2020 | Slough Town | 4-4 | Welling United | League | | | Match report |
| 13-10-2020 | Slough Town | 0-1 | Bath City | FA Cup | | | Match report |
| 06-10-2020 | Slough Town | 1-0 | Hemel Hempstead Town | League | | | Match report |
| 03-10-2020 | Dartford | 0-1 | Slough Town | FA Cup | | | Match report |
| 19-07-2020 | Slough Town | 0-3 | Dartford | Play Off | | | Match report |
| 14-03-2020 | Weymouth | 2-0 | Slough Town | League | | | Match report |
| 07-03-2020 | Slough Town | 0-2 | Hungerford Town | League | | | Match report |
| 29-02-2020 | Dorking Wanderers | 3-5 | Slough Town | League | | | Match report |
| 22-02-2020 | Chelmsford City | 1-1 | Slough Town | League | | | Match report |
| 15-02-2020 | Slough Town | 1-1 | Havant & Waterlooville | League | | | Match report |
| 08-02-2020 | Welling United | 1-2 | Slough Town | League | | | Match report |
| 01-02-2020 | Slough Town | 0-1 | Oxford City | League | | | Match report |
| 28-01-2020 | Hampton & Richmond Boro' | 1-2 | Slough Town | League | | | Match report |
| 25-01-2020 | Braintree Town | 0-1 | Slough Town | League | | | Match report |
| 18-01-2020 | Slough Town | 1-0 | Dartford | League | | | Match report |
| 11-01-2020 | Billericay Town | 2-2 | Slough Town | League | | | Match report |
| 04-01-2020 | Slough Town | 1-1 | Eastbourne Borough | League | | | Match report |
| 01-01-2020 | Wealdstone | 2-1 | Slough Town | League | | | Match report |
| 28-12-2019 | Hemel Hempstead Town | 1-1 | Slough Town | League | | | Match report |
| 07-12-2019 | Slough Town | 1-0 | Braintree Town | League | | | Match report |
| 30-11-2019 | Slough Town | 0-0 | Tonbridge Angels | League | | | Match report |
| 26-11-2019 | Slough Town | 2-3 | Concord Rangers | FA Trophy | | | Match report |
| 23-11-2019 | Concord Rangers | 0-0 | Slough Town | FA Trophy | | | Match report |
| 16-11-2019 | Chippenham Town | 0-3 | Slough Town | League | | | Match report |
| 02-11-2019 | Slough Town | 2-1 | Chelmsford City | League | | | Match report |
| 29-10-2019 | Slough Town | 1-0 | Welling United | League | | | Match report |
| 26-10-2019 | Oxford City | 2-1 | Slough Town | League | | | Match report |
| 12-10-2019 | Slough Town | 3-1 | Billericay Town | League | | | Match report |
| 05-10-2019 | Chippenham Town | 3-3 | Slough Town | FA Cup | | | Match report |
| 28-09-2019 | Dartford | 2-3 | Slough Town | League | | | Match report |
| 21-09-2019 | Flackwell Heath | 0-3 | Slough Town | FA Cup | | | Match report |
| 14-09-2019 | Slough Town | 3-1 | Hampton & Richmond Boro' | League | | | Match report |
| 07-09-2019 | Eastbourne Borough | 0-2 | Slough Town | League | | | Match report |
| 03-09-2019 | Slough Town | 2-0 | Hemel Hempstead Town | League | | | Match report |
| 31-08-2019 | Slough Town | 1-1 | St Albans City | League | | | Match report |
| 26-08-2019 | Dulwich Hamlet | 2-3 | Slough Town | League | | | Match report |
| 24-08-2019 | Slough Town | 3-2 | Bath City | League | | | Match report |
| 06-05-2019 | Reading | 1-3 | Slough Town | B&B Senior Cup | | | Match report |
| 27-04-2019 | Truro City | 3-3 | Slough Town | League | | | Match report |
| 22-04-2019 | Slough Town | 1-1 | Eastbourne Borough | League | | | Match report |
| 13-04-2019 | Slough Town | 1-0 | Welling United | League | | | Match report |
| 06-04-2019 | Hungerford Town | 1-2 | Slough Town | League | | | Match report |
| 30-03-2019 | Slough Town | 2-2 | St Albans City | League | | | Match report |
| 23-03-2019 | Woking | 0-1 | Slough Town | League | | | Match report |
| 16-03-2019 | Slough Town | 2-1 | Billericay Town | League | | | Match report |
| 09-03-2019 | Concord Rangers | 2-2 | Slough Town | League | | | Match report |
| 02-03-2019 | Slough Town | 1-0 | Hemel Hempstead Town | League | | | Match report |
| 23-02-2019 | Bath City | 2-0 | Slough Town | League | | | Match report |
| 12-02-2019 | Slough Town | 1-2 | Gloucester City | League | | | Match report |
| 09-02-2019 | Hampton & Richmond Boro' | 1-1 | Slough Town | League | | | Match report |
| 29-01-2019 | Billericay Town | 3-2 | Slough Town | League | | | Match report |
| 26-01-2019 | Weston-super-Mare | 2-0 | Slough Town | League | | | Match report |
| 19-01-2019 | Slough Town | 2-2 | Chippenham Town | League | | | Match report |
| 15-01-2019 | Hungerford Town | 1-2 | Slough Town | B&B Senior Cup | | | Match report |
| 12-01-2019 | Slough Town | 1-0 | Chelmsford City | League | | | Match report |
| 08-01-2019 | Slough Town | 0-0 | Bath City | League | | | Match report |
| 05-01-2019 | Torquay United | 4-0 | Slough Town | League | | | Match report |
| 26-12-2018 | Wealdstone | 0-3 | Slough Town | League | | | Match report |
| 22-12-2018 | Slough Town | 3-1 | East Thurrock United | League | | | Match report |
| 11-12-2018 | Slough Town | 1-2 | Truro City | League | | | Match report |
| 08-12-2018 | Dartford | 1-1 | Slough Town | League | | | Match report |
| 02-12-2018 | Slough Town | 0-1 | Gillingham | FA Cup | | | Match report |
| 20-11-2018 | Slough Town | 1-1 | Sutton United | FA Cup | | | Match report |
| 17-11-2018 | Slough Town | 0-1 | Woking | League | | | Match report |
| 13-11-2018 | Slough Town | 6-3 | Chalfont St Peter | B&B Senior Cup | | | Match report |
| 10-11-2018 | Sutton United | 0-0 | Slough Town | FA Cup | | | Match report |
| 03-11-2018 | Slough Town | 1-0 | Concord Rangers | League | | | Match report |
| 30-10-2018 | Hemel Hempstead Town | 1-1 | Slough Town | League | | | Match report |
| 27-10-2018 | St Albans City | 3-2 | Slough Town | League | | | Match report |
| 20-10-2018 | Eastbourne Borough | 1-2 | Slough Town | FA Cup | | | Match report |
| 13-10-2018 | Welling United | 2-1 | Slough Town | League | | | Match report |
| 06-10-2018 | Slough Town | 2-2 | Bristol Manor Farm | FA Cup | | | Match report |
| 29-09-2018 | Slough Town | 2-0 | Hungerford Town | League | | | Match report |
| 25-09-2018 | Sholing | 0-3 | Slough Town | FA Cup | | | Match report |
| 15-09-2018 | Eastbourne Borough | 2-4 | Slough Town | League | | | Match report |
| 08-09-2018 | Slough Town | 2-0 | Oxford City | League | | | Match report |
| 01-09-2018 | Chelmsford City | 0-1 | Slough Town | League | | | Match report |
| 25-08-2018 | East Thurrock United | 1-0 | Slough Town | League | | | Match report |
| 14-08-2018 | Slough Town | 2-1 | Weston-super-Mare | League | | | Match report |
| 11-08-2018 | Gloucester City | 1-2 | Slough Town | League | | | Match report |
| 04-08-2018 | Slough Town | 1-1 | Hampton & Richmond Boro' | League | | | Match report |
| 18-04-2018 | Slough Town | 1-4 | MK Dons | B&B Senior Cup | | | Match report |
| 10-04-2018 | Biggleswade Town | 3-5 | Slough Town | League | | | Match report |
| 07-04-2018 | Stratford Town | 0-1 | Slough Town | League | | | Match report |
| 04-04-2018 | Frome Town | 0-4 | Slough Town | League | | | Match report |
| 02-04-2018 | Slough Town | 2-1 | Chesham United | League | | | Match report |
| 30-03-2018 | Dunstable Town | 0-3 | Slough Town | League | | | Match report |
| 20-03-2018 | St Ives Town | 1-4 | Slough Town | League | | | Match report |
| 17-03-2018 | Bishop's Stortford | 2-2 | Slough Town | League | | | Match report |
| 13-03-2018 | King's Lynn Town | 1-0 | Slough Town | League | | | Match report |
| 10-02-2018 | Slough Town | 0-1 | Banbury United | League | | | Match report |
| 06-02-2018 | Slough Town | 4-0 | Redditch United | League | | | Match report |
| 03-02-2018 | Tiverton Town | 3-0 | Slough Town | League | | | Match report |
| 27-01-2018 | Slough Town | 3-2 | Merthyr Town | League | | | Match report |
| 23-01-2018 | Bracknell Town | 2-3 | Slough Town | B&B Senior Cup | | | Match report |
| 19-12-2017 | Slough Town | 5-0 | Wantage Town | B&B Senior Cup | | | Match report |
| 09-12-2017 | Slough Town | 2-4 | Bishop's Stortford | League | | | Match report |
| 28-11-2017 | Slough Town | 1-1 | Hendon | FA Trophy | | | Match report |
| 25-11-2017 | Hendon | 1-1 | Slough Town | FA Trophy | | | Match report |
| 18-11-2017 | Slough Town | 3-0 | Weymouth | League | | | Match report |
| 14-11-2017 | Hayes & Yeading | 3-1 | Slough Town | League Cup | | | Match report |
| 11-11-2017 | Maldon & Tiptree | 1-4 | Slough Town | FA Trophy | | | Match report |
| 28-10-2017 | Kidlington | 1-4 | Slough Town | FA Trophy | | | Match report |
| 24-10-2017 | Slough Town | 5-1 | Gosport Borough | League | | | Match report |
| 17-10-2017 | Slough Town | 2-0 | Tiverton Town | League | | | Match report |
| 14-10-2017 | Slough Town | 1-0 | Folkestone Invicta | FA Cup | | | Match report |
| 07-10-2017 | Slough Town | 2-1 | Biggleswade Town | League | | | Match report |
| 02-10-2017 | Beaconsfield Town | 2-2 | Slough Town | League Cup | | | Match report |
| 30-09-2017 | Slough Town | 2-1 | Poole Town | FA Cup | | | Match report |
| 26-09-2017 | Redditch United | 1-4 | Slough Town | League | | | Match report |
| 12-09-2017 | Slough Town | 4-0 | Hitchin Town | League | | | Match report |
| 28-08-2017 | Farnborough | 1-2 | Slough Town | League | | | Match report |
| 19-08-2017 | Hereford | 0-1 | Slough Town | League | | | Match report |
| 15-08-2017 | Gosport Borough | 1-5 | Slough Town | League | | | Match report |
| 26-04-2017 | Leamington | 1-0 | Slough Town | Play Off | | | Match report |
| 22-04-2017 | Slough Town | 1-1 | Redditch United | League | | | Match report |
| 25-02-2017 | Dorchester Town | 0-4 | Slough Town | League | | | Match report |
| 11-02-2017 | Cambridge City | 3-4 | Slough Town | League | | | Match report |
| 20-12-2016 | Slough Town | 3-0 | MK Dons | B&B Senior Cup | | | Match report |
| 23-11-2016 | Northwood | 1-0 | Slough Town | League Cup | | | Match report |
| 29-10-2016 | Slough Town | 4-1 | Bognor Regis Town | FA Trophy | | | Match report |
| 25-10-2016 | Slough Town | 2-1 | Dorchester Town | League | | | Match report |
| 22-10-2016 | Basingstoke Town | 4-1 | Slough Town | League | | | Match report |
| 18-10-2016 | Slough Town | 7-4 | Beaconsfield Town | B&B Senior Cup | | | Match report |
| 11-10-2016 | Dunstable Town | 0-1 | Slough Town | League | | | Match report |
| 03-09-2016 | Slough Town | 6-1 | Chipstead | FA Cup | | | Match report |
| 27-08-2016 | Cirencester Town | 1-3 | Slough Town | League | | | Match report |
| 13-08-2016 | Kings Langley | 2-3 | Slough Town | League | | | Match report |
Slough Town FC is not responsible for content produced on external websites | Copyright Slough Town FC 2021