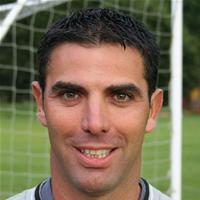 Position:
Midfielder
Bio
Darron Wilkinson joined from Woking during the 2000/1 season.
He also has experience from playing for Hayes, who during his time there achieved their highest placed Conference finish. Tough tackling, no nonsense midfielder who has also filled in at right back and looked equally comfortable. Racked up well over 200 appearances for Slough. Despite Darron's role, he also managed to chip in with some vital goals during his time with the club, scoring twice - most memorably an 88th-minute winner against Salisbury City in an FA Cup tie at Stag Meadow, which sent the Rebels through into a home tie with Walsall in the First Round Proper.
Appointed as player-coach during the summer of 2006 and took over as manager in January 2007, although stood down in November of that year following a mixed start to the campaign which saw him make an appearance in goal in an FA Cup loss at home to Fleet after regular keeper Richard Barnard was unable to make the game.
Mens
| First Appearance | Appearances | First Goal | Goals |
| --- | --- | --- | --- |
| 23-09-2000 vs Croydon | 245 | 05-01-2002 vs Worthing | 3 |
History
| Match Date | Home | Score | Away | Competition | Goals | Cards | |
| --- | --- | --- | --- | --- | --- | --- | --- |
| 24-11-2007 | Didcot Town | 2-0 | Slough Town | League | | | Match report |
| 10-11-2007 | Uxbridge | 2-1 | Slough Town | League | | | Match report |
| 03-11-2007 | Slough Town | 3-6 | Didcot Town | League | | | Match report |
| 27-10-2007 | Slough Town | 2-0 | Newport IOW | League | | | Match report |
| 23-10-2007 | Didcot Town | 5-1 | Slough Town | B&B Senior Cup | | | Match report |
| 16-10-2007 | Farnborough | 5-0 | Slough Town | League | | | Match report |
| 09-10-2007 | Hillingdon Borough | 2-1 | Slough Town | FA Trophy | | | Match report |
| 06-10-2007 | Slough Town | 1-1 | Hillingdon Borough | FA Trophy | | | Match report |
| 02-10-2007 | Slough Town | 3-1 | Bracknell Town | League | | | Match report |
| 25-09-2007 | AFC Hayes | 6-1 | Slough Town | Red Insure Cup | | | Match report |
| 22-09-2007 | Slough Town | 1-2 | Gosport Borough | League | | | Match report |
| 08-09-2007 | Slough Town | 2-1 | Andover | League | | | Match report |
| 01-09-2007 | Slough Town | 1-4 | Fleet Town | FA Cup | | | Match report |
| 28-04-2007 | Hampton & Richmond | 4-2 | Slough Town | League | | | Match report |
| 24-04-2007 | Slough Town | 0-2 | Staines Town | League | | | Match report |
| 21-04-2007 | Slough Town | 0-4 | Chelmsford City | League | | | Match report |
| 14-04-2007 | Slough Town | 0-8 | Bromley | League | | | Match report |
| 31-03-2007 | AFC Wimbledon | 9-0 | Slough Town | League | | | Match report |
| 27-03-2007 | Walton & Hersham | 3-0 | Slough Town | League | | | Match report |
| 24-03-2007 | Slough Town | 0-3 | Ramsgate | League | | | Match report |
| 19-03-2007 | Slough Town | 0-4 | Boreham Wood | League | | | Match report |
| 13-03-2007 | Slough Town | 0-5 | Walton & Hersham | League | | | Match report |
| 10-03-2007 | Slough Town | 2-3 | Tonbridge Angels | League | | | Match report |
| 05-03-2007 | Hendon | 2-0 | Slough Town | League | | | Match report |
| 24-02-2007 | East Thurrock United | 4-1 | Slough Town | League | | | Match report |
| 17-02-2007 | Slough Town | 0-1 | Hendon | League | | | Match report |
| 03-02-2007 | Slough Town | 1-1 | Worthing | League | | | Match report |
| 30-01-2007 | Horsham | 4-0 | Slough Town | League | | | Match report |
| 27-01-2007 | Heybridge Swifts | 2-3 | Slough Town | League | | | Match report |
| 09-01-2007 | Carshalton Ath | 5-1 | Slough Town | League | | | Match report |
| 26-12-2006 | Slough Town | 0-2 | Ashford Town (Middx) | League | | | Match report |
| 23-12-2006 | Chelmsford City | 5-0 | Slough Town | League | | | Match report |
| 16-12-2006 | Slough Town | 0-3 | Hampton & Richmond | League | | | Match report |
| 22-11-2006 | Slough Town | 1-2 | Aylesbury United | B&B Senior Cup | | | Match report |
| 18-11-2006 | Worthing | 2-2 | Slough Town | League | | | Match report |
| 28-10-2006 | Boreham Wood | 6-0 | Slough Town | League | | | Match report |
| 21-10-2006 | Leighton Town | 4-1 | Slough Town | FA Trophy | | | Match report |
| 17-10-2006 | Staines Town | 1-2 | Slough Town | League | | | Match report |
| 14-10-2006 | Slough Town | 2-0 | Billericay Town | League | | | Match report |
| 10-10-2006 | Slough Town | 0-4 | Ashford Town (Middx) | Ryman League Cup | | | Match report |
| 07-10-2006 | Ramsgate | 2-1 | Slough Town | League | | | Match report |
| 30-09-2006 | Farnborough Town | 2-0 | Slough Town | FA Cup | | | Match report |
| 26-09-2006 | Slough Town | 0-2 | Carshalton Ath | League | | | Match report |
| 23-09-2006 | Slough Town | 0-2 | Folkestone Invicta | League | | | Match report |
| 16-09-2006 | Cobham | 1-2 | Slough Town | FA Cup | | | Match report |
| 12-09-2006 | Arlesey Town | 1-3 | Slough Town | Ryman League Cup | | | Match report |
| 09-09-2006 | Tonbridge Angels | 3-2 | Slough Town | League | | | Match report |
| 05-09-2006 | Slough Town | 0-0 | AFC Wimbledon | League | | | Match report |
| 02-09-2006 | Bromley | 4-0 | Slough Town | League | | | Match report |
| 28-08-2006 | Slough Town | 1-3 | Horsham | League | | | Match report |
| 26-08-2006 | Margate | 2-1 | Slough Town | League | | | Match report |
| 29-04-2006 | Slough Town | 1-2 | Heybridge Swifts | League | | | Match report |
| 17-04-2006 | Slough Town | 3-3 | Windsor & Eton | League | | | Match report |
| 14-04-2006 | Braintree Town | 2-1 | Slough Town | League | | | Match report |
| 25-03-2006 | Slough Town | 0-3 | Worthing | League | | | Match report |
| 13-03-2006 | Fisher Ath | 5-2 | Slough Town | Ryman League Cup | | | Match report |
| 11-03-2006 | Slough Town | 0-4 | Fisher Ath | League | | | Match report |
| 04-03-2006 | Hendon | 1-1 | Slough Town | League | | | Match report |
| 28-02-2006 | MK Dons | 6-1 | Slough Town | B&B Senior Cup | | | Match report |
| 21-01-2006 | Slough Town | 2-2 | Margate | League | | | Match report |
| 07-01-2006 | Billericay Town | 0-2 | Slough Town | League | | | Match report |
| 02-01-2006 | Slough Town | 0-1 | Hampton & Richmond | League | | | Match report |
| 26-12-2005 | Windsor & Eton | 0-3 | Slough Town | League | | | Match report |
| 19-12-2005 | Leatherhead | 0-2 | Slough Town | Ryman League Cup | | | Match report |
| 17-12-2005 | Heybridge Swifts | 1-0 | Slough Town | League | | | Match report |
| 10-12-2005 | Slough Town | 5-2 | Harrow Borough | League | | | Match report |
| 03-12-2005 | Bromley | 2-3 | Slough Town | League | | | Match report |
| 19-11-2005 | Fisher Ath | 1-2 | Slough Town | League | | | Match report |
| 08-11-2005 | Slough Town | 3-2 | Redbridge | Ryman League Cup | | | Match report |
| 05-11-2005 | Slough Town | 0-2 | Hendon | League | | | Match report |
| 29-10-2005 | Wealdstone | 2-2 | Slough Town | League | | | Match report |
| 25-10-2005 | Redbridge | 1-4 | Slough Town | League | | | Match report |
| 22-10-2005 | Slough Town | 0-1 | Chelmsford City | League | | | Match report |
| 16-10-2005 | Slough Town | 1-3 | Croydon Athletic | FA Trophy | | | Match report |
| 11-10-2005 | Slough Town | 1-2 | Staines Town | League | | | Match report |
| 04-10-2005 | Worthing | 4-2 | Slough Town | League | | | Match report |
| 24-09-2005 | Wroxham | 2-0 | Slough Town | FA Cup | | | Match report |
| 20-09-2005 | East Thurrock United | 3-2 | Slough Town | League | | | Match report |
| 17-09-2005 | Margate | 2-2 | Slough Town | League | | | Match report |
| 06-09-2005 | Slough Town | 3-2 | Redbridge | League | | | Match report |
| 03-09-2005 | Slough Town | 2-1 | Braintree Town | League | | | Match report |
| 29-08-2005 | Hampton & Richmond | 3-2 | Slough Town | League | | | Match report |
| 27-08-2005 | Slough Town | 0-2 | AFC Wimbledon | League | | | Match report |
| 23-08-2005 | Slough Town | 0-0 | Leyton | League | | | Match report |
| 20-08-2005 | Billericay Town | 3-1 | Slough Town | League | | | Match report |
| 23-04-2005 | Slough Town | 1-1 | Northwood | League | | | Match report |
| 19-04-2005 | Yeading | 3-3 | Slough Town | League | | | Match report |
| 16-04-2005 | Slough Town | 0-6 | Billericay Town | League | | | Match report |
| 12-04-2005 | Slough Town | 1-0 | Staines Town | League | | | Match report |
| 09-04-2005 | Hendon | 0-0 | Slough Town | League | | | Match report |
| 07-04-2005 | Slough Town | 1-3 | Hendon | League | | | Match report |
| 02-04-2005 | Slough Town | 0-1 | Hampton & Richmond | League | | | Match report |
| 28-03-2005 | Windsor & Eton | 0-4 | Slough Town | League | | | Match report |
| 26-02-2005 | Ebbsfleet United | 3-2 | Slough Town | FA Trophy | | | Match report |
| 22-02-2005 | Slough Town | 4-2 | AFC Wimbledon | Ryman League Cup | | | Match report |
| 19-02-2005 | Heybridge Swifts | 5-2 | Slough Town | League | | | Match report |
| 15-01-2005 | Slough Town | 4-3 | Hendon | FA Trophy | | | Match report |
| 04-12-2004 | Slough Town | 1-3 | Yeading | FA Cup | | | Match report |
| 13-11-2004 | Slough Town | 2-1 | Walsall | FA Cup | | | Match report |
| 31-10-2004 | Slough Town | 3-2 | Salisbury City | FA Cup | | | Match report |
| 23-10-2004 | Chelmsford City | 3-0 | Slough Town | League | | | Match report |
| 20-10-2004 | Slough Town | 1-1 | Folkestone Invicta | League | | | Match report |
| 16-10-2004 | Slough Town | 4-0 | Cheshunt | FA Cup | | | Match report |
| 11-10-2004 | Kingstonian | 0-4 | Slough Town | League | | | Match report |
| 09-10-2004 | Leyton | 0-1 | Slough Town | League | | | Match report |
| 02-10-2004 | Slough Town | 4-1 | Welling United | FA Cup | | | Match report |
| 25-09-2004 | Slough Town | 2-2 | Yeading | League | | | Match report |
| 14-09-2004 | Slough Town | 1-4 | Eastleigh | League | | | Match report |
| 11-09-2004 | Cheshunt | 1-0 | Slough Town | League | | | Match report |
| 07-09-2004 | Staines Town | 4-0 | Slough Town | League | | | Match report |
| 04-09-2004 | Slough Town | 3-0 | Braintree Town | League | | | Match report |
| 28-08-2004 | Hampton & Richmond | 2-2 | Slough Town | League | | | Match report |
| 24-08-2004 | Tonbridge Angels | 2-2 | Slough Town | League | | | Match report |
| 21-08-2004 | Slough Town | 1-0 | Wealdstone | League | | | Match report |
| 18-08-2004 | Slough Town | 2-0 | Harrow Borough | League | | | Match report |
| 14-08-2004 | Dover Athletic | 3-1 | Slough Town | League | | | Match report |
| 01-05-2004 | Slough Town | 3-1 | Croydon | League | | | Match report |
| 27-04-2004 | Slough Town | 1-1 | Worthing | League | | | Match report |
| 24-04-2004 | Metropolitan Police | 1-3 | Slough Town | League | | | Match report |
| 20-04-2004 | Egham Town | 2-3 | Slough Town | League | | | Match report |
| 17-04-2004 | Slough Town | 3-1 | Whyteleafe | League | | | Match report |
| 14-04-2004 | Slough Town | 0-1 | Bracknell Town | B&B Senior Cup | | | Match report |
| 12-04-2004 | Windsor & Eton | 1-4 | Slough Town | League | | | Match report |
| 10-04-2004 | Slough Town | 3-1 | Molesey | League | | | Match report |
| 03-04-2004 | Leatherhead | 2-3 | Slough Town | League | | | Match report |
| 27-03-2004 | Slough Town | 3-1 | Egham Town | League | | | Match report |
| 23-03-2004 | Corinthian Casuals | 4-1 | Slough Town | League | | | Match report |
| 20-03-2004 | Banstead Athletic | 1-2 | Slough Town | League | | | Match report |
| 13-03-2004 | Slough Town | 1-0 | Croydon Athletic | League | | | Match report |
| 06-03-2004 | Bracknell Town | 4-2 | Slough Town | League | | | Match report |
| 02-03-2004 | Slough Town | 1-1 | Walton & Hersham | League | | | Match report |
| 28-02-2004 | Dulwich Hamlet | 2-4 | Slough Town | League | | | Match report |
| 21-02-2004 | Slough Town | 1-0 | Lewes | League | | | Match report |
| 14-02-2004 | Staines Town | 1-3 | Slough Town | League | | | Match report |
| 10-02-2004 | Bromley | 0-4 | Slough Town | League | | | Match report |
| 24-01-2004 | Slough Town | 2-0 | Tooting & Mitcham Utd | League | | | Match report |
| 20-01-2004 | Maidenhead United | 1-2 | Slough Town | B&B Senior Cup | | | Match report |
| 17-01-2004 | Worthing | 2-0 | Slough Town | League | | | Match report |
| 10-01-2004 | Slough Town | 1-1 | Hampton & Richmond | League | | | Match report |
| 06-01-2004 | Walton & Hersham | 3-1 | Slough Town | League | | | Match report |
| 26-12-2003 | Slough Town | 1-3 | Windsor & Eton | League | | | Match report |
| 23-12-2003 | Ashford Town (Middx) | 1-2 | Slough Town | League | | | Match report |
| 20-12-2003 | Marlow | 0-0 | Slough Town | League | | | Match report |
| 13-12-2003 | Slough Town | 7-1 | Epsom & Ewell | League | | | Match report |
| 06-12-2003 | Slough Town | 3-0 | Metropolitan Police | League | | | Match report |
| 29-11-2003 | Croydon | 1-0 | Slough Town | League | | | Match report |
| 22-11-2003 | Slough Town | 1-2 | Dulwich Hamlet | League | | | Match report |
| 15-11-2003 | Horsham | 1-4 | Slough Town | League | | | Match report |
| 08-11-2003 | Slough Town | 2-2 | Staines Town | League | | | Match report |
| 04-11-2003 | Bishop's Stortford | 2-1 | Slough Town | FA Trophy | | | Match report |
| 02-11-2003 | Slough Town | 2-2 | Bishop's Stortford | FA Trophy | | | Match report |
| 28-10-2003 | Slough Town | 5-1 | Banstead Athletic | League | | | Match report |
| 14-10-2003 | Hampton & Richmond | 4-0 | Slough Town | League | | | Match report |
| 30-09-2003 | Welling United | 4-1 | Slough Town | FA Cup | | | Match report |
| 27-09-2003 | Slough Town | 1-1 | Welling United | FA Cup | | | Match report |
| 23-09-2003 | Slough Town | 4-1 | Bracknell Town | League | | | Match report |
| 13-09-2003 | Slough Town | 2-0 | Godalming & Guildford | FA Cup | | | Match report |
| 28-04-2003 | Slough Town | 2-1 | Wembley | League | | | Match report |
| 21-04-2003 | Slough Town | 0-2 | Yeading | League | | | Match report |
| 19-04-2003 | Leyton Pennant | 0-2 | Slough Town | League | | | Match report |
| 19-04-2003 | Leyton Pennant | 0-2 | Slough Town | League | | | Match report |
| 15-04-2003 | Slough Town | 2-0 | East Thurrock United | League | | | Match report |
| 12-04-2003 | Slough Town | 1-1 | Uxbridge | League | | | Match report |
| 08-04-2003 | Wivenhoe Town | 1-2 | Slough Town | League | | | Match report |
| 01-04-2003 | Aveley | 1-1 | Slough Town | League | | | Match report |
| 22-03-2003 | Slough Town | 5-1 | Tilbury | League | | | Match report |
| 18-03-2003 | Slough Town | 0-3 | Wingate & Finchley | League | | | Match report |
| 15-03-2003 | Hemel Hempstead Town | 2-2 | Slough Town | League | | | Match report |
| 08-03-2003 | Slough Town | 1-1 | Aveley | League | | | Match report |
| 25-02-2003 | Maidenhead United | 3-1 | Slough Town | B&B Senior Cup | | | Match report |
| 22-02-2003 | Slough Town | 3-1 | Barking & East Ham Utd | League | | | Match report |
| 15-02-2003 | Barton Rovers | 2-2 | Slough Town | League | | | Match report |
| 08-02-2003 | Slough Town | 3-0 | Arlesey Town | League | | | Match report |
| 04-02-2003 | Slough Town | 2-0 | Thame United | League | | | Match report |
| 28-01-2003 | Slough Town | 2-2 | Hertford Town | League | | | Match report |
| 25-01-2003 | Slough Town | 3-0 | Oxford City | League | | | Match report |
| 18-01-2003 | Wealdstone | 3-2 | Slough Town | League | | | Match report |
| 14-01-2003 | Great Wakering Rovers | 2-2 | Slough Town | League | | | Match report |
| 21-12-2002 | Slough Town | 5-1 | Leyton Pennant | League | | | Match report |
| 17-12-2002 | Slough Town | 1-1 | Wealdstone | League | | | Match report |
| 14-12-2002 | Hornchurch | 3-2 | Slough Town | League | | | Match report |
| 07-12-2002 | Slough Town | 3-2 | Berkhamsted Town | League | | | Match report |
| 30-11-2002 | Wembley | 2-2 | Slough Town | League | | | Match report |
| 26-11-2002 | Tilbury | 3-0 | Slough Town | League | | | Match report |
| 23-11-2002 | Slough Town | 4-0 | Great Wakering Rovers | League | | | Match report |
| 19-11-2002 | Slough Town | 1-3 | Kingstonian | Unknown Cup | | | Match report |
| 16-11-2002 | Slough Town | 1-2 | Harrogate Railway | FA Cup | | | Match report |
| 13-04-2002 | Slough Town | 0-1 | Bishop's Stortford | League | | | Match report |
| 06-04-2002 | Dulwich Hamlet | 0-0 | Slough Town | League | | | Match report |
| 01-04-2002 | Windsor & Eton | 3-3 | Slough Town | League | | | Match report |
| 30-03-2002 | Slough Town | 3-0 | Bromley | League | | | Match report |
| 23-03-2002 | Slough Town | 1-2 | Ford Utd | League | | | Match report |
| 16-03-2002 | Aylesbury United | 4-0 | Slough Town | League | | | Match report |
| 09-03-2002 | Slough Town | 0-0 | Whyteleafe | League | | | Match report |
| 02-03-2002 | Thame United | 3-0 | Slough Town | League | | | Match report |
| 23-02-2002 | Slough Town | 3-0 | Uxbridge | League | | | Match report |
| 19-02-2002 | Slough Town | 4-1 | Abingdon Town | B&B Senior Cup | | | Match report |
| 16-02-2002 | Harlow Town | 1-4 | Slough Town | League | | | Match report |
| 12-02-2002 | Slough Town | 2-1 | Barking & East Ham Utd | League | | | Match report |
| 09-02-2002 | Slough Town | 3-1 | Tooting & Mitcham Utd | League | | | Match report |
| 02-02-2002 | Northwood | 1-1 | Slough Town | League | | | Match report |
| 22-01-2002 | Slough Town | 3-0 | Windsor & Eton | League | | | Match report |
| 19-01-2002 | Carshalton Ath | 2-1 | Slough Town | League | | | Match report |
| 12-01-2002 | Slough Town | 6-0 | Wealdstone | League | | | Match report |
| 05-01-2002 | Worthing | 0-3 | Slough Town | League | | | Match report |
| 01-01-2002 | Yeading | 0-0 | Slough Town | League | | | Match report |
| 29-12-2001 | Slough Town | 1-2 | Oxford City | League | | | Match report |
| 15-12-2001 | Walton & Hersham | 1-1 | Slough Town | League | | | Match report |
| 08-12-2001 | Slough Town | 2-1 | Northwood | League | | | Match report |
| 04-12-2001 | Bracknell Town | 1-1 | Slough Town | B&B Senior Cup | | | Match report |
| 24-11-2001 | Tooting & Mitcham Utd | 1-1 | Slough Town | League | | | Match report |
| 17-11-2001 | Slough Town | 2-0 | Staines Town | League | | | Match report |
| 10-11-2001 | Bognor Regis Town | 0-0 | Slough Town | League | | | Match report |
| 03-11-2001 | Slough Town | 0-2 | Aylesbury United | FA Trophy | | | Match report |
| 27-10-2001 | Slough Town | 3-2 | Dulwich Hamlet | League | | | Match report |
| 23-10-2001 | Slough Town | 4-0 | Harlow Town | League | | | Match report |
| 20-10-2001 | Bishop's Stortford | 3-2 | Slough Town | League | | | Match report |
| 16-10-2001 | Slough Town | 3-4 | Aylesbury United | League | | | Match report |
| 13-10-2001 | Ford Utd | 0-2 | Slough Town | League | | | Match report |
| 25-09-2001 | Uxbridge | 3-1 | Slough Town | League | | | Match report |
| 22-09-2001 | Slough Town | 1-1 | Carshalton Ath | League | | | Match report |
| 11-09-2001 | Barking & East Ham Utd | 0-1 | Slough Town | League | | | Match report |
| 08-09-2001 | Wealdstone | 2-1 | Slough Town | League | | | Match report |
| 04-09-2001 | Slough Town | 0-1 | Worthing | League | | | Match report |
| 18-08-2001 | Slough Town | 0-3 | Walton & Hersham | League | | | Match report |
| 05-05-2001 | Chesham United | 2-0 | Slough Town | League | | | Match report |
| 28-04-2001 | Slough Town | 3-1 | Carshalton Ath | League | | | Match report |
| 24-04-2001 | Slough Town | 2-0 | Ebbsfleet United | League | | | Match report |
| 21-04-2001 | Harrow Borough | 1-0 | Slough Town | League | | | Match report |
| 19-04-2001 | Slough Town | 0-1 | Canvey Island | League | | | Match report |
| 14-04-2001 | Farnborough Town | 1-1 | Slough Town | League | | | Match report |
| 10-04-2001 | Slough Town | 2-3 | Billericay Town | League | | | Match report |
| 07-04-2001 | Slough Town | 1-1 | Dulwich Hamlet | League | | | Match report |
| 02-04-2001 | Croydon | 4-1 | Slough Town | League | | | Match report |
| 31-03-2001 | Slough Town | 0-3 | Hitchin Town | League | | | Match report |
| 24-03-2001 | Billericay Town | 0-0 | Slough Town | League | | | Match report |
| 10-03-2001 | Slough Town | 4-4 | Sutton United | League | | | Match report |
| 18-11-2000 | Dulwich Hamlet | 2-2 | Slough Town | League | | | Match report |
| 11-11-2000 | Slough Town | 0-2 | Basingstoke Town | League | | | Match report |
| 04-11-2000 | Slough Town | 5-0 | Bishop's Stortford | FA Trophy | | | Match report |
| 21-10-2000 | Hitchin Town | 3-0 | Slough Town | League | | | Match report |
| 14-10-2000 | Slough Town | 1-2 | St Albans City | League | | | Match report |
| 07-10-2000 | Heybridge Swifts | 3-2 | Slough Town | League | | | Match report |
| 30-09-2000 | Tonbridge Angels | 2-0 | Slough Town | FA Cup | | | Match report |
| 23-09-2000 | Slough Town | 1-0 | Croydon | League | | | Match report |
Slough Town FC is not responsible for content produced on external websites | Copyright Slough Town FC 2023